Dirt directive D-Day: Segregation of garbage at source
Will the planned areas of Salt Lake really start segregating garbage at source on August 14 as scheduled?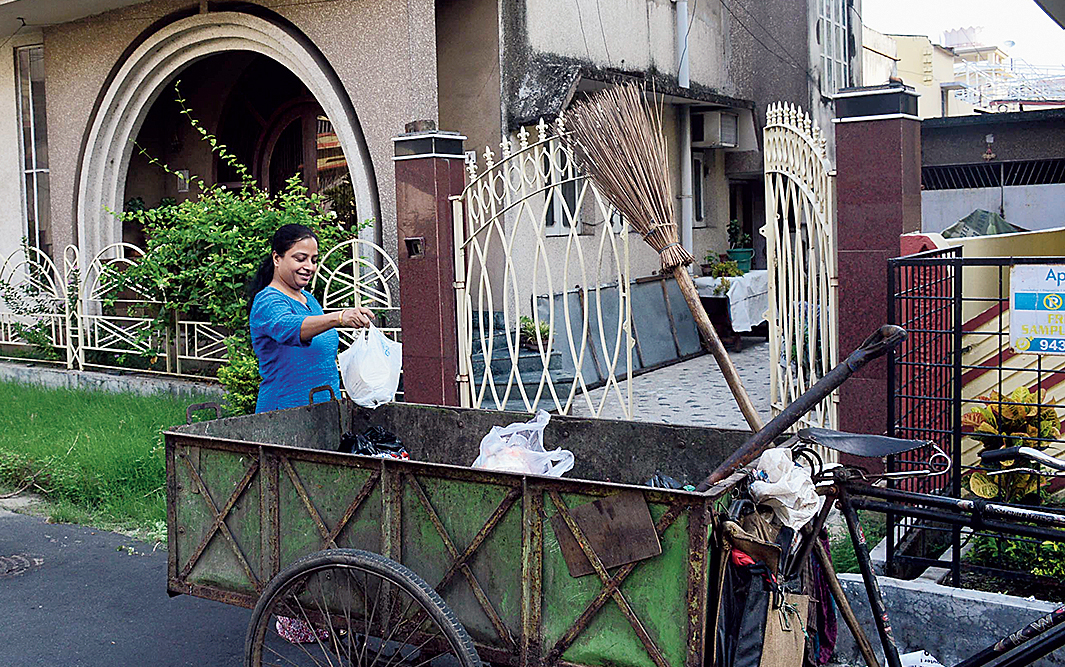 ---
|
Calcutta
|
Published 28.06.19, 12:32 PM
---
Come August and residents of Salt Lake would be upturning — not one but — two dustbins into the garbage van every morning; plus handing over a pouch to the garbage man.
Bidhannagar Municipal Corporation (BMC) plans to distribute blue and green bins across all households of Sector I, II and III in Salt Lake to enforce solid waste segregation at source.
As per a notification published by the civic body on June 19, all waste generating bodies such as households, commercial establishments, industrial houses and non-residential houses under the Salt Lake Satellite Township area within Bidhannagar Municipal Corporation, shall segregate their day-to-day waste into three parts.
In the green bin will be bio-degradable waste such as fruit and vegetable peels, paper etc. The blue bin will be for non-biodegradable waste such as plastic and thermocol. Finally, any hazardous waste such as medicines and sanitary napkins are to be packed separately in black bins or pouches of more than 50 micron thickness.
After collecting, the bio-degradable waste will be fed into a compost machine. The mashed up compost will then be sold to various bidders as fertiliser.
"Once implemented, this should reduce the litter spill at Mollar Bheri behind Sector V, where Salt Lake's garbage is dumped," said executive engineer, BMC, Monodip Mukhopadhyay. "We are expecting positive feedback from the residents of Salt Lake," he added.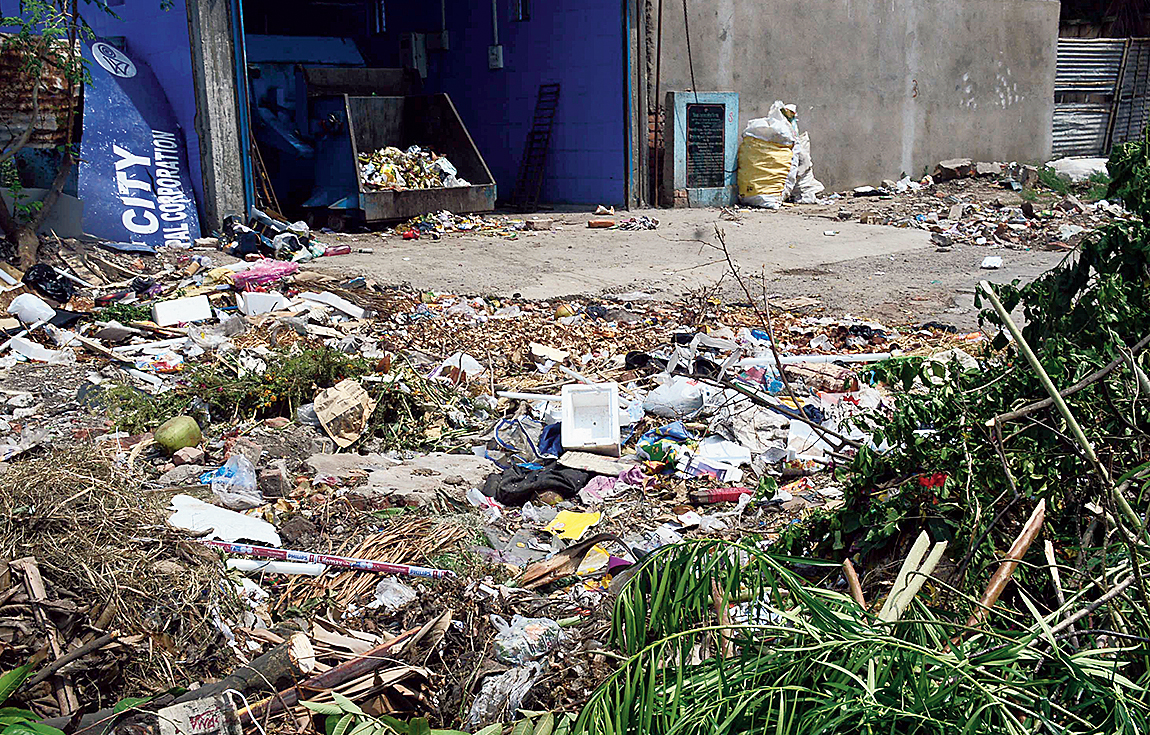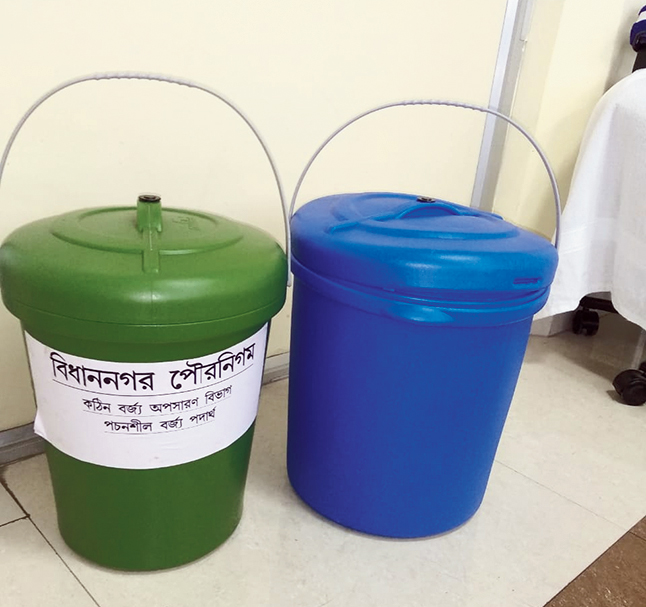 Planning afresh
The corporation has been talking of segregating waste for three years now. Back in 2016, they had even started distributing leaflets with information on what would qualify for which dustbin, but it wasn't implemented. "Back then we had neither clearance nor financial help from the National Green Tribunal," said the engineer. "Now we have their support and so the project should be a success."
The civic body has issued an EOI (Expression of Interest) seeking technological help from other private or public sector companies, but they haven't formally sought help from New Town Kolkata Development Authority (NKDA), that implemented segregation from earlier this year.
The wards where this project will be implemented are wards 29, 30, 31, 32, 33, 34, 37, 39, 40 and 41. The list excludes the added areas.
"This step is being taken in keeping with the directives of the the green tribunal ordering garbage to be segregated at source," said Mukhopadhyay. "We have had a series of meetings with block market unions, restaurant and bar owners, hospital and nursing home managements in Salt Lake and the drive will begin from August 14."
The corporation now plans to start meeting residents. Their first meeting with block representatives of Sector I will be at Laban Hrad Mancha.
Lessons from New Town
NKDA has implemented solid waste segregation in certain areas of New Town from March this year. To drive home the message, they held several meeting cum workshops with residents and facility managers of housing complexes and now the procedure has got streamlined.
Folks from New Town say the transition hasn't been too difficult. Homes that have separate domestic helps for cooking and cleaning have simply asked them to use separate bins.
"To an extent, the success of this project depends on our domestic helps but then it's quite simple. If we understand it clearly, we can explain it to them," says Purabi Basu, who lives in a co-operative in AB Block.
To avoid confusion, Basu keeps the organic waste dustbin in the kitchen and dry waste bin in another room where clothes and utensils are washed. "Organic waste is collected by the garbage man daily while dry waste only on Tuesdays and Saturdays," says the elderly lady.
New Town produces about 40 to 50 tonnes of waste a day but the dry waste, now segregated at source, is sent to a 20 acre plot in Pathorghata behind Bagjola Canal. From here paper, metal, plastic, e-waste etc is auctioned off to certified recyclers.
Discarded clothes that are in decent condition are even laundered and sold at Rs 20 or 30 at a recycling stall near Eco Park's gate 4.
As for the organic waste generated, two composting machines have been set up to treat it and convert it to fertiliser.
In Sector V, some large companies are already near zero-waste and the rest too have been asked to start segregating from earlier this year. In order to help them understand the process, waste management consultants are holding workshops with companies of similar nature - such as IT, laboratories and government sector offices - to clear doubts.
Inputs from Brinda Sarkar