Diesel price hits trawl for hilsa
High fuel rate blamed for low yield of fish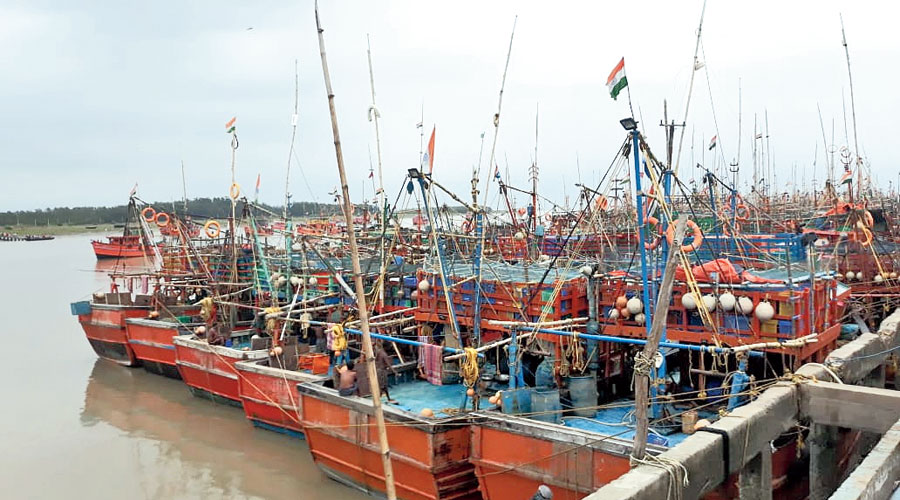 ---
---
Fishermen's associations in South 24-Parganas and East Midnapore are citing the hike in diesel prices as the chief cause for a "notably low" hilsa yield this year, the claim coming in the wake of scores of fishermen either ending their catching season early or curtailing expedition duration for "unsustainable fuel rates".
Functionaries of the West Bengal United Fishermen Association said they had written to the offices of Prime Minister Narendra Modi, Bengal chief minister Mamata Banerjee and several senior ministers at the Centre, requesting them to exempt diesel surcharges for the fishing community but were awaiting a formal reply.
"We have written to these offices at least twice since July, requesting them to exempt the surcharge collected by the government on fuel. But no one has heeded our plea yet. As a result, fishermen have reduced their time out at sea and consequently, hilsa yield has turned out low this year," said Joykrishna Haldar, general secretary of the association.
Sources in the fisheries department said fishermen in South 24-Parganas had caught 940 tonnes of the coveted fish since June this year, which is about one tenth of last year's yield during the same period.
"In 2019, a total of 9,112 tonnes of hilsa were caught in South 24-Parganas but this year, it is only 940 tonnes. It goes without saying that the figure of the last year can't be met in the coming one month," said Jayanta Pradhan, assistant director (fisheries), South 24-Parganas.
Fishermen in both the districts have claimed that the problem of rising fuel costs is not new, rather, the hike this year made the situation untenable. Sources said in August last year, the price of diesel per litre was Rs 61.25, whereas it is around Rs 76 this year. A common complaint among fishermen was that their range of exploration had been curtailed by the "restrictive" fuel prices, a major handicap when it comes to migratory fish like the hilsa.
"This year, we had to await positive confirmation of a flock before we could afford to move," said a Contai-based fisherman.
"In the case of the hilsa, fishermen can catch more fish if they roam freely. As the price of diesel rose, our trawlers' range accordingly depleted. A fisherman who used to pour 1,200 litres of diesel into a trawler now uses 800 litres. As a result, we reduced our time to catch the fish and the production of hilsa is poor," said Satinath Patra, a secretary of the Sundarban Samudrik Matsyojibi Shramik Union.
Fishermen said the knock-on-effect of rising fuel prices was the higher cost of hilsa in the markets, necessitated by the pre-existing lockdown economy conditions.
"Because of the Covid-19 pandemic, there is no train service to ship loads of the fish and so, people from other states or north Bengal are buying hilsa in lower quantity," Patra said.
"Neither the Centre nor the state are thinking about our situation at all. We are avoiding unnecessary hunts to reduce our loss from fuel cost," said Shyamsundar Das, a secretary of the Digha Fishermen and Fish Traders' Association.