Diesel price hits a ton, buses bear brunt
There are around 5,500 private buses on local and long-distance routes across north Bengal, but hardly 2,500 buses run on roads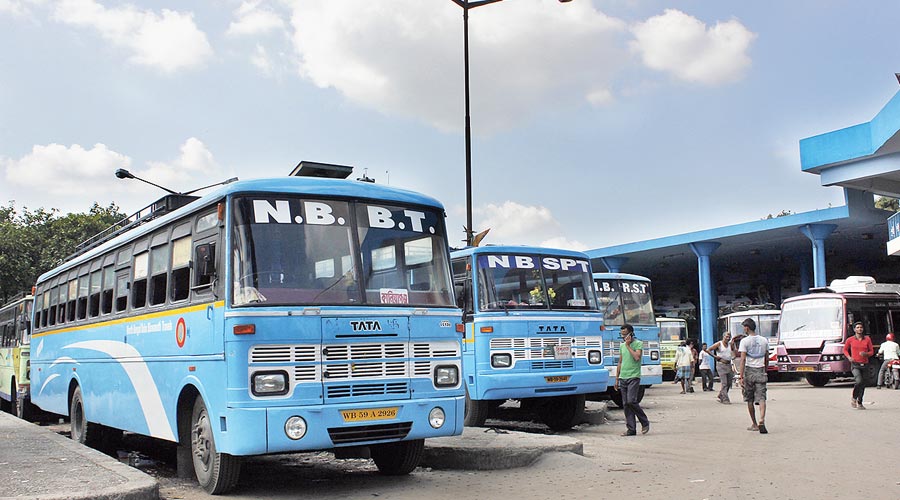 Private buses parked at the Tenzing Norgay Central Bus Terminus in Siliguri.
File picture
---
Siliguri
|
Published 06.04.22, 02:11 AM
|
---
Almost half of the private bus owners in north Bengal have stopped running their vehicles in the region and to Assam and Bihar because of galloping diesel prices. 
The price of diesel — increasing rapidly in the last few days — touched Rs 100 per litre at a number of locations of Bengal on Tuesday, including Darjeeling and Cooch Behar of north Bengal. 
According to Pranab Mani, the secretary of the North Bengal Passenger Transport Owners' Coordination Committee, many bus owners grounded their vehicles as their earnings can't match their fuel cost. 
There are around 5,500 private buses on local and long-distance routes across north Bengal, but hardly 2,500 buses run on roads, he said.
"In 2018, the bus fare was hiked for the last time by the state government when the price of a litre of diesel was Rs 68. Now, it is Rs 100 in many places. It is obvious that many owners are in acute financial crisis," Mani said. 
In the last week alone, 500 buses went off roads in north Bengal as diesel prices have increased virtually every day. 
Bus owners said that in 2014, when diesel was Rs 64 per litre, the fare of private buses was fixed at 60 paise per kilometre for local buses and 65 paise per kilometre for long-distance buses. In 2018, when diesel price increased to Rs 68 per litre, the state government revised the fares by 10 paise per kilometre to be 70 paise and 75 paise for local and long-distance buses, respectively. 
"Now diesel is around Rs 100 per litre and we are charging the same old fares. It is not possible for us to sustain the loss," said a bus owner based in Cooch Behar.
Over the past one week, there has been a dip in the number of private buses that connect Siliguri to different locations. Around 48 private buses used to run between Cooch Behar and Siliguri but now only 30 do. 
Similarly, 15 private buses would run along the Siliguri-Alipurduar route but now only six to seven do.
"We fail to understand why the state government is not increasing the bus fares when price of every other item is on the rise. The state itself has to bear the loss as it is paying subsidies to the North Bengal State Transport Corporation and other state-run transport companies every month. An immediate revision of fares can help the sector to revive or else the situation will worsen," another bus owner said.
In north Bengal, around 20,000 people are associated with the private passenger transport sector.
A senior official of the state transport department said they were aware of the situation. "We understand their problem but the decision to revise fares has to be made at the top level of the government. All we can do is to make recommendations," he said.