Diamond Harbour: North American predatory fish trapped, dead
Rupa Mistry, a homemaker, first spotted it floating in the creek in a semi-conscious state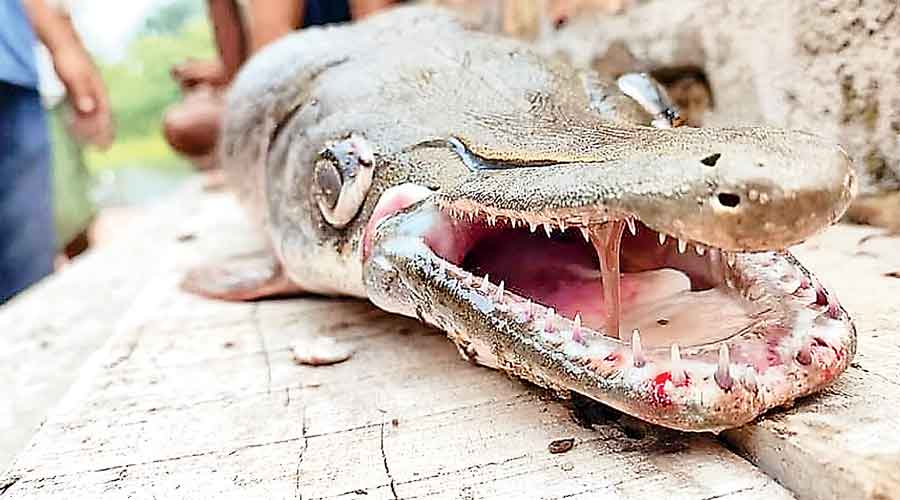 ---
Kalyani
|
Published 29.10.21, 02:55 AM
|
---
An alligator gar, a North American predatory fish, was trapped from a creek linked to the river Hooghly in Diamond Harbour on Thursday morning.
Rupa Mistry, a homemaker, first spotted the fish floating in the Mograhat creek in a semi-conscious state. "I was stunned to see this crocodile lookalike. With the help of others, I stepped in and trapped it," said Mistry, a resident of Lenin Nagar under ward 12 of Diamond Harbour.
Sources said the 5-foot-long torpedo-shaped fish, weighing 20kg, drew huge crowds in the area.
Forest officials rushed to the site but the fish died soon. An official said that it might have been smuggled.
"We heard about the alligator gar in coastal Maharashtra and Kerala in the recent past. But, in coastal Bengal, this is probably the first such instance. This fish may have been smuggled," a forester said.
Tanmay Sanyal, assistant professor of zoology at the Krishnagar Government College, said: "Alligator gars are predators and a possible threat to native marine biodiversity. They remain at the top of the food chain and can survive for unusually long years given their unique biological mechanism. They are native to North America and can grow up to 8 feet in length. They can survive for long periods in high salinity as well as in fresh water. Alligator gar can seriously harm carp in freshwater and hilsa in saline water too."