Dharma is about everyone getting their due: Raiganj MP and union minister Debasree Chaudhuri
"The party told me the people of Raiganj were asking for me. I am a soldier. I have to obey the orders of the party," she said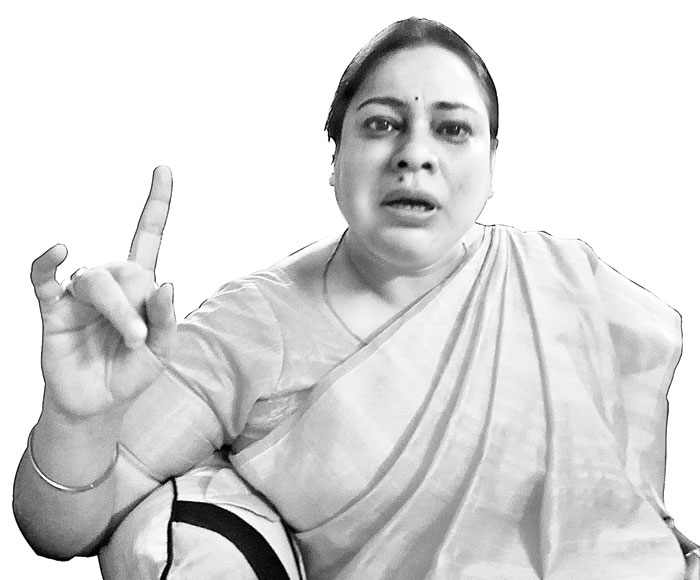 ---
---
When Debasree Chaudhuri reached Raiganj in north Bengal earlier this year to fight for the Lok Sabha elections, the place was seething with communal tension. Two students — Tapas Burman and Rajesh Sarkar — had died, allegedly in police firing in Daribhit town. Chaudhuri had no intention of contesting the elections from anywhere, let alone Raiganj, or so she tells me when I meet her. It is a weekend and the newly-minted Bharatiya Janata Party (BJP) MP and minister of state for women and child development is back home in Calcutta. She continues her narrative, "The party told me the people of Raiganj were asking for me. I am a soldier. I have to obey the orders of the party."
The situation in Daribhit was complicated. In September 2018, there had been an agitation in a local school over teachers' appointments. The students had been demanding the appointment of literature and science teachers but the new appointees were Urdu and Sanskrit teachers, hence the protest. After the firing and deaths, the school remained closed for 52 days. In the ensuing months, Daribhit became a burning poll issue. Eventually, the kin of the deceased students went to Delhi and met the top BJP leadership and officials of the National Human Rights Commission. It was reported that the state BJP had faciliated this "silently... to prevent the Trinamul from trying to foil the plan".
Chaudhuri says, "That particular school does not have Muslim students and there is no need for Urdu teachers there." She does not say anything about the Sanskrit teachers. She continues, "In Raiganj, the three Assembly seats that are known to be Muslim-dominated are Islampur, Chakulia and Goalpukur. Daribhit is in Islampur. The locals believe the bullets were fired by outsiders and not the police. The two boys have not been cremated to date. The bodies have been kept buried. The families are demanding a CBI enquiry."
I am at Chaudhuri's north Calcutta apartment. She lives here with her mother and twin brothers, sister-in-law and nephew. The 48-year-old comes across as a positive person. She is well-read, well-informed and has the confidence to tackle even prickly questions. I remark that she had been up against three heavyweight candidates for the Lok Sabha polls — the Congress's Deepa Dasmunsi, the CPI(M)'s Mohammed Salim and the Trinamul's Kanhaiya Agrawal. She chuckles, "No one but Debasree Chaudhuri is the heavyweight candidate. I weigh 80 kilos." The next minute she is serious. She says, "It took me just five days to prove my point, to turn everyone else into lightweights."
Platitudes apart, what is it that turned the voters in her favour? She knits her brows and says, "People voted for Narendra Modi. I did not bring up religion at all in my campaign. Nor did I play the bhumi kanya card like someone else who said Raiganj was her khaas taluk (stronghold)." How did she counter Salim, who blamed the BJP for the Daribhit tragedy? Says Chaudhuri with a smile, "People did not believe him. I have won with a margin of 60,000 votes. Even Muslims have voted for me."
Chaudhuri was born in Balurghat, which is also part of the Raiganj constituency. Her father, Debidas Chaudhuri, was a high school teacher. He was a member of the Bharatiya Jan Sangh and was the party president of the then undivided Dinajpur district between 1967 and 1980. Says Chaudhuri, "I was born into the vichar of the RSS. For 30 years, I have done nothing else but live their ideology. I was barely 18 when I joined the Akhil Bharatiya Vidyarthi Parishad."
Was she surprised when she was got the ministerial post in the Modi government? She thrusts some cashewnuts into my hand and says, "I am not greedy for power. My mission is to make my country param baibhabshalini or prosperous."
I point out that her colleagues Locket Chatterjee and Babul Supriyo always seem to be grabbing headlines for some controversial remark or the other, but she remains largely invisible, inaudible too. Her response: "I do not hanker for media coverage. I work silently but when it is required I lead from the front, that is the Sangh's training. We believe in tyag... Modiji, Amitji, [J.P.] Naddaji, all have been trained in the same vichar." She continues, "Besides, each person has a distinctive style. Babulda's gharana is different and his way of reacting to a situation is different."
I ask her what she thinks of Mamata Banerjee, the chief minister of West Bengal and the only woman chief minister in India now. She replies, "It is very depressing. And yet there was a time when I respected her, despite her political affiliation. She is asking her councillors and MLAs to return cut money, but has she asked her relations to do the same? Will she be able to return the land on which Santiniketan, her nephew Abhishek Banerjee's palatial residence, stands?" At this point her own nephew runs into the room, the little boy is well-behaved but he looks sullen, perhaps because he sees his aunt engaged with a stranger. He is fidgeting, he wants to go someplace with his pishi. Chaudhuri puts a finger on her own lips and, code understood, the little one leaves the room.
We resume our conversation. Will she do things differently should she ever get a chance to lead the state as chief minister? Chaudhuri doesn't flinch. Instead she says, "The first thing I'd want to do is create a harmad-free rajya. In Bengal, the politics over dead bodies started with the Khadya Andolan in 1959 and it is still continuing. The Congress did it, the CPI(M) did it and the Trinamul is continuing it." She brings up instances of communal violence in the state in the last seven years — Dhulagarh, Deganga, Basirhat, Kaliachak, Usti, Magrahat. Then adds, her pitch even, only her right index finger moving angrily, her eyes flashing, "Media too was suppressed. People still talk about Godhra, but what of these?… But no matter, we now have mobile phones and social media reports everything. People know the truth."
Chaudhuri blames the other political parties for playing politics with religion. She talks about how "Salimda", went to a Harisabha (a Vaishnav gathering) and got the rasokoli (a religious marker) on his forehead. Does she mean the BJP brand of politics is not partial to any religion? She says, "The BJP does not believe in posturing. We chant Jai Shri Ram all 365 days of a year and Ram rajyatwa is a concept we are rooted in. We do not wear skullcaps and go around saying Inshallah to seek Muslim votes. We have not budged from our religious affiliation to influence any votebank."
The next minute she turns the discussion on its head and plays with words. She says, "I will most certainly do politics with dharma. Do you think I should do politics of adharma? Dharma for us is all about ensuring you get your due." And what is the National Register of Citizens all about, dharma or adharma? The index finger goes up again, eyes flash, "Infiltrators will not be allowed to stay in our country. No country in the world allows infiltrators. We do not have surplus food or jobs. Having said that I want to make one thing clear. Mool Mussalmans who have stayed with us from the very beginning, from the time of the formation of this country, will not be sent away. They are the citizens of this country. No one will touch them. Clear?"
She answers questions about her new position, Parliament, an MP's job, but she is not effusive. I ask her about her boss, Smriti Irani. What is she like to work with? She says without pausing to think, "Asadharon. The more I see her, the more I admire her. She is fluent in a number of languages…"
But isn't she also known to be arrogant? This time she pauses, examines her fingernails with excruciating attention and replies, "I have known her for a very long time. I have never seen her behaving arrogantly. Of course, there are situations when a person might have to behave in a certain manner but that doesn't define one's nature." She talks about how Irani is working hard to make the Protection of Children from Sexual Offences Act 2012 or Pocso strong.
Wrapping up I want to know how the BJP and RSS are going about their work in Bengal. She says, "The RSS is our mother concern. The BJP is influenced by the same ideology." She doesn't elaborate further. I ask her what she is going to do for Raiganj. And she replies, "Development work will go on." Raiganj has minority communities — there are Adivasis in the area. Any special plans for them? She says, "We do not work for any one community. It is sabka saath, sabka vikaas and now it is sabka vishwas."