Deocha-Pachami helplines to counter negative picture
Officials are asking people to contact panchayat offices and not to listen to 'outsiders trying to create a misunderstanding about the government's rehabilitation package'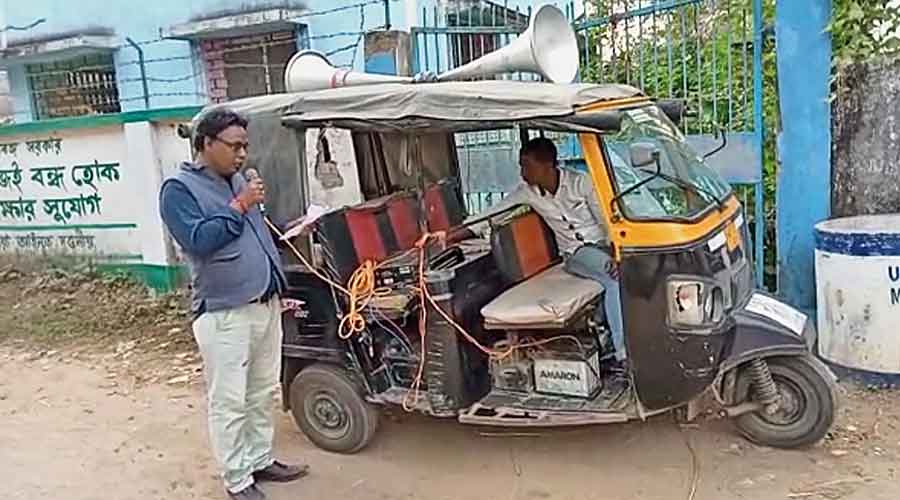 ---
Bolpur(Birbhum)
|
Published 04.12.21, 01:14 AM
|
---
Opposition parties, including a few social organisations, have started arriving in Birbhum's Deocha-Pachami to reach out to the villagers and read their pulse on the coal mine project.
To counter any negative perception, the Birbhum district administration from Friday started helpline centres at three gram panchayat offices where officials are explaining the compensation package offered to villagers by the state government.
Apart from starting helplines, the administration has started a campaign in over two dozen villages asking people to contact panchayat offices and not to listen to "outsiders trying to create a misunderstanding about the government's rehabilitation package".
"We have asked the panchayats to post a dedicated official at each of the camps and copies of the package in Bengali and Ol-Chiki scripts will be made available there. We have started a public awareness campaign among villagers and asked them to meet panchayat officials to clear queries related to the rehabilitation package," said Bidhan Ray, the Birbhum district magistrate who visited the coal mine project site on Friday afternoon.
Ray also held a meeting with representatives of local bodies and other officials. He directed officials to ensure that the villagers were rehabilitated in a manner that they could in the same environment even after vacating the site for the coal mine.
"We are conducting a survey to map each household and their neighbours in an effort to rehabilitate them in nearby places in the same order. The move will help the villagers of the hamlet or para not to feel that they are living in a completely new place," said Ray.
The state government is keeping a close watch on the Deocha-Pachami coal mine project as it is a dream project of chief minister Mamata Banerjee who announced the rehabilitation package on November 9 with a promise of a government job to each affected family and a land price three times the present market rate.
With the government in a hurry to start the project in the coming year, Opposition parties have started visiting Deocha-Pachami with an eye on villagers who have expressed their opposition to the mine.
A team headed by BJP leaders visited Pachami recently and claimed that most people were unwilling to part with their land. On Thursday, a group of leaders of the CPI-ML visited at least three villages and made similar claims.
"We spoke to the villagers and most of them said they didn't want a coal mine there and we assured them to support their cause," said Sailen Mishra, the CPI-ML's Birbhum district secretary.
The CPM leaders are conducting a survey in the Deocha-Pachami area to know how many people were opposed to the project and wanted to remain on their land.
"We are conducting a study and have received negative responses to the project from tribal villagers and those belonging to other communities in the area. We are not against industry but we will definitely be with those people who do not want to be affected by the project. The government also has the duty to answer questions being raised by the villagers," said Ram Chandra Dom, a CPM leader and party's central committee member.
Government officials said they had taken at least a dozen steps to stop Opposition parties from misleading villagers.
"We know Opposition parties and other organisations are trying to mislead the people living in the Deocha-Pachami area and we will not allow that to happen. The government has offered a very good package and we have started to reach out to villagers from Friday," said a senior official.
Trinamul leaders have also planned to visit houses in the project area to explain how villagers would benefit from the coal mine project. "All are coming to mislead people as their goal is to harass the government and stop the CM's dream project. We will start a door-to-door visit from next week," said Kali Banerjee, Trinamul youth president in Mohammedbazar.