Deocha-Pachami coal mine protesters keep away politicians
They had strategically positioned themselves to stop BJP leader Suvendu Adhikari and state Congress chief Adhir Chowdhury from reaching their protest platform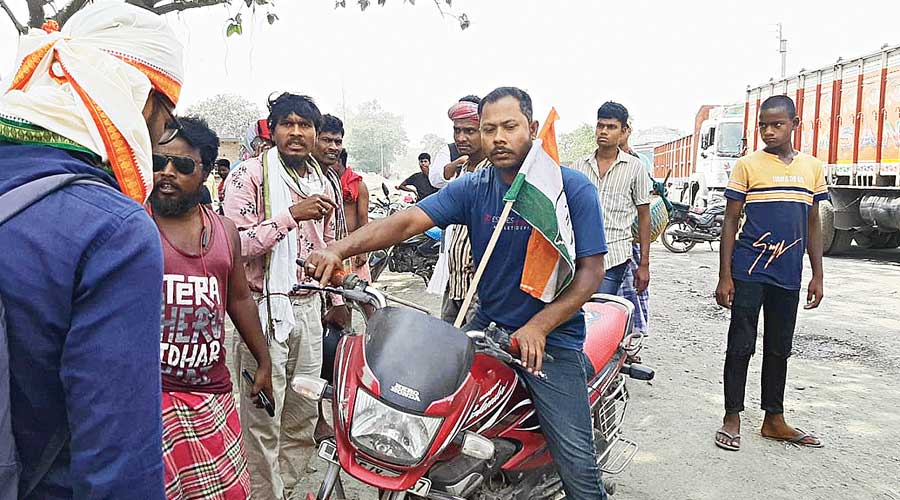 Tribal people guard one of the roads leading towards the protest stage in Deocha on Wednesday.
Himadri Mondal
---
Calcutta
|
Published 21.04.22, 02:55 AM
|
---
Tribal people protesting against the state government's proposed Deocha-Pachami coal mine in Birbhum on Wednesday guarded several roads leading to the agitation site in a bid to keep their movement above politics.
The protesters had strategically positioned themselves to stop BJP leader Suvendu Adhikari and state Congress chief Adhir Chowdhury from reaching their protest platform. 
The two leaders had planned separate programmes to meet the protesters on a day chief minister Mamata Banerjee promoted the project before the captains of the industry while inaugurating the Bengal Global Business Summit in Calcutta.
At the summit, Mamata tried to sell the Deocha Pachami coal mine project as one of the industrial opportunities in Bengal, showcasing its "1,198 million tonnes of coal" which would make it "the second largest coal mine in the world" with the potential to create jobs for over one lakh people. 
The first to head for Deocha-Pachami on Wednesday was state Congress chief Adhir and his team, but they had to return midway as a group of tribal people stopped them.. However, Adhir said no one tried to stop them and they "respect" the protesters.
Sensing he would meet the same fate, BJP's Adhikari with his team did not take the "risk" and instead went to tribal hamlet Jambuni outside the project area.
Adhikari asked Mamata to forget about her dream project. "It (Deocha-Pachami) is a closed chapter," Suvendu told reporters. He also added that they did not visit Deocha out of "respect for the movement".
The Mahasabha had on Tuesday said it would not allow parties to be part of the movement. "All parties evicted tribal people when in power. We don't want any party to show solidarity with us," a Mahasabha leader said.
On Wednesday, Shiblal Soren, one of the leaders of Birbhum Jamee, Jeebon, Jeebika O Prakriti Bachao Mahasabha, said they were true to their word. "We put up human barricades at all possible entry points. The Congress team had to return midway and the BJP leaders did not dare meet us and visited a village not associated with the protest," he said.
The Mahasabha has been protesting since the last week of February after police arrested seven Calcutta-based activists, including Left-leaning economist Prasenjit Bose, who stood by them.
"Where was Suvendu Adhikari when tribal women were brutally tortured by the police and tribal people were fighting on their own these past four months? Suvendu Adhikari decided to visit the protest area on Wednesday for political reasons," said Bose. "The coal block was allocated the Narendra Modi government. If he (Suvendu) has to show solidarity, let him ask the prime minister to revoke the coal block allocation." 
"No one stopped us as we did not attempt to meet the protesters. We respect their protest and we have come here to witness what has been happening here. We did not ask any Congress worker to meet the protesting tribal people," said Adhir when asked about the resistance put up by protesters.
Suvendu virtually echoed Adhir. "We wanted to show respect to their movement and decided not to visit Deocha-Pachami. Our (BJP) people are part of the movement (Mahasabha). We will always remain with them," Suvendu told journalists.
Later in Suri, he said that on May 12 they would organise a big rally in Deocha to protest against the eviction of tribal people for the project.
On Wednesday, a BJP team headed by party's state president Sukanta Majumdar went to Singur and assured villagers of setting up an industry if the party came to power in the state in the future.
"We visited Singur today (Wednesday) to experience first-hand the current scenario at the place from where Mamata Banerjee had ousted industry. The government says Bengal means business, but industrialists know that Bengal actually means violence. Its idea of industrialisation is built on lies. From Singur we promised ourselves to bring industry to Bengal in the future," Majumdar.
Additional reporting by Arkamoy Dutta Majumdar