Dengue claims two
11,500 people have tested positive for dengue in Bengal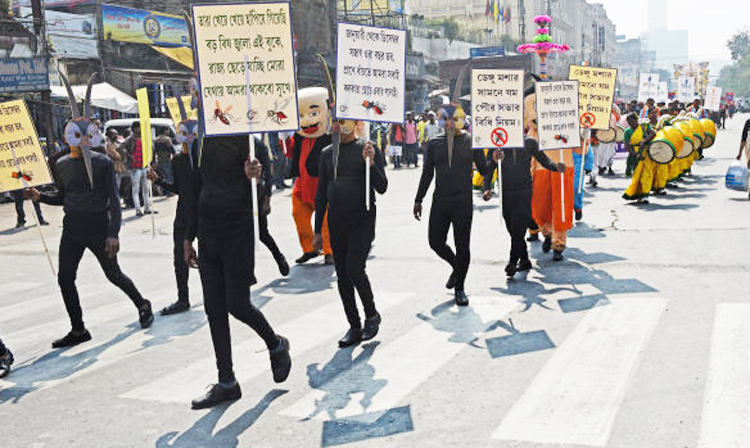 ---
|
Calcutta
|
Published 22.09.19, 07:54 PM
---
A seven-year-old girl from Tollygunge and a woman in her mid-30s from Kamarhati, both of whom had tested positive for dengue, died on Sunday, civic officials said.
Pragya Saha, 7, who lived near Malancha cinema in Tollygunge, died at CMRI hospital in Ekbalpore early on Sunday.
Pragya was admitted to the hospital a couple of days back. A hospital official said the girl was in a critical condition when she was taken there. "She was admitted to the intensive care unit because her condition was critical. She was suffering from dengue shock syndrome," said an official of the hospital.
Pragya was diagnosed with dengue on Thursday, said an official of the Calcutta Municipal Corporation (CMC). Mitali Banerjee, the councillor of Ward 107, where Pragya lived, said the girl's mother, too, was down with dengue.
"I have heard she, too, is admitted to hospital," said the councillor.
Ruhul Mullick, a 13-year-old resident of the New Market area, had died of dengue on Wednesday.
Civic sources said about 800 people had been infected with the dengue virus in the Calcutta municipal area since January. "We have received reports of two deaths and forwarded the documents to the health department," said the official.
Sunday's other dengue victim was 35-year-old Arpita Paswan, a resident of Kamarhati, on the northern fringe of the city. She had been running a temperature for a week.
"Arpita Paswan tested positive for dengue and was admitted to the College of Medicine and Sagore Dutta Hospital. She was discharged after two days," said Shankari Bhoumick, the councillor of Ward 14 of Kamarhati Municipality. The area where Paswan lived — May Divas Palli — falls in Ward 14.
"She started vomiting yesterday. She had a gynaecological problem, too, and started bleeding," said Bhoumick.
"About 11,500 people have tested positive for dengue in Bengal so far this year," a health department official said.