Deadline set for hill tourists
Hotel owners and transporters are being told to ensure that all tourists leave by 10am on Monday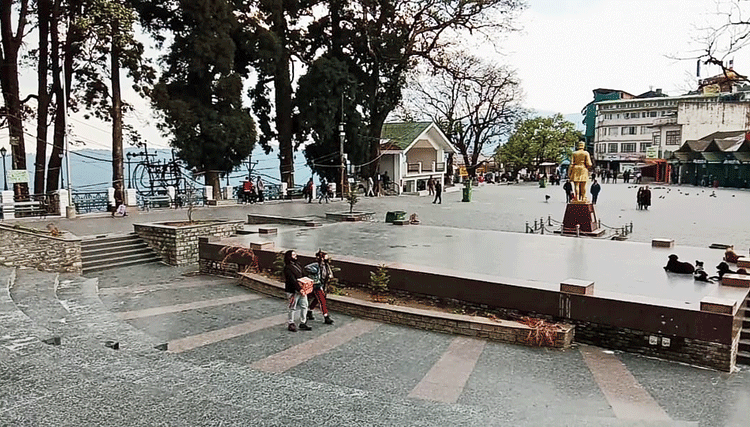 Some tourists at Chowrasta in Darjeeling on Saturday
Telegraph picture
---
Darjeeling
|
Published 21.03.20, 07:43 PM
|
---
A warning has also been sounded to locals.
"We have nothing to say if locals are travelling on emergencies like health issues. However, they need to carry their identity cards. We will not allow people to step out of their homes for leisurely activities and non-essential shopping," a transport leader said.
Residents have also been instructed be vigilant and check for tourists at neighbourhood hotels and homestays.
Locals have demanded that eateries, restaurants and malls be closed immediately.
The Bengal government issued an order late on Saturday saying "all restaurants, pubs, bars, clubs, night clubs, hookah bars, massage parlous, amusements parks, museums, zoos" must remain shut from 6am on Sunday to March 31.
Allegations have been made that tourists and locals were not being screened at night in the hills.
Thapa, the GTA official, announced that from Saturday screening would be done 24X7.
"I have also appealed to power projects, electricity and telephone departments not to hire outside labourers for some time," Thapa said.
Thapa and the tourism stakeholders have urged the Darjeeling Himalayan Railway not to run the Siliguri-Darjeeling toy train till April 15.
The Darjeeling Tea Association said it had appealed to garden officials to keep records of people coming from outside and forward the details to the departments concerned.
Tea gardens, which have cluster labour quarters and also involves working in groups, are being seen as vulnerable to the spread of the virus. Tourism stakeholders in the hills have begun a campaign urging tourists to leave by 10am on Monday in view of the coronavirus outbreak, at a time administrative advisories have not had the desired impact.
In groups of twos and threes, the stakeholders — hotel owners, tour guides and transporters — will go to every hotel and other accommodations on Monday to check if they were still keeping tourists. They will also check vehicles to prevent them from bringing in fresh tourists.
Hotel owners and transporters are being told to ensure that all tourists leave by 10am on Monday.
On Wednesday, the Darjeeling district administration had issued a notice stating that "tourist will be restricted in the GTA areas in Darjeeling district on and from March 19th 2020 till 15th April 2020".
During a meting of tourism industry stakeholders on Wednesday, Anit Thapa, the chairman of the board of administrators of the Gorkhaland Territorial Administration, had said tourists should not be "chased away", rather they should be allowed to leave the town as per their schedule. It had been expected that the tourists who were already in Darjeeling would leave by Friday.
S.N. Pradhan, the president of the Himalayan Transport Co-ordination Committee, on Saturday said members of the associations representing transporters, hoteliers and homestays would themselves hit the streets from Monday as advisories had failed to have the desired impact.
"The order is not being implemented properly in the field. Some transporters are bringing in tourist and some hotels are allowing tourists to stay on," Pradhan said.
The Himalayan Transport Co-ordination Committee said in a media statement that by "10am on Monday" all tourists should leave Darjeeling and Kalimpong hills.
"All tourists must be out within the stipulated time," Pradhan said.
The transporters' association said their members would voluntarily check vehicles. "If we find any vehicles bringing in tourists, we will seize the cars," Pradhan said.
Photographs of tourists at famous spots in the Darjeeling hills on Saturday did the rounds on social media, raising concerns of the administration.