Dance classes to de-stress students in Calcutta
Birla Bharati School started the dance classes with the idea that it will help students rejuvenate themselves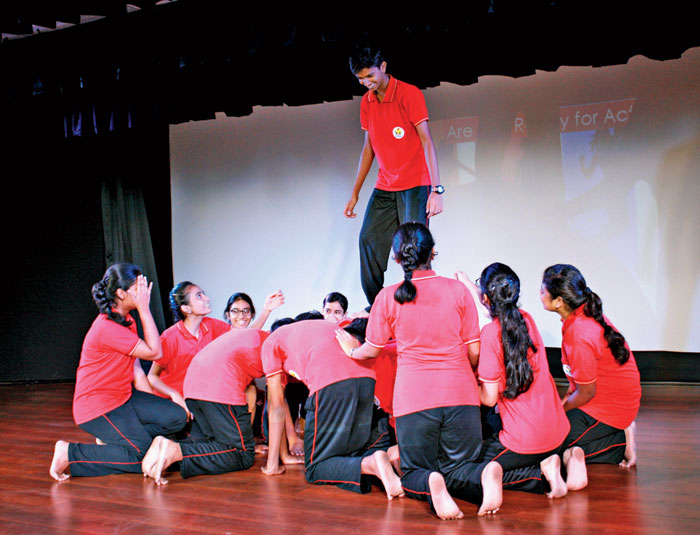 Birla Bharati School students at the dance class on Thursday
Sourced by the author
---
Calcutta
|
Published 08.08.19, 08:59 PM
|
---
A school on Thursday started dance lessons for Class X students to help them de-stress and shatter parents' belief that children need to give up extracurricular activities ahead of their board exams.
Birla Bharati School started the dance classes on Thursday with the idea that it will help students rejuvenate themselves by doing something "actively" instead of swiping the screen of their digital devices.
The classes to be held every week are meant for all students irrespective of whether they can dance.
Students in their feedback at the end of the day said they were initially sceptical but the exercise left them "more relaxed and cheerful".
"Parents don't allow students to take part in fests or any physical activity just because they are in Class IX or X and the board exams are near. As a result even those who had performed well till Class VIII have to give up," principal Apala Dutta said.
"But if we include it in the school timetable parents will have nothing to say," Dutta said.
Instead of sitting with books but not concentrating and waiting for the first chance to check phones, students can take a 15-minute break to dance, she said.
"It will help them concentrate on the music and rhythm. Parents frequently complain they lack concentration and have attention deficit disorders. So, we thought of introducing dance therapy classes, specially for the board batches.
"It will not only energise them but also rejuvenate and increase their concentration... they will have a strong, positive attitude towards life."
Professional dancer and counsellor Moushumee Garg started the classes on Thursday. "You need to get up and get moving and not slouch in front of the screen alone. Students now are a part of the virtual world and their action time is limited that creates psychological issues like anxiety disorders and attention deficit disorders," she told the students.
"I used to do freestyle dance four years ago but left it because of the pressure of studies. On Thursday, during the 45 minutes we danced, I did not think about my exams, homeworks or projects... I thoroughly enjoyed," Aastha Verma, a Class X student, said.