Dam water floods 20 blocks in south Bengal
The affected blocks are in West Midnapore, Birbhum, East Burdwan, Bankura, West Burdwan, Hooghly and Howrah districts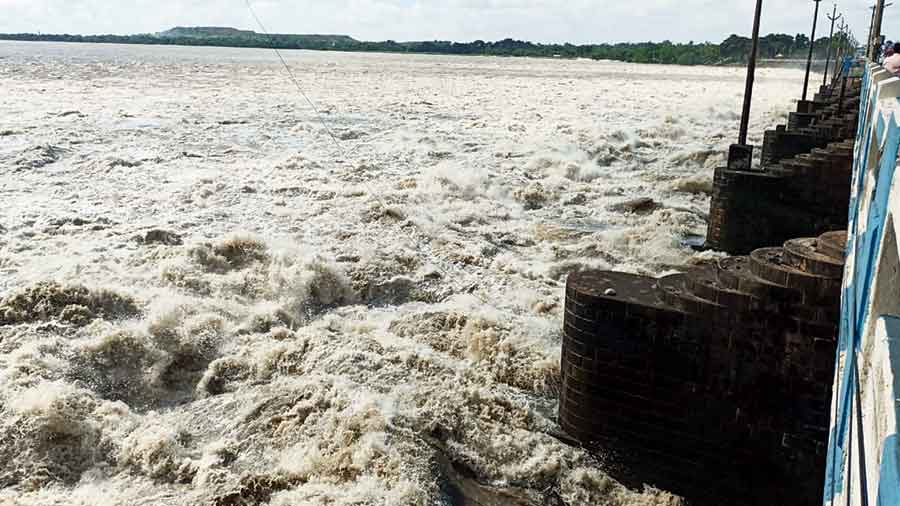 Water being released from the Durgapur Barrage in West Burdwan on Friday.
Anusuya Sinha
---
Calcutta, Durgapur
|
Published 02.10.21, 01:14 AM
|
---
Over 10 lakh people were marooned after at least 20 blocks in south Bengal were submerged following heavy rain in the state in the past 48 hours and release of water from DVC dams in Jharkhand, which forced the Durgapur Barrage authorities to release water since Thursday.
The affected blocks are in West Midnapore, Birbhum, East Burdwan, Bankura, West Burdwan, Hooghly and Howrah districts.
Inundated areas
Nanoor in Birbhum
Barojra and Patrasayar in Bankura
Ghatal in West Midnapore
Arambagh, Goghat and Khanakul in Hooghly
Ausgram, Mangalkot and Ketugram in East Burdwan
Areas likely to be hit
Pursurah in Hooghly
Udaynarayanpur and Amta in Howrah
Jamalpur and Raina in East Burdwan
Reason: The Damodar has already crossed the danger level of 12.89 meters
Cascading effect
Majority of the areas were submerged because of excessive rainfall in the catchment areas of the Maithan and Panchet dams maintained by the DVC in Jharkhand, which resulted in release of water that submerged downstream areas in Bengal.
For example, Asansol which falls in the catchment area of the Durgapur Barrage had recorded over 350 mm rainfall between Wednesday night and Thursday morning, which was highest in the recorded history. Moreover, the Maithan and Panchet dams had released 1 lakh cusec of water since Thursday morning.
With water gushing in from Jharkhand and heavy rain in its catchment area, the Durgapur Barrage released 2.36 lakh cusec water on Thursday afternoon, which submerged large parts of East Burdwan, Hooghly and Howrah.
Rivers like the Ajay, Kansabati and the Darakeswar in Birbhum, Bankura and Purulia, which carry water from the dams like Shikatia in Jharkhand, also crossed danger levels. This has caused inundation in several blocks in Birbhum and Bankura.
"Such inundation in these districts is a rarer phenomenon," said a senior official. .
Govt initiatives
More than 5 lakh people have already been evacuated. In view of the grave situation, the Bengal government has sought help from the army to carry our both relief and rescue operations. More than 1,000 relief camps are being operated across the state. The government has asked district authorities to open more camps as and when required.
Flood impact
The extent of damage can be assessed only after water levels recede, but preliminary reports suggest the following:
nTens of thousands of mud houses have collapsed because of the inundation
At least 3 lakh acres of kharif paddy have gone under water
Roads in districts like Bankura, Purulia, Hooghly and Howrah have been damaged severely
Scores of government utilities — including the government's solar power plant in Raniganj — remain under water