Cyclone Yaas path sets up first test for Jungle Mahal
Purulia, Jhargram, Bankura and West Midnapore evacuate thousands of people to safe shelters; army and NDRF deployed for rescue and relief operations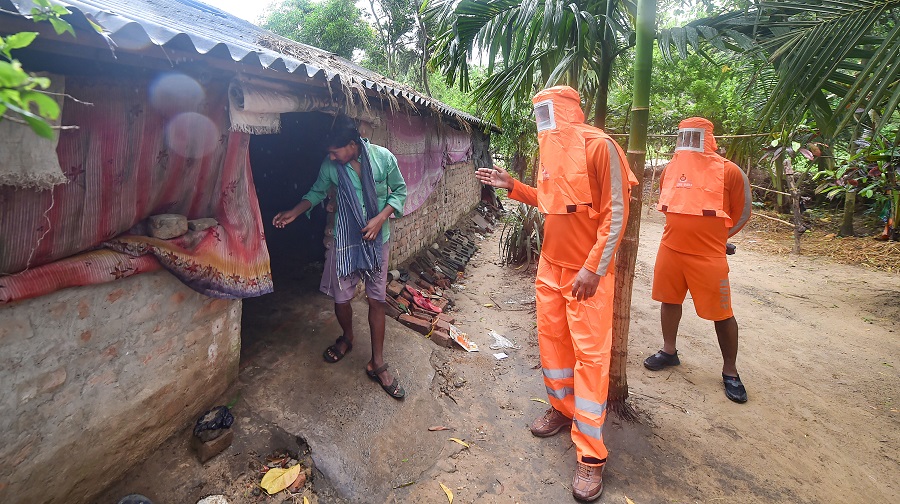 ---
Bankura
|
Published 26.05.21, 01:31 AM
|
---
The change in the path of Cyclone Yaas, which is expected to travel towards Jharkhand after making the landfall on Wednesday, has forced four Jungle Mahal districts to evacuate thousands of people to safe shelters and deploy army and National Disaster Response Force personnel for rescue and relief operations.
Officials said the four Jungle Mahal districts of Purulia, Jhargram, Bankura and West Midnapore had experienced a storm like Nor'wester or rainfall because of low pressure in the past but a cyclone was expected for the first time.
As cyclones are rare occurrences in these districts, infrastructure like cyclone centres is not available and the administration is depending on school buildings to accommodate evacuees.
The government issued a flood alert in rivers like Subarnarekha, Kangsabati, Damodar, Mayurakshi and Ajay because of heavy rainfall. All these seasonal rivers crisscross the Jungle Mahal as well as other districts like Birbhum, East Burdwan, West Burdwan, Howrah and Hooghly. Apart from the Jungle Mahal, all these districts were asked to evacuate people with the help of the NDRF and army.
"Purulia is a district that has never faced such a situation before. It is the first time that we are evacuating over 50,000 people to safe shelters to save them. NDRF and army personnel have been deployed in Jungle Mahal areas like Bandwan and Baghmundi. We are trying our best to save the people," Purulia district magistrate Rahul Mazumdar said.
Similar operations are going on in Bankura, Jhargram and West Midnapore also where teams of the army and the NDRF have taken positions. In Bankura, the administration has a target to evacuate 40,000 people and in Jhargram, officials have kept 1,200 buildings ready to house people living in mud houses.
According to the Met office, after landfall somewhere in the coastal areas of Bengal and Odisha, Yaas is expected to travel towards Jharkhand after passing through a large part of Jhargram, Bankura and Purulia.
The Met alert said eight blocks in Bankura, mainly three in Khatra subdivision, would be hit by the cyclone most and the main challenge was to manage destruction likely to be caused to forest areas.
"We are concentrating mainly on the Khatra area of our district. We have provided automated tree-cutters to all blocks for removing logs as soon as possible after the disaster. We have already posted NDRF and army personnel in vulnerable pockets," said K Radhika Aiyar, the Bankura district magistrate.
Sources said three blocks of Jhargram, including Nayagram and Gopiballabhpur, were very vulnerable this time as they were only within 90km from Balasore in Odisha, the region where the cyclone might make a landfall.
"Our main fear is that the three blocks are likely to face the worst impact of the cyclone. The evacuation process is on and we have shifted over 20,000 people to several high school buildings," Jhargram district magistrate Joyoshi Das Gupta said.
Police officers said central forces were usually deployed in the Jungle Mahal to combat Maoist activities but the cyclone had brought them to the region this time.
"This is the first time we are posting forces to combat a disaster in Jhargram or Purulia. Earlier, they used to be posted to combat Maoists," said a senior police officer who once served in Purulia.
Apart from the Jungle Mahal, evacuation has also started in districts like Birbhum and West Burdwan.
"We have already evacuated 56,000 people from the areas bordering Jharkhand. We are keeping a close watch on two barrages in the district and monitoring the water level in the river," said Bidhan Chandra Roy, the Birbhum district magistrate.