Cyclone Yaas: Boats bring soil to repair dykes
Offbeat start with earthmovers off bounds amid floods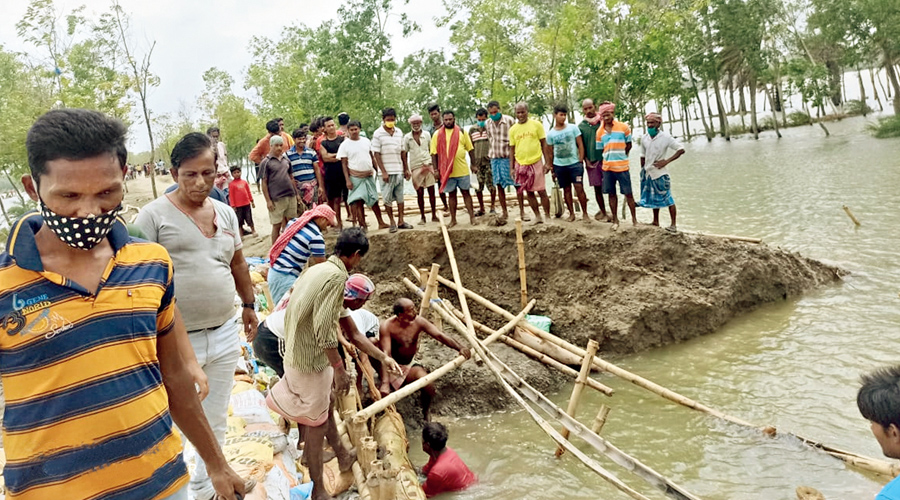 Villagers try to repair a breached embankment at Patharpratima in South 24-Parganas on Thursday, a day after Cyclone Yaas
Telegraph Picture
---
Calcutta
|
Published 31.05.21, 12:51 AM
|
---
Irrigation department officials in the coastal district of East Midnapore, and in stretches of North and South 24-Parganas are transporting earth in motorboats in flooded areas to repair embankments damaged by Cyclone Yaas.
The reason? Earthmovers and other construction machinery still can't venture inside flooded areas. Roads are under water. And repairs must be done quickly so that floods don't recur on June 10 and 11, when a high tide is likely in the area.
Sources said around 136 points along these areas have been earmarked as flood-prone, and work had begun in these areas over the weekend. However, given the challenging nature of the task, some officials are unsure of finishing the task in time.
"We can't move earthmoving machines towards the embankments as the entire area is waterlogged. We can't get manpower too, as people here are still struggling. Another problem is the distance we have to cover to transport fresh earth. We don't know if we will be able to repair the entire embankment before the next high tide," said a senior irrigation official in South 24 Parganas.
"We have started what we can do by bringing earth in these vessels," he added.
Sources in the irrigation department said embankments have been breached in three districts at 136 points, and over 290 spots of a 400km earthen embankment has been damaged by the sudden surge in water level.
After engineers on the ground apprised senior irrigation officials of the situation over the weekend, a high-level meeting was held on Thursday evening, headed by minister Saumen Kumar Mahapatra.
"It is really challenging to finish repairing embankments within 10-12 days. So, we planned to hire large vessels to carry earth and machinery through water immediately," irrigation minister Mahapatra said.
Mahapatra said this meant extra costs but the government had no other option.
"It will take time if we wait for waterto flow down from flooded areas. It will be also tough to get a large supply of earth from neighbouring areas as most places are under water. We have made a primary estimate of around Rs 160 crore to complete these immediate repairs," the minister added.
After Amphan last year, the department had stockpiled construction materials at 122 points across 10 districts before Yaas arrived.
"We had kept ready construction materials in 112 vulnerable areas of 75 blocks where Cyclone Yaas could leave an impact. This was done to ensure that the repairing of embankments could be started at the earliest. With vessels, it will be easier to deliver materials to the sites," said a state irrigation official.
However, some officials said this wasn't feasible as motorboats cannot bear the load of earth or other materials required to repair embankments. "We can repair embankments at a few points by bringing earth from far away. But this time the damage is bigger than Amphan and I doubt whether it will be possible to repair every place by bringing soil via waterways," said a senior irrigation official in North 24-Parganas.