Perils of 'temporary connection'
Do not overload lines: CESC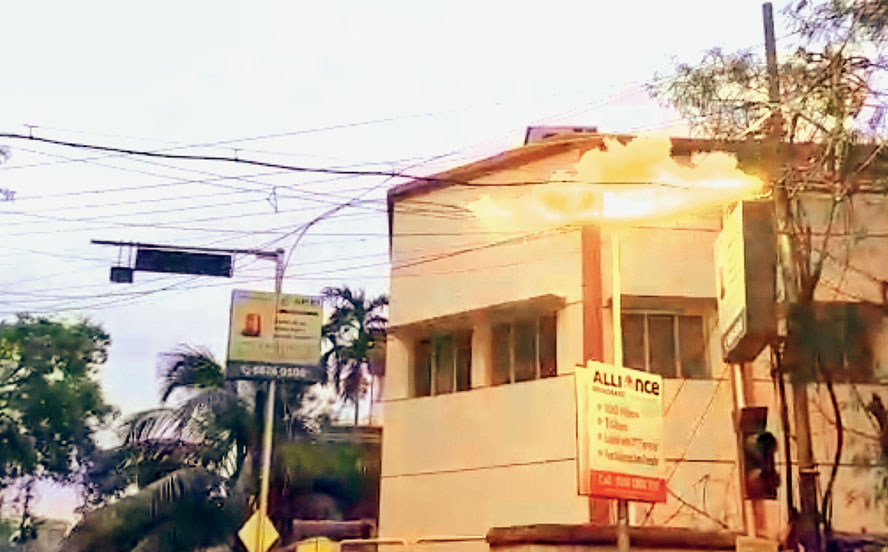 ---
|
Calcutta
|
Published 26.05.20, 10:30 PM
---
Some Calcutta neighbourhoods where power supply had been restored have again plunged into darkness, sometimes after sparks resembling fireworks spread panic among the residents.
In Suryanagar, a neighbourhood between Ranikuthi and Bansdroni on NSC Bose Road, power supply had been restored at 3pm on Sunday.
The respite lasted barely a day. A blizzard of flashes lit up the lines on Monday evening and power went out again. It remained that way till late on Tuesday.
CESC personnel had told the residents that a "temporary connection" was being provided to restore supply. Such "temporary connections" have been a saviour in several localities — Survey Park, Santoshpur and Lake Gardens, for instance — where power was restored in the past two days.
"These connections are similar to what a local electrician does when he is asked to decorate a house with lights for an occasion," said an engineer of the CESC.
A spokesperson for the CESC said: "We tell residents where we install temporary connections not to overload the line. The same practice was followed here."
Electrical engineers said these connections were meant to meet the most basic requirements of a household — like a fan or a light. If an air-conditioner is switched on, it may trigger sparks and flashes as the wires could fail to carry the load required to run the AC or a similar gadget.
Several engineers working with power utilities said temporary connections were not as safe as regular connections. "Imagine there are four electric poles in a lane and the third and fourth poles fell in the storm. The temporary connection would be set up from the third pole," said an engineer.
The lines that would take electricity forward from the third pole would be wired together quickly in an emergency situation and taking all the safety measures would not be possible. "This is a situation where at least some amount of electricity has to be supplied to all homes at the earliest. We cannot take too much time," said the engineer.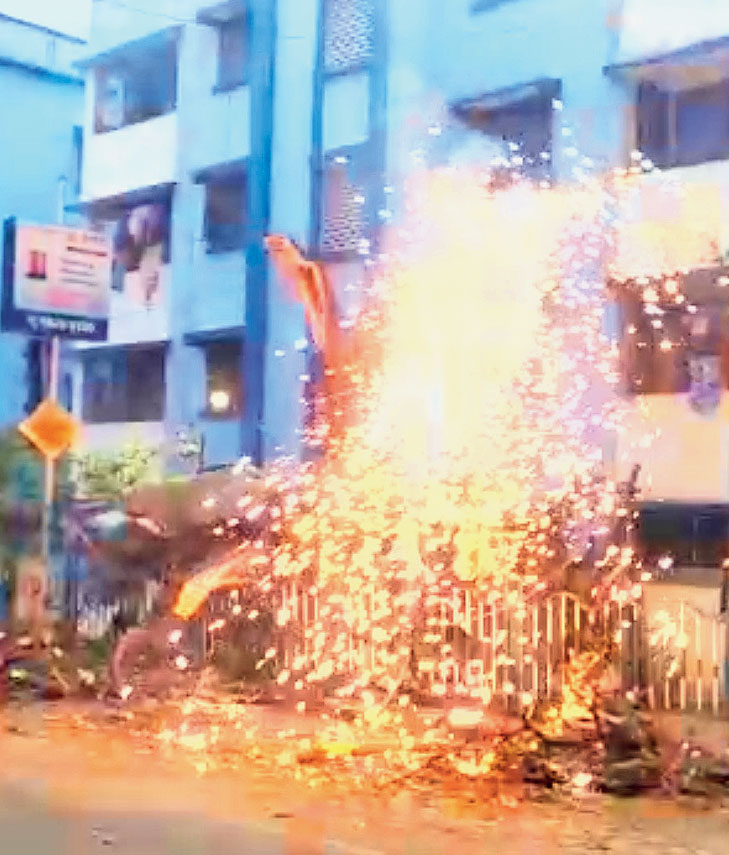 Large parts of the southern suburbs like Behala, Kasba and Jadavpur, and west Calcutta, not to mention some districts the CESC serves, still have overhead electric cables. Most of the complaints of prolonged power cuts since the cyclone struck have been reported from these places. Trees fell on electric cables and snapped the supply. In some cases, the poles were felled by the wind.
A Kasba resident complained that the CESC treated them as second-class customers. "Why didn't the company install underground cables in our locality? They do not charge us less than places where they have underground cables, areas that have been virtually unaffected," he said.
A CESC engineer blamed haphazard development in places like Kasba, Behala and Jadavpur. "The lanes are very narrow and there is hardly any scope to lay underground cables in these densely populated places," he said.
An electrical engineer not associated with CESC said the initial investment for laying underground cables was nearly three times higher than drawing power through overhead cables.
For now, "temporary connection" is the only option.
An engineer explained that as electric poles have been uprooted in many places, ad-hoc arrangements have been made. If a source of electricity served 20 households earlier, the same source is now serving 40 households or more. "Naturally, all electrical gadgets cannot be used," he added.
Electrical engineers said the sparks could have been because the insulation of the wires must have burned.
A CESC engineer said that residents should stay away from the temporary connection wires and follow the instructions of power utility companies. "Residents should try and use the basic minimum electrical appliances till a complete restoration is done," said the engineer.
An engineer listed the dos and don'ts:
Do ask the personnel restoring supply for clear instructions.
Do follow the instructions.
Do not go near the wires.
Do not switch on appliances other than fan and light.