Government gives rundown on power, water restoration
3 lakh evacuated people still at camps: Bengal home secretary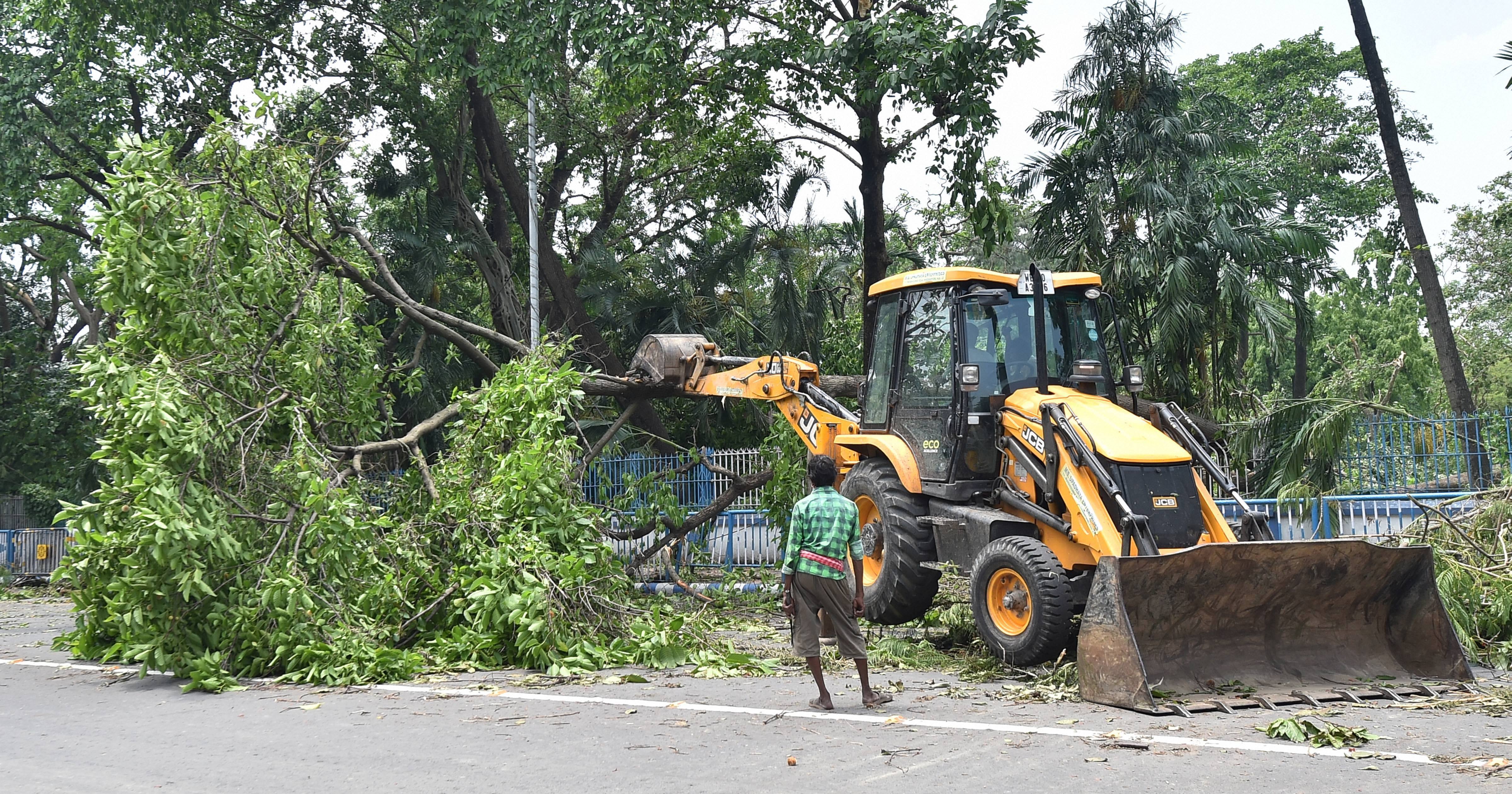 Municipal worker operates a bulldozer to clear a street blocked by uprooted trees in Calcutta
(PTI)
---
Calcutta
|
Published 26.05.20, 11:16 PM
|
---
The Bengal government on Tuesday sought to offer clarity on relief and restoration operations across 16 districts that felt the impact of Cyclone Amphan with a statement on the measures undertaken to mitigate the effects of the calamity.
Home secretary Alapan Bandopadhyay said the cyclone, which caused 86 reported deaths, had necessitated the evacuation of 8.13 lakh people, of whom 3 lakh still remained at camps.
"All national and state highways have been opened. Telecommunications, more or less, 85 per cent has been restored. Piped water supply stations, 785 of 1,328 restored and re-energised. Over 50 lakh water pouches have been distributed, 500 water tankers pressed into service by the PHE (public health engineering department) alone. Besides, various civic bodies are supplying water wherever problems are seen," the home secretary added.
According to estimates from private utility CESC and state-run West Bengal State Electricity Distribution Company Limited, Bandyopadhyay said, water supply stations, drainage pumping stations and most of the major hospitals have already got power connection back.
Most drinking water supply projects of the PHE, even in rural areas, were "more or less" restored.
"Although, given the extent of devastation in the rural areas, not everywhere can such a claim be made. Work is underway on a war footing, despite that, it will take some time," he said.
Bandyopadhyay said CESC still claimed it was "definitely challenged" and was yet working hard in the south eastern (Panchasayar onwards) and the south western (Behala onwards) suburbs of Calcutta.
"They (CESC) are repeatedly sending us messages and the state government is keeping constant pressure on them. What they have informed is that in areas such as Kasba, Netajinagar and Patuli (in Calcutta), they are trying their level best," said the home secretary.
"In areas such as Rajabazar, Nadiyal, Garfa, Jadavpur, Regent Park and Parnasree (in the city), they are trying their best, despite problems," he added.
Shortly after, CESC vice-president (distribution services) Avijit Ghosh said restoration was to be completed for 97 per cent — 32 lakh of the utility's 33 lakh consumer base — by the end of the day.
Bandyopadhyay said CESC had told the government it had brought in people from its Rajasthan set-up to increase the number of teams working on the ground for electricity restoration.
Ghosh said there were 146 teams working 24x7.
"In areas such as Patuli and Panchasayar, those teams (from Rajasthan) are at work," said Bandyopadhyay.
There were allegations that many places where CESC had claimed to have restored electricity were still without power.
Touching on the charges, the home secretary said: "As has been reported, despite their (CESC's) claims, in some places, perhaps, there is still outage in many households. What they (the utility) are saying is after basic connection restoration in some neighbourhoods or pockets, if there is still disconnection or problems, they are working 24x7 to normalise the supply… in the south eastern and south western suburbs.".
Bandyopadhyay said WBSEDCL had informed the government that all its 58 damaged transmission substations had been restored as were 259 of the 273 damaged distribution substations.
"Of 103 municipal towns (affected by the cyclone) under the WBSEDCL's jurisdiction, power was restored effectively at most places in 94. A few pockets here or there might still have connectivity issues. In the remaining nine — Pujali, Budge Budge, Rajpur-Sonarpur, Joynagar, Baduria, Hasnabad, Habra, Ashoknagar and Gobordanga — where they did not claim overwhelming success yet, they are working on a war footing and expecting that there, too, power will soon be restored in large parts," he said.