Unfit for Amphan aid? Payback time
Faux victims asked to return relief money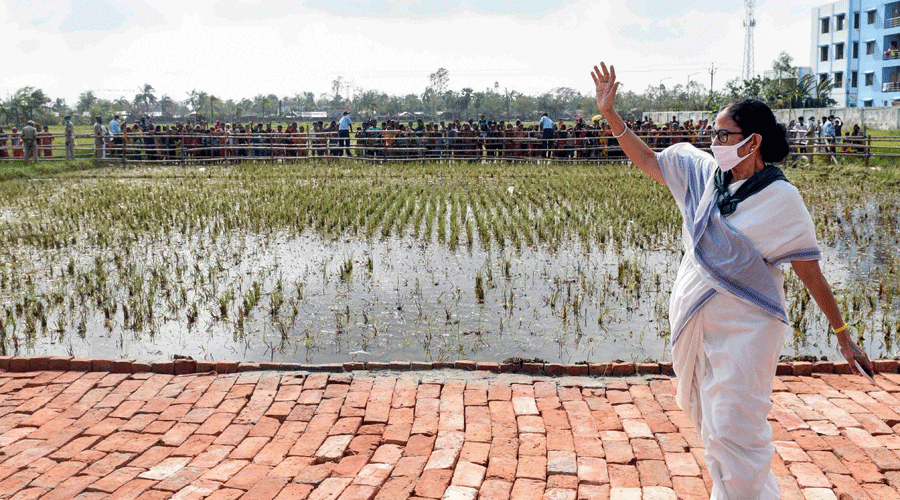 ---
---
The Bengal government has focused on two districts worst hit by Amphan to get back compensation from beneficiaries later found ineligible in an attempt to cleanse the image of the ruling party facing charges of political bias in the distribution of cyclone relief in the run-up to the 2021 Assembly polls.
In the North 24-Parganas, ineligible beneficiaries who are willing to return the state's compensation of Rs 20,000 each can issue bank drafts or cheques in favour of the district magistrate and give a written undertaking confessing to their "mistake".
In South 24-Parganas, the administration had taken stricter measures to get the money back from ineligible candidates by serving letters threatening legal action.
A source in North 24-Parganas said the block development officials sat in a meeting last Friday and asked members of gram panchayats and other local bodies to distribute the undertaking to ineligible beneficiaries, and ask them to voluntarily refund the money to avoid legal proceedings.
The undertaking says the person understands his or her application for Amphan was a "mistake", and he or she is now "refunding the money along with a cheque/bank draft". "I promise the cheque or bank draft would not bounce….," the undertaking reads.
A BDO in North 24-Parganas said ineligible beneficiaries were being identified and asked to refund the money through cheques or bank drafts. "We don't know how many people will turn up. If this step fails, we will take legal action. We are also processing fresh applications of the genuine beneficiaries," the BDO said.
The process may not have too many takers. For example, till Monday evening, 12 persons deposited cheques and drafts at Deganga block of North 24-Parganas. On the way forward, North 24-Parganas district magistrate Chaitali Chakrabarti said: "We are focusing on those who will return the money willingly. We will think about the next step later."
At one block in South 24-Parganas, the administration issued a stern letter to ineligible beneficiaries. "It is to inform you that you have received Rs 20,000 as government compensation for Amphan cyclone by providing misinformation to the authorities as your house was not damaged. You are directed to refund the money within 24 hours, otherwise legal action will be taken against you," the letter reads.
"We have records of people who got the money and people who recommended they be paid. Once we get money back, we will take action against the people," said an official.
South 24-Parganas district magistrate P. Ulaganathan did not take calls from The Telegraph.
These two districts faced protests by villagers and Opposition leaders, who cited instances of owners of multi-storey concrete houses getting Amphan aid. In South 24-Parganas, at least two gram panchayat offices were ransacked and a panchayat member was forced to squat before hundreds of people.
The issue of Amphan relief anomalies was flagged by the CPM, Congress and BJP at the all-party meeting called by chief minister Mamata Banerjee on June 24, who immediately directed the administration to look into the complaints.
"If the government takes back money from ineligible candidates, a strong anti-corruption message will be sent out," said a Trinamul leader in South 24-Parganas.
Kanti Ganguly, former CPM minister and a veteran party leader from the Sunderbans, however said malpractices involving government funds was a criminal offence and the government should start criminal cases against those involved in the irregularity.