Nigam Priya Chakraborty: A CRPF jawan under fire but fighting back
One needs nerves of steel to keep going after witnessing what he had seen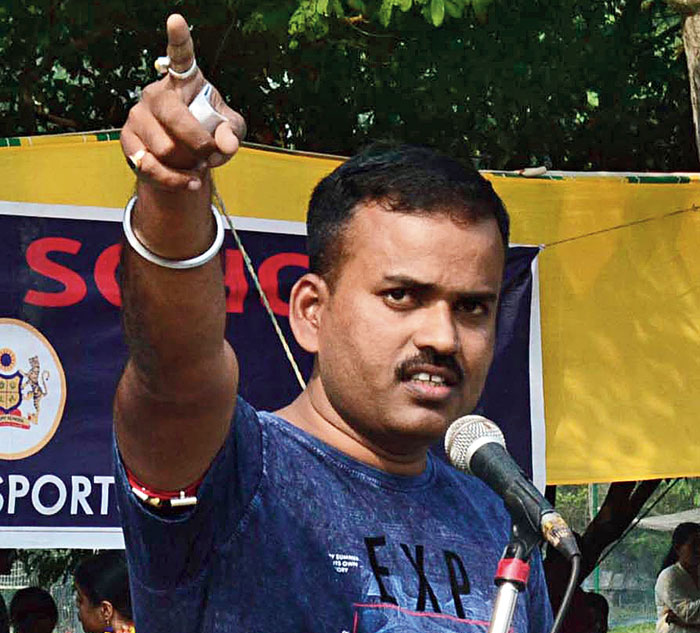 ---
---
Nigam Priya Chakraborty is a CRPF jawan who bravely fought off terrorists in the 2016 Pampore attack in Kashmir's Pulwama district. He had come to Apeejay School's sports day as a chief guest and shared his bone-chilling story.
On the afternoon of June 25, 2016 my fellow jawans and I were on a bus returning from a shooting range. Suddenly the bus stopped, the windows started shattering and glass shards came raining down, piercing our bodies. We heard gunshots. We were under attack.
We pinned ourselves to the floor to buy time to assess which side the shots were coming from. They were coming from the front windscreen. The bus driver had been shot dead!
The terrorists came up close and kept firing at us with their AK-47s and lobbing hand grenades. Just as I was preparing to retaliate, a jawan had his head blown off before my eyes. He was my friend.
You need nerves of steel to keep going after witnessing something like that. The other jawans were too startled. They stayed pinned to the ground but two of us picked up our AK 47s and started shooting. A bullet hit my left wrist. It came loose and dropped from my arm, limp and lifeless. Another bullet grazed past the wrist, pierced my chest, shot through my lungs and entered my spine.
But I couldn't stop. I gripped my rifle under my right shoulder and continued shooting with my right hand. It was when the pain got unbearable that I screamed, looking down. I had been shot in my stomach and it had burst open. My intestines and what not were spilling out.
You may have noticed us soldiers wearing a black bandana on our heads. I pulled that off and with my right hand and left elbow tied what I could of my stomach.
I picked up the rifle again and resumed firing. I couldn't change magazines with one hand and also didn't know how long I would have to face the terrorists so I started firing single shots. The terrorists would have entered the bus and killed us all but the lifeless body of a jawan was stuck at the door, making entry difficult.
The ordeal continued for 20 minutes, after which help arrived. Some terrorists got away but we killed two. Out of the 57 soldiers in the bus, eight died. But if the two of us hadn't fought back the number could have been 18, 28, 38….
The two of us were critically wounded. Our bus driver — a brave sardar — took 14 bullets. When I was being helped out of the bus I saw his leg lying severed on the ground.
I also saw the two terrorists we killed, lying lifeless. One I had shot myself and the other had shot me. I was half dead by then but still felt an overwhelming urge to go kick them with the last iota of strength I had left in me. How dare they attack my India!
One of the terrorists who got away was the young militant Burhan Wani. Days later, security forces killed him in an anti-insurgency operation.
Bullet in spine for years
After the ambush, I spent a month-and-a-half in a nearby hospital, on the ventilator. My lungs had got punctured. I was then airlifted to AIIMS in Delhi. Given the state I was in, I wasn't meant to live but the blessings of my countrymen saw me through.
My stomach has been bundled back in place but it protrudes immensely. I have to wear four lumbar belts at all times to hold it secure.
My left wrist is now crooked and I have no sensation in it. But no worries! My right hand is intact and if need be, I can pick a rifle with it again.
I've been operated upon 11 times and the 12th and most dangerous operation awaits. Remember the bullet that entered my spine? It's still stuck there after three-and-a-half years. Doctors say it's too dangerous to dislodge. My body is in pain always and my back often goes numb with it.
Country above all else
At present I'm on medical leave, spending time with my family in Nabadwip. I live with my parents, wife and son, who was born after the attack. When I was hospitalised my family would look at my photographs and weep.
I don't tear up easily but my eyes swell up at the thought of my colleagues who lost their lives. Some of them had three children. What will happen to them? Money is not the only thing; these kids will never get to meet their fathers again!
Today I haven't come to this sports day as a chief guest but as a "dada". People are calling me "sir" here but I am not worthy of that title. "Sir" is a big word, reserved for those educating children and teaching them to become good human beings. I am no hero, just someone who performed his duty.
I'm happy if I have inspired you but let me tell you that holding a rifle on the border is not the only way to serve your country. It's not enough to say you love India. You have to prove it with your actions. Work hard and contribute in your chosen field.
Bharat mata ki jai!