Crisis cloud on East-West Metro first phase
The authorities were hoping the inauguration of the first phase of the project to be operational by Durga Puja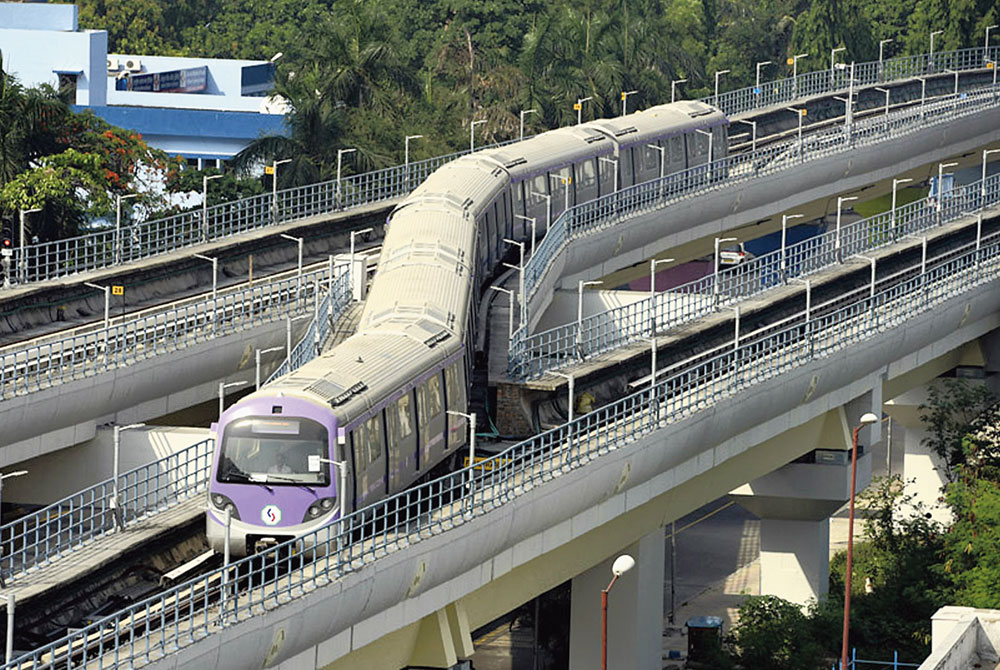 The 16.5km East-West Metro corridor, which has missed multiple deadlines, will stretch between Salt Lake Sector V and Howrah Maidan
Picture by Sanat Kr Sinha
---
Calcutta
|
Published 09.09.19, 09:57 PM
|
---
The East-West Metro mishap in Bowbazar may further push back the inauguration of the first phase of the project, which the authorities were hoping to be operational by Durga Puja, officials said.
The 16.5km East-West Metro corridor, which has missed multiple deadlines, will stretch between Salt Lake Sector V and Howrah Maidan.
In the first phase, which the authorities had hoped would be unveiled by Puja, trains will run between Sector V and the Salt Lake stadium, a distance of 5.5km.
"Some technical problems were identified during the trial run. Unless those are addressed, the first phase cannot be operational. But with most officials busy tackling the Bowbazar crisis, there is almost none to deal with the technical issues in the first phase of the project," a senior railway official said.
A machine that was boring an East-West Metro tunnel in Bowbazar had hit a giant aquifer on August 31. Water from the aquifer flooded the tunnel, triggering large-scale subsidence and causing damage to many buildings. Hundreds of residents have been evacuated.
The technical problems that came to light during the trial run:
Platform screen door
Sources said drivers were finding it difficult to align the train doors with the platform screen doors during the trial run. The drivers were all from the north-south Metro corridor, which does not have platform screen doors.
"It was natural that the drivers found it difficult to align the train doors with the screen doors. A difference of a few millimetres in alignment means the doors will not open," said an official. "The drivers need more practice to be able to implement the precision-based system."
At times, even though the doors had aligned, the platform screen doors failed to open. "These teething troubles will be rectified with time," said the official.
Signalling system
East-West Metro has an advanced signalling system, called communication-based train control. The automated system does not need any signal post because the train picks up signal from the tracks.
When a train moves, the tracks behind it become open for the next one. This ensures a safe distance between two trains.
"The trains will be integrated with the signalling system. Depending on whether the tracks ahead are clear or not, the signalling system directs a train through telecommunication to move or stop. There is no green or red signal," the official said.
"However, at times when tracks ahead were clear, the system was asking the train to stop or not to move. These snags need to be rectified."
Automated gates
East-West Metro will have automated gates for entering or exiting platforms. "The station in-charge will monitor the functioning of the gates. If any gate malfunctions, that will show on the monitor. The system is yet to become functional," the official said.
Asked about the snags, an official of Kolkata Metro Rail Corporation, the implementing agency of the project, said: "Metro Railway will run the trains, so they have to look into the issues."