Cracks found, bridge closed
Cracks found on Bengal-bound flank of Barakar bridge on NH2 on the Jharkhand border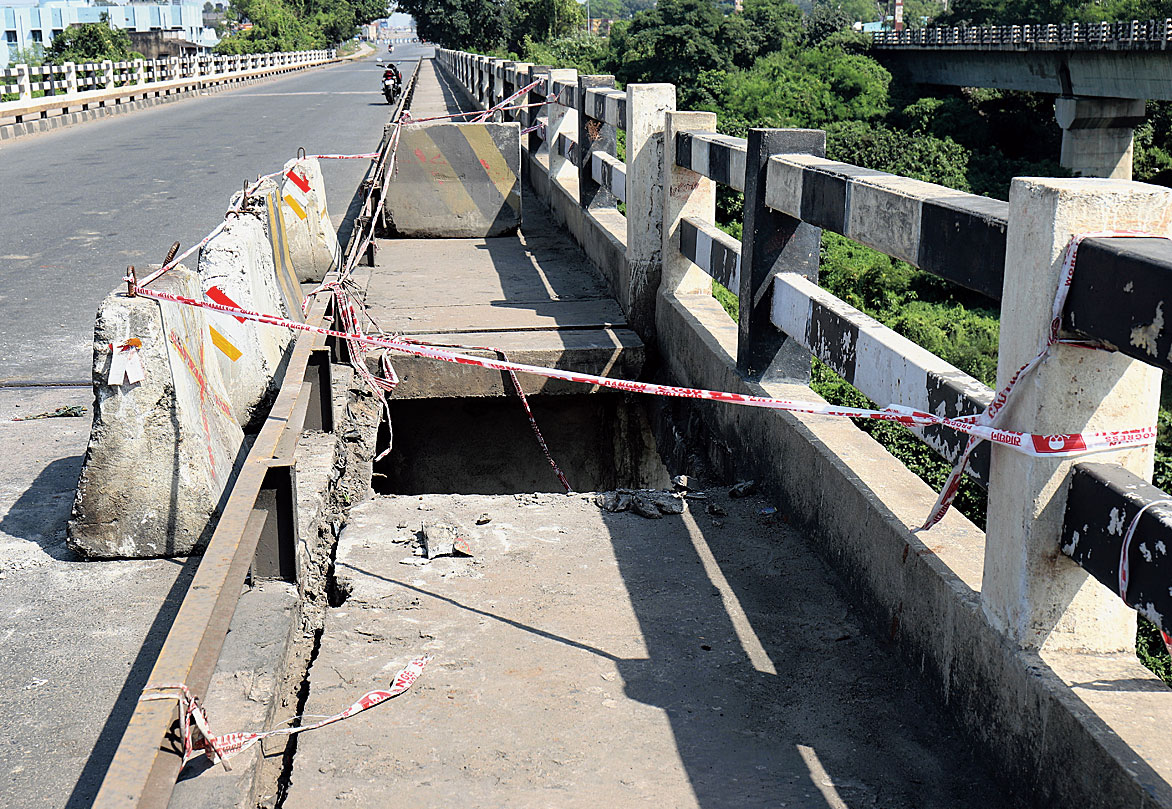 ---
---
Traffic has been stopped on the Bengal-bound flank of Barakar bridge on NH2 on the Jharkhand border after cracks were detected in a pillar of the four-decade-old structure and concrete slabs fell from its footpath.
The bridge is over the Barakar river and near the Duburdihi check-post in Asansol subdivision. It is maintained by the National Highways Authority of India (NHAI).
The bridge was constructed by the Bihar government four decades ago before Jharkhand was carved out.
At present, the other flank bound for Jharkhand is being used for up and down traffic.
The bridge connects Bengal and Jharkhand and is used by all Calcutta and north India-bound vehicles. The other lane is now used by the Bengal-bound vehicles, resulting in bottlenecks on the busy highway. Sources said at least one lakh vehicles, including trucks and light vehicles, plied on the bridge daily.
During an inspection of the bridge by the engineers of the NHAI on Friday, it was detected that two concrete slabs of the footpath on the Bengal-bound lane had fallen into the river, resulting in a yawning gap. "We immediately asked the Jharkhand administration to stop the plying of heavy vehicles on the Bengal-bound lane and informed our higher authorities in Delhi about the matter. A pillar has also developed cracks," said an engineer of the NHAI.
He said the engineers had primarily found that the girder and the bearing of the pillar 5 of the bridge were damaged because of continuous plying of heavy vehicles and needed immediate repairs.
The NHAI does not have the map and drawing of the bridge and has sought the sane from the public works department of the Jharkhand government for study.
However, the NHAI engineers said it would be risky to allow heavy vehicles on one flank for long as it would cause additional pressure on the old bridge. "We have to complete the repairs soon to resume normal traffic," said an engineer.
Hundreds of trucks were found stranded on either side of the bridge on Sunday as traffic was slow. "The traffic has always been slow here resulting in congestion because of checking of vehicles at the check-post. But now, the situation has worsened. We are helpless," said a traffic police officer in Asansol.