Crab hunter attacked by tiger, injured
Laxminder Sanfui, 51, a resident of Deulbari area of Kultali's Debipur gram panchayat, received serious head injuries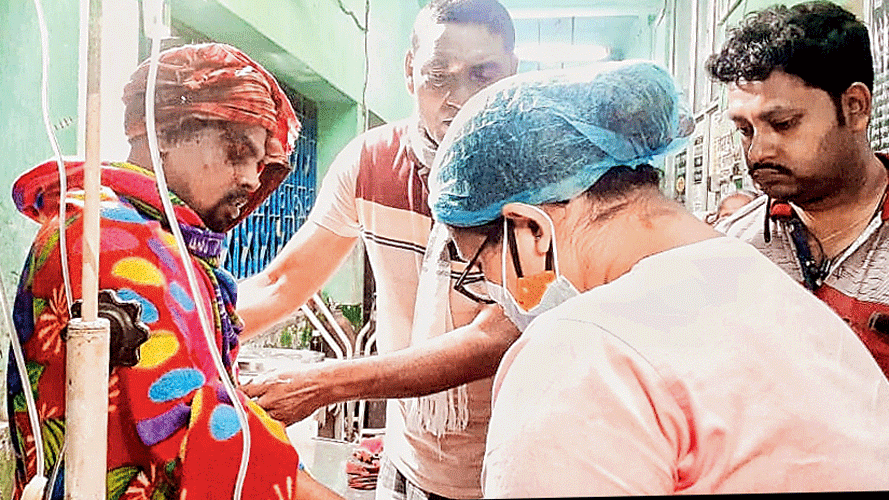 ---
Kalyani
|
Published 10.11.21, 03:15 AM
|
---
A crab hunter suffered multiple injuries when a royal Bengal tiger pounced on him while he and two others were inside a creek in Belifeli jungle on Monday evening.
The trio said they had permission for fishing but a senior forester said that the spot where the attack happened was a tiger habitat, off bounds for people.
Laxminder Sanfui, 51, a resident of Deulbari area of Kultali's Debipur gram panchayat, received serious head injuries. The others on the boat, his brother Soumitra and neighbour Ibrahim Sheikh, managed to rescue him by "fighting hard" with the tiger.
Laxminder was rushed to Joynagar rural hospital in the Kultali block late on Monday night. Owing to continuous bleeding, he was shifted to Chittaranjan National Medical College Hospital on Tuesday.
Local sources in Kultali said Laxminder, Soumitra and Ibrahim who, left Deulbari on Monday morning to trap crabs, were in the evening taking rest after anchoring the boat in the middle of the creek when the tiger swam up to them and attacked the trio.
"The tiger leaped onto our boat and attacked Laxminder, and mauled him with his paws. It seemed desperate to drag him away. We fought hard with it and succeeded in driving it away," said Soumitra.
The trio claimed they had "valid permission" for fishing and hunting from the Kultali beat office. They claimed that the attack was unexpected as tigers are normally not seen in that stretch.
However, this claim was rejected by the DFO (south) Milankanti Mandal. "The team had a permit for fishing only in the jurisdiction of South 24Parganas. But they sneaked inside areas of Sunderbans Tiger Reserve. It was an illegal infiltration," the DFO said.
"All recent incidents of attacks on people by tigers have occurred inside the Sunderbans Tiger Reserve. Tigers do not enter human habitation. Tigers always defend their territory and attack anyone who sneaks into their area of dominance. People should realise it," Mandal added.
An official of the reserve said that attacks on human beings by tigers tended to spike during the winter.
"During winters, tigers come out of the mangrove and roam close to creeks unlike in the summer. During this time, we check our nylon netting and fencing so that they do not come out into villages. It appears that the tiger noticed his prey, the unprotected crab hunters, and attacked them," the official said.