CPM killed people for Singur land: Mamata Banerjee
BJP accuses CM of failing to bring big-ticket investment to Bengal and of having achieved precious little by way of industrialisation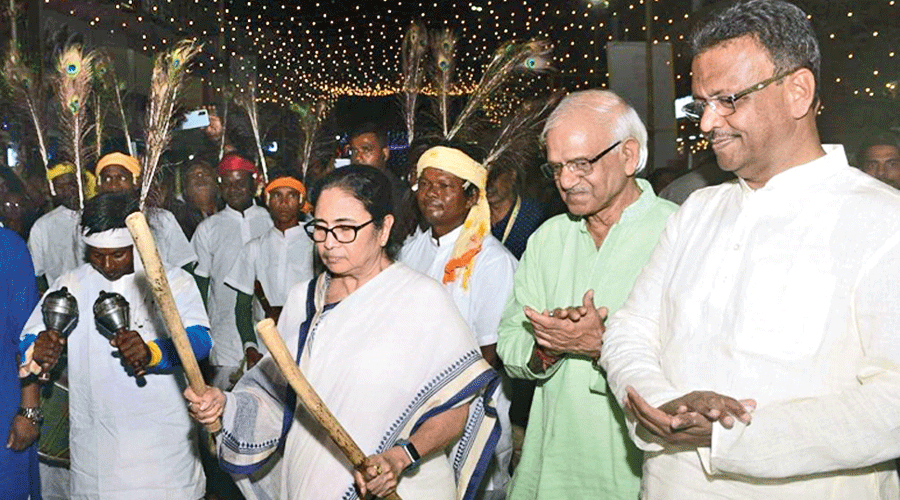 Mamata Banerjee at an event in Calcutta on Thursday.
The Telegraph
---
Calcutta
|
Published 21.10.22, 01:14 AM
|
---
Mamata Banerjee on Thursday stood by her previous day's remark that it was the CPM which had driven Tata Motors out of Bengal and her movement was only against the forcible acquisition of land for the company's Nano car project at Singur.
At a Kali Puja inauguration event in central Calcutta, the Bengal chief minister was once again critical of the CPM over Singur.
"One needs to know how to do it (bring investment or encourage industrialisation)…. You snatched land from farmers, by force. We do not do that. You did that. You killed people," Mamata said reiterating what she had said on Wednesday.
On Thursday, she went a step ahead and also trained her guns on the Tata Group.
"The Tatas had advertised against us back then, during elections, urging people to vote for you. But we never said anything. We had said wherever there is land, go and
do it, we have no objection. Take alternative land," the Trinamul Congress chairperson said.
"Our movement has been accepted nationally as law of the land," she said, referring to the 2016 Supreme Court verdict that had held the land acquisition at Singur "unlawful". 
The chief minister said even after 11 years in power, her government steered clear of forceful acquisition of land, even for public infrastructure projects. "Nothing without willingness," she said.
On Wednesday, Mamata had said she or her party had no role in driving Tata Motors out of Singur and blamed the CPM for the company's exit from Bengal.
"I didn't drive away the Tatas. It was the CPM which did it. We had organised the movement against forcible acquisition of land and in due course, we returned the plots to farmers. There was no dearth of land in the state.... We also acquired land for different projects but didn't resort to coercion ever," she had said in Siliguri.
Mamata tried explaining why she had issued that statement the day before.
"I had tried saying something. Some are now going around asking why the Tatas would hire people from Bengal who have received skill-training. Have they been saying that or not? Have the BJP and the CPM been saying this or not? So I said we never discriminate," she said.
"Here, A to Z, whoever comes for investment, industry, they are all welcome. We do not differentiate," added the chief minister.
"So if the Tatas are giving jobs… do they (the Opposition) not know how many companies the Tatas have here? Just go and take a look at Kharagpur or the IT hub, you will know why I am saying this."
The CPM alleged that the chief minister's Singur reference was a diversionary tactic.
"With the Singur comment, she tried to address rural Bengal because the panchayat polls are ahead and she has realised that there is a growing disillusionment with her among the vast rural population," said CPM state secretary Mohammad Salim.
"She has silenced the civil society here, but the common man is now voicing his angst. Rekindling the Singur issue is her way of diverting attention from the thousands of job aspirants sitting in protest," he added.
The BJP accused Mamata of failing to bring big-ticket investment to Bengal and of having achieved precious little by way of industrialisation.
"Has she been able to bring any new industry to Bengal in these 11 years? How would she, with such a poor land policy and her no-SEZ stand? She herself is solely responsible for the Tatas leaving Singur and everyone knows that," said the BJP's state chief spokesperson Samik Bhattacharya.