Covid: Santiniketan women who wheel in oxygen to doorsteps
The Liver Foundation in Calcutta and Covid Care Network, who have been extending relief initiatives beyond Calcutta to 16 districts, sent four O2 concentrators to the team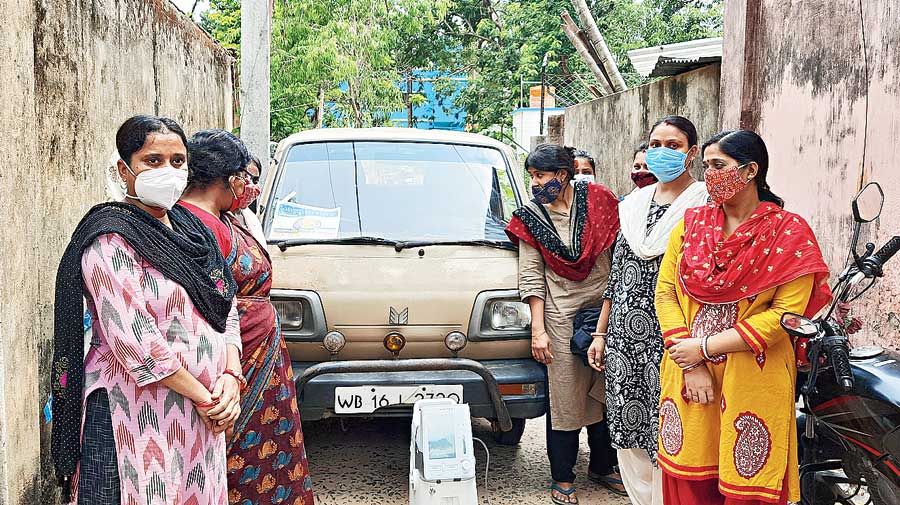 The women's team that runs the Oxygen on Wheels drive in Santiniketan.
Amarnath Dutta
---
Santiniketan
|
Published 24.05.21, 01:37 AM
|
---
A group of women from here have started the 'Oxygen on Wheels' initiative to reach out to Covid-19 patients at home with oxygen concentrators. All 10 members, including drivers, procurers and operators, are women.
Churki Hansda, a 30-year-old tribal woman, is the group's driver. On Sunday, she drove a vehicle loaded with oxygen concentrators several times, also in the dead of the night at a moment's notice.
Others, like school teachers Manisha Banerjee and Barnali Basu, and homemakers like Kalyani Dutta, provide instructions over the phone to patients. They were trained in using these concentrators only weeks ago.
The Liver Foundation in Calcutta and Covid Care Network, who have been extending relief initiatives beyond Calcutta to 16 districts, sent four oxygen concentrators to the team in Santiniketan.
"When I heard that a group of women wanted to run the Oxygen on Wheels drive, it made me so happy that I did not delay in sending them the equipment. All the women and especially the driver will send a message to our society on how they are taking part in the battle against the pandemic," said Abhijit Chowdhury, chief adviser to Liver Foundation and convener of the global advisory committee and a member of the expert committee on Covid-19 in Bengal.
The 10 women, who hail from all walks of life, have also tied up with the Bangla Sanskriti Mancha, a social outfit that works in Santiniketan and adjoining areas, to run a community kitchen.
Banerjee, the headmistress of a local high school, leads the team. She said that their efforts, aside from being life-saving in crisis, sent strong message of women's empowerment. "All of us are women. Churki, who works for another NGO in Santiniketan, agreed to drive the car for us. After we came to know about the help of the Liver Foundation, we became more motivated. After a short training to operate the oxygen concentrators, our team has now hit the ground," she said.