Covid derails DHR rebound bid
Jolt comes after toy trains clock 1 lakh riders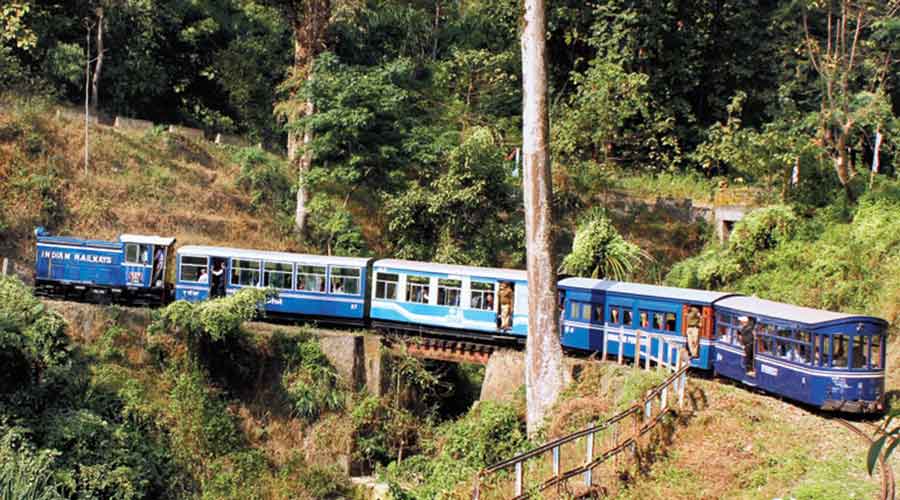 ---
|
Siliguri
|
Published 03.08.20, 02:27 AM
---
The Covid-19 pandemic has taken its toll on the toy train services of the Darjeeling Himalayan Railway, a Unesco-recognised world heritage property.
Since the middle of March this year, train services have stopped between the plains and the Darjeeling hills because of the lockdown, much to the disappointment of railway officials.
"The services halted at a time things started improving for us. For the first time in the history of the DHR, over one lakh passengers had travelled in the 2019-2020 fiscal. To ensure that the number of passengers kept on increasing, new services and coaches were introduced. But the outbreak of the disease and the resultant lockdown have come as a jolt for the heritage railway," said a senior official of the Northeast Frontier Railway.
In the past four years, this is the second time that the DHR services faced disruption. The 104-day-long strike for Gorkhaland had slammed the brakes on the toy trains in 2017.
When the services resumed in the same year, the DHR came up with new offers. A Jungle Safari with a dining car was introduced in the foothills, while vistadome coaches and air-conditioned bogies were launched to provide a better journey to toy train enthusiasts.
The DHR that commenced operations in 1881 was conferred the world heritage status by Unesco in 1999.
Toy trains have always been the key attractions for lakhs of tourists, especially foreigners, visiting the Darjeeling hills every year.
"In the past couple of years, our earnings had increased as more and more people were availing themselves of toy trains, particularly joy rides. But considering the current situation, we have no idea when services would resume and passengers would come back," the official added.
Sources in the NFR said in 2019-20, the DHR had earned Rs 114.78 lakh in April, Rs 204.95 lakh in May and Rs 194.98 lakh in June, that is, during the summer tourism season. The earnings were similar in 2018-2019.
"However, in the current fiscal, there were no earnings in the first quarter as passenger trains have not been running since the middle of March. It is disappointing to see old steam locos and coaches parked at stations," said a source.
While the contagion has left the railway officials worried, landslides have kept them on alert these days.
On June 29, the toy train tracks had a close shave as a landslide damaged a stretch of NH55 (along which the tracks run) near Paglajhora (located about 35km from here. Although most portion of the road caved in and collapsed into a gorge, earth under the tracks remained intact.
"Maintenance of the tracks is being carried out on a regular basis. But as normal passenger train service is yet to be resumed across the country, we are not sure when toy train rides will start," said S. Chanda, the chief public relation officer of the NFR.