Covid: Delhi wants 100 crore dose celebration
Vaccination feat likely to synchronise with Puja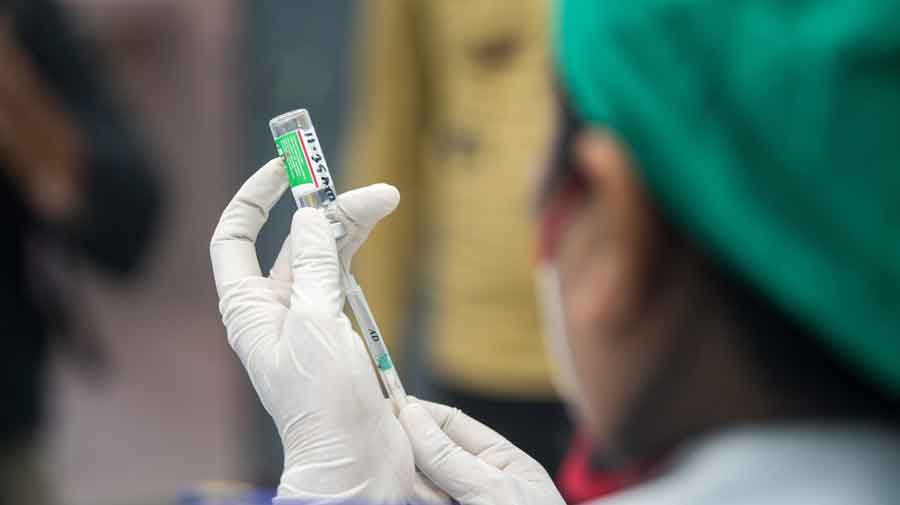 The 100-crore mark is likely to be achieved over the next few days as 95 crore jabs, including 26.75 crore second doses, have already been given..
Shutterstock
---
Bolpur(Birbhum)
|
Published 11.10.21, 12:02 AM
|
---
The Union health ministry has asked every state, including Bengal, to send proposals for country-wide celebrations in "a big way" of the 100 crore landmark in the number of total Covid-19 vaccine doses administered.
The 100-crore mark is likely to be achieved over the next few days as 95 crore jabs, including 26.75 crore second doses, have already been given.
In a videoconference on Saturday evening with senior officials handling Covid-19 vaccination in each state, the top brass in the Union health ministry informed that the country would touch the 100 crore mark either on October 14 or the following day.
"The Centre asked each state to send a detailed proposal for the celebration," said a senior state health department official.
October 14 is Mahanavami and October 15 is Vijaya Dashami.
"It is a very good idea to celebrate the 100 crore milestone, but the timing isn't great for us as it coincides with Durga Puja. We have already informed the Centre about the biggest festival of the state, in which vaccination is to be suspended. However, we are trying to arrange for a few things at selected places. It is yet to be finalised," said the senior health official.
"Celebration of the vaccination in a big way is not possible during Durga Puja in Bengal," he added.
Besides the celebration, the Centre also asked Bengal to ensure vaccination of as many people as possible to hike the numbers. Delhi informed the state health department on Sunday that it would send over 17 lakh doses before Tuesday to help that cause.
Health officials said it was a challenge for them as vaccination programmes would be suspended at over 12,000 centres for four days next week. It would be big relief to the healthcare workers who have been continuously fighting against the pandemic since the outbreak in March 2020.
More importantly, estimates suggest people are not likely to visit vaccination centres during the four days of Puja.
"We have already held four mega vaccination drives to meet the gap of four days during Puja. It is a pressure situation for us, if we are to considerably increase the numbers before October 15. However, our last mega drive for vaccination would be conducted on Monday," said a senior official.
In the past three days of the mega drive, the state government vaccinated around 35 lakh people, which is considered outstanding. In terms of at least one dose administered, with over 4.64 crore doses, Bengal is the fifth state after Uttar Pradesh, Maharashtra, Madhya Pradesh and Bihar. In terms of both doses administered, Bengal, with nearly 1.8 crore doses (18 per cent of the population), is fifth after Maharashtra, UP, Gujarat and Karnataka.
"Only 2.03 lakh people were vaccinated across the state on Sunday, as of 8pm. You can guess what would be the rate of vaccination over the four days of the festival. Only those awaiting their second dose are coming now," said an official.
Close to 3.3 crore doses were administered to males, while over 3.14 crore doses were administered to females.
The 18-44 age group has received around 3.3 crore doses, the 45-60 age group has received 1.94 crore doses, while the 60-plus age group has received 1.21 crore doses.
Calcutta leads the districts with nearly 74 lakh doses, followed by North 24-Parganas with nearly 67 lakh doses. At the bottom of the pile is the smallest district of Kalimpong, with 2.86 lakh doses.