Construction workers cry for cash aid, scrapping of Covid-induced curbs in Hasnabad
Claiming to be in dire financial straits due to work being suspended for '15 months', 1,000 labourers block road to protest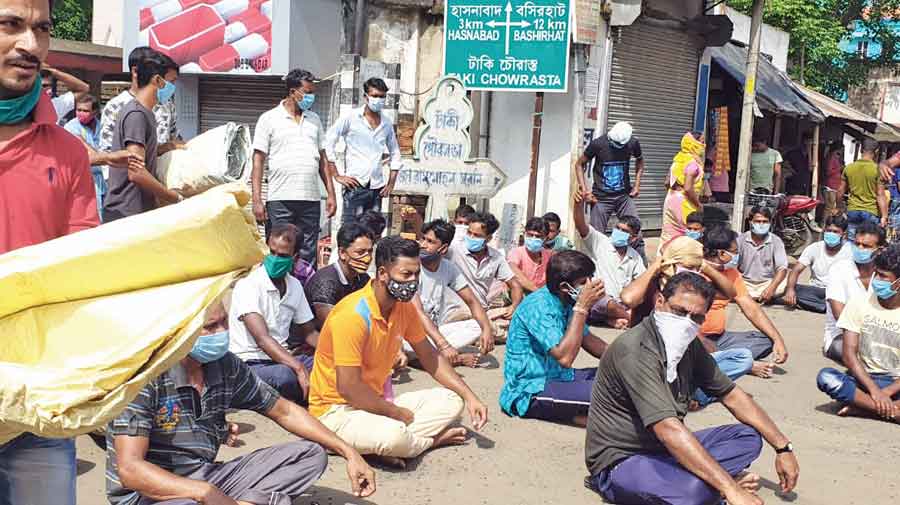 Construction workers squat on Taki Road, North 24-Parganas, demanding cash assistance and withdrawal of Covid restrictions.
Pashupati Das
---
Hasnabad
|
Published 25.06.21, 01:29 AM
|
---
Around 1,000 workers attached to the construction industry and other unorganised sectors blocked Taki Road in Hansnabad, North 24-Parganas, for around two hours on Thursday, demanding cash aid from the government and the scrapping of Covid-induced curbs.
Protesters said they were in dire financial straits as work had repeatedly been suspended for 15 months or so.
The workers, who squatted on the road from 9am to disrupt traffic, also demanded the state government withdraw curbs on intra- and interstate movement of vehicles with construction materials, as those reduced work opportunities at micro levels.
"We are living a nightmare. We have been surviving somehow on rice and lentils given by the government. But we don't have money, which has created a lot of problems, including marital ones in many homes," said Khalil Gazi, a mason from Taki.
Since February 2020, the construction industry has been reeling under the pandemic. Initially, migrant workers, many from Bengal, fled worksites fearing the disease. Then came the nationwide lockdown. Gradually, the Centre allowed work with limited workforce, but curbs at local level in various states, including Bengal, hampered work. The industry expected a revival by 2021-end, but the second wave made matters worse.
"Last year, I returned from Kerala in fear of Covid-19," said Faruq Gazi, a mason from Hansnabad, adding he "infrequently" found work as a farm hand. He later joined a construction firm. "But though the Covid-19 situation improved earlier this year in Bengal, there was no regular work. My own employer had a financial crisis. In the past six months, many like me could not manage work for 30 days."
"We are not starving, but no cash aid has been given to us by the state government," he said, adding aid of at least Rs 2,000 a month was needed.
Insiders in the construction industry said problems of workers were genuine.
"Work came down to a trickle from May 3 (after Assembly poll results, when the first set of  fresh restrictions were introduced). It almost came to naught from May 15. Workers are facing a cash crunch as the industry operates on no-work, no-pay principle," said a source.
After the Mamata Banerjee government offered some relaxations this month, the real estate industry is operating at 50 per cent of the normal workforce, which means that one among two eligible persons is getting work.
But movement curbs mean only those staying on construction sites get jobs. Work is also hit by curbs on movement of trucks with construction materials. The government has now allowed work on construction sites if workers are vaccinated. Realtors say they have so far vaccinated around 10,000 workers.
"We want to vaccinate more workers but many are stuck at home. They cannot commute in the absence of public transport. If the government makes some arrangements, more workers can join work," Nandu Belani, president of Calcutta chapter of Credai, a body of realtors, said.
There is no formal estimate as to how many people are employed in the real estate industry but construction as a whole, which also includes infrastructure such as road and bridges, gives jobs to no less than 35 lakh.
Sushil Mohta, owner of Merlin Group and president of Credai West Bengal, said it is only in the last few days that work has reached 50 per cent. "It was barely 15-20 per cent before that. I visited many sites today (Thursday) and saw work getting delayed owing to lack of workers. They want to join but can't because of transport issues," Mohta said.