Central Covid-19 package a big zero: Mamata
Bengal CM also said suspension of labour laws in some BJP-ruled states was 'unthinkable'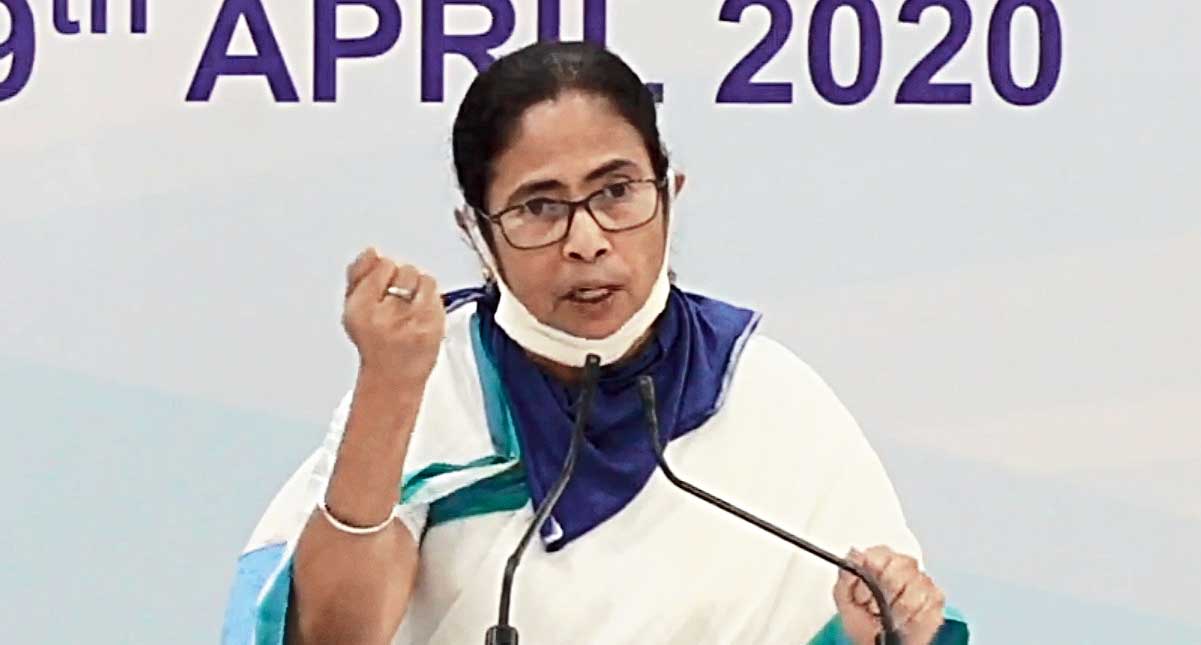 ---
|
Calcutta
|
Published 13.05.20, 11:46 PM
---
Totaltai (totally) big zero. A great zero…. Ultimately dekhlam, oshwodimbo (saw an equine egg — commonly used in Bengali to mean 'zilch').
That's how Mamata Banerjee described Union finance minister Nirmala Sitharaman's announcement of particulars of the Rs 20 lakh crore financial package declared by Narendra Modi. The Bengal chief minister mounted a no-holds-barred attack on how it was an elaborate "dhonka ebong bhnaota (hoax and hoodwinking) of the people amid a grave crisis.
"Will the empty platter fill people's stomachs? I don't have a platter here, otherwise, I would have certainly been sitting here with an empty one," Mamata said on Wednesday, referring to her gesticulation with an empty tea saucer — a metaphor of how much the states got, according to her, from the Centre amid the pandemic war effort — at Tuesday's news conference.
"Jaan and jahaan, life and livelihood (something Modi has said regarding priorities of his government during the pandemic)? Everything has come to a grinding halt. Nothing left."
"Other than pulling an act of hoax and hoodwinking on the people, even in these dark days, even in this calamity, even amid such suffering of the people, they did nothing, there is nothing). Rs 20 lakh crore? Zero, zero, zero, zero, zero," said Mamata.
"I know because I am saying these things, there will be a lot of torture unleashed on me. But I don't care. Somebody has to voice the concerns of the people. Somebody has to bell the cat. I will continue to speak on what I clearly see," she added.
Before Mamata spoke, Bengal finance minister Amit Mitra explained the state government's view and said Rs 8 lakh crore of the Rs 20 lakh crore was actually a prior exercise by the Reserve Bank of India to increase liquidity — so that banks are able to lend more — in four tranches since February.
"The Rs 20 lakh crore also has in it the previous package announced by the Union finance minister, of Rs 1.7 lakh crore. Add that to the Rs 8 lakh crore, and Rs 20 lakh crore is already down to Rs 10 lakh crore," he said, adding that in the remaining Rs 10 lakh crore, the Centre has set for itself a Rs 4.2 lakh crore limit of borrowing.
"That means the cash it can actually give to the people, if at all, is Rs 4.2 lakh crore… barely 2 per cent of the GDP," he said.
Mamata, who has been demanding at least 5 to 6 per cent of India's GDP — Rs 10 lakh to 12 lakh crore — for a turnaround, also voiced the demands of cooperative federalism. She also said suspension of labour laws in some BJP-ruled states was "unthinkable".
"Bullying the states, polluting them politically, ruining them economically, how will India stand? In the federal structure, the states are the pillars on which the nation stands. The Centre is the parent organisation, states are the children, if the children don't stay well, will the parent be alright?" she asked.
"Federal structure totally bulldozed, instead of cooperative federalism, total snatching of states' rights, centralisation in the name of lockdown, this trend of locking out the states. We condemn this. This is not behove a democracy."
"There is no reason to believe one can belittle the people so much, think of them as so insignificant. Yesterday, what was said, our countrymen were filled with a lot of hope, that maybe the states will get something, the unorganised sectors, the MSMEs, Covid-oriented areas, healthcare infrastructure, FRBM relaxation, GDP percentage… what we have been saying," she said.
The Trinamul Congress chief seems to have returned to her usual role of being an unsparing critic of Modi, his government and the Sangh Parivar after over six weeks during which her focus was on the battle against Covid-19.
"Only riot-mongering, only fake news, only dividing, only fomenting tension, the BJP and its IT cell…. Instead of either rejuvenating the economy or fighting Covid-19," the chief minister said.
"Money transfer, nothing. States get, nothing. Public spending, nothing. Special package for Covid-19, nothing. Additional grants, nothing. MSME distress, nothing. Unorganised sector, nothing. Demand, nothing. Only liquidity. Then what? I will tell you again it's a big zero. An eyewash," she added.
Mamata said suspension of labour laws in some BJP-ruled states was "unthinkable".
"Nothing on migrant workers. On top of that, unprecedented torture and exploitation, ordinances in (some BJP-ruled) states to suspend labour laws, I utterly condemn…. We will always stay manobik (humane), never this danobik (monstrous)," she said.