Cost to reach JEE centre: Rs 25,000
Several families have had to shell out high amounts so that their children could appear for the exam that the Centre insisted should begin on Tuesday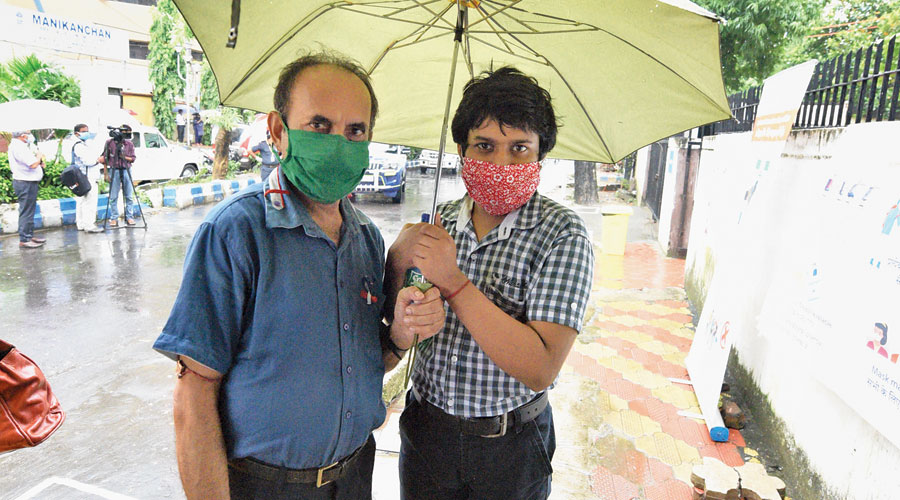 ---
Calcutta
|
Published 02.09.20, 02:09 AM
|
---
Anup Roy Mahapatra had to spend Rs 25,000 to travel from Malda so that his son Ayan could appear for the JEE Main in Salt Lake on Tuesday.
The Roy Mahapatras were among several families that had to shell out steep amounts so that their children could appear for the exam that the Centre insisted should begin on Tuesday in spite of reservations by several state governments because of Covid-19.
Father and son had to start out a day in advance than would have been usual as vehicles were not ready to move on Monday because of the complete lockdown in Bengal.
Roy Mahapatra and his son left Malda on Sunday morning by a hired car, stayed at a hotel in Kestopur in Calcutta and will return by the same vehicle on Wednesday.
Although Ayan's exam was in the second half, Roy Mahapatra did not want to take the chance of travelling on the day of the exam.
"It's a distance of more than 300km and it takes eight to nine hours of travel. What if the car had broken down on the way or there was heavy traffic?" asked Roy Mahapatra.
Several parents chose to hire private vehicles even at the cost of a pinch in their pocket because of the fear of the coronavirus and to maintain social distance.
"Rs 25,000 is what I had to spend for one public exam," said Roy Mahapatra, who stood with his son outside the examination centre while it kept drizzling.
"This is what we have spent on transport alone. I am not taking into account the hotel bookings or what we spend on food because that expense we would have had to make in any case," said Roy Mahapatra.
They will have to come back again to the city on September 13 for the National Eligibility-cum-Entrance Test (NEET). "Don't know how much we will have to spend again," he said.