Cost no bar for Majerhat
No upper limit in tender planned for rebuilding bridge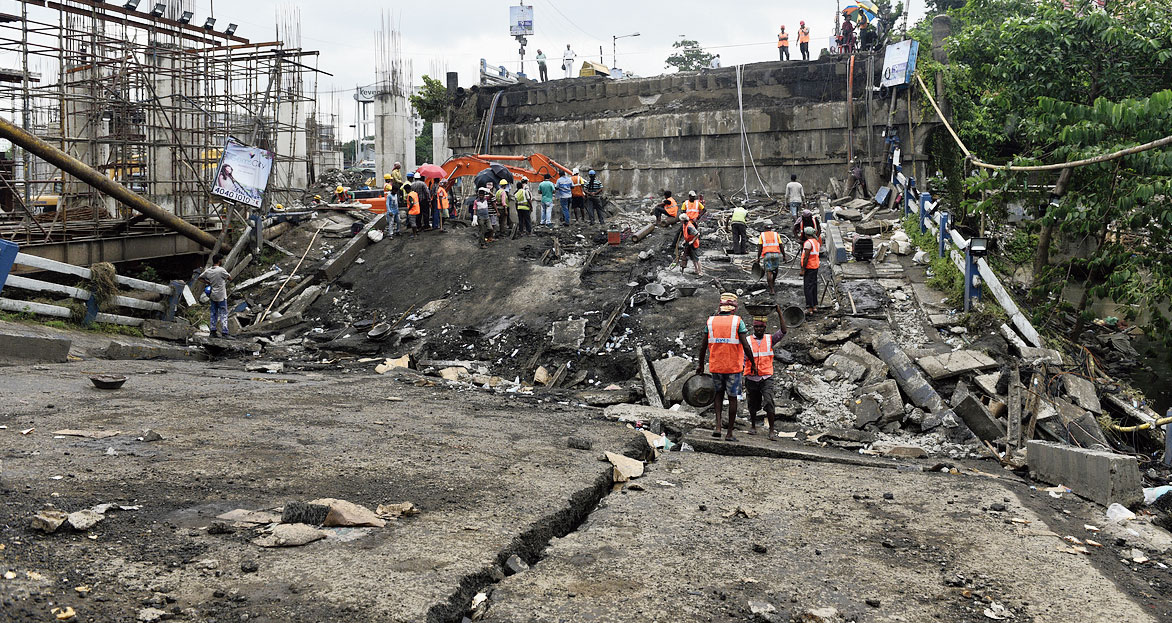 ---
|
Calcutta
|
Published 06.10.18, 07:32 PM
---
The Mamata Banerjee government will not set any upper limit on the cost of rebuilding the Majerhat bridge in tenders likely to be floated next week.
This is the first such "departure" in recent memory from tender norms that require such a ceiling to be fixed in government projects, sources said.
"The demolition of the remaining portion of the bridge is nearing completion. Tenders for rebuilding it will be floated next week. The agencies participating in the tenders have to prepare the design and quote the cost. Unlike in the past, the public works department (PWD) will not prepare a detailed project report and set the upper limit for the cost of reconstruction," said a senior official.
"The lowest bidder with the best design and expertise will get the project. The PWD will secure approval from the finance department to kick off the process," the official added.
The cost ceiling is meant to ensure the government is not overcharged. "The rule is a classic check and balance system that is part of government operations. But it often creates trouble as projects get delayed while the estimates are being drawn up," said the official.
According to the official, the priorities in the Majerhat case are on-time completion and quality of work.
"The agencies will get a shorter time frame to submit bids, maybe two weeks, so the project can be taken up at the earliest to meet the September 2019 deadline," the official said. Another official described the lack of a ceiling as an "out of the box initiative" that might attract major infrastructure companies for rebuilding the bridge, a portion of which had collapsed on September 4.
"Usually, top infrastructure development companies stay away from public projects as they often consider government rates unrealistic," said a source.
Other officials felt the government should be careful before awarding the project to an agency that quotes an exorbitant price as public money was involved.
"Even if the estimated project cost is not quoted in the tenders, the government should have a fair idea of the maximum expenditure for the project. This could be done by PWD engineers," said an official.