Covid: Nadda's vaccine count claim for Bengal creates stir
Post-elections, the BJP national president is giving Amit "200-plus-seat" Shah stiff competition by trying his hand at elementary mathematics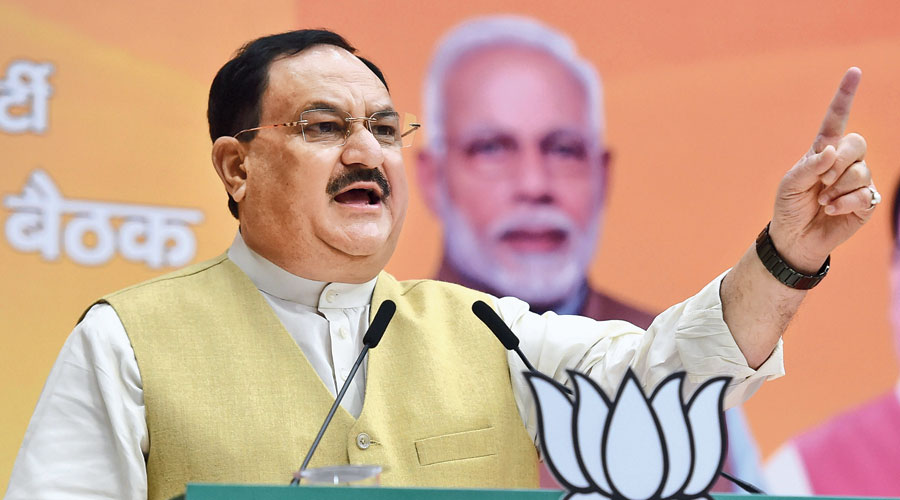 ---
Calcutta
|
Published 30.06.21, 01:33 AM
|
---
On the campaign trail, BJP national president J.P. Nadda had enriched Bengal's political history by crediting the state with cradling a certain "Vivekananda Thakur".
Post-elections, Nadda is giving Amit "200-plus-seat" Shah stiff competition by trying his hand at elementary mathematics.
On Tuesday, Nadda told the BJP state executive over video: "I am very sorry to inform you that if an all-time low vaccination is taking place anywhere, it's in Bengal."
Several officials and healthcare professionals involved in the Covid vaccination drive in Bengal were perplexed. The following are some of the figures they shared:
⚫ Bengal has so far administered 2.17 crore doses "despite irregular supplies from the Centre", they said, adding that the figure was expected to rise as the day progressed.
"We administered 2.17 crore doses till Tuesday, but the Centre gave us only 1.98 crore doses.… The state government procured 18 lakh doses directly from the manufacturers by spending Rs 59 crore from the state exchequer," said a source.
"This shows that the state had the intention.… But more people could not be vaccinated because of the irregular supply of vaccines from Delhi," the source added. 
⚫ Data available in the public domain reveal that only two states have given more than 3 crore doses — Maharashtra 3.21 crore and Uttar Pradesh 3.12 crore. "Uttar Pradesh has a population of about 20 crore while Maharashtra has more than 12 crore people.… Bengal has about 10 crore people. So it can't be said that we are lagging behind all other states," said an official.
Three more states — Rajasthan, Karnataka and Gujarat — are ahead of Bengal in terms of doses administered. Two are BJP-run, and complaints have been aired about central bias.
Another official said: "Bengal has the capacity to administer 5 lakh doses every day but the state could not touch the upper limit even a single day because of the shortage in supply. We gave 4 lakh vaccines in a day last week. This proves that we have the capacity but we could administer only 1 lakh vaccines a day for many weeks because of the shortage of doses."
* On Tuesday, Bengal vaccinated more than 2.78 lakh people — trailing only Maharashtra (3.84 lakh) and Andhra Pradesh (2.88 lakh).
In comparison, BJP-run states like Gujarat (2.62 lakh), Uttar Pradesh (1.86 lakh) and Karnataka (2.54 lakh) lagged behind Bengal.
Senior government officials said Bengal had developed an efficient inoculation mechanism, which was proven by the zero wastage in the state as compared to 8 to 10 per cent wastage in some other states.
The numbers till now may be loaded against Nadda's claims but that is unlikely to deter either him or his party from their offensive. The same trait was on display in February when footage showed Nadda thundering from a stage that this is the land of "Vivekananda Thakur".
State BJP sources said the party would try to make the bogus vaccination camp case in Calcutta into an issue. "There has been no scam in vaccination anywhere, if it happened it happened in West Bengal…," a source said.
The case has embarrassed the Trinamul Congress as several senior leaders were seen in photographs with the kingpin. But, government sources said, the chief minister has ordered strong action and a drive has been launched to avert such scams in the future.