How a rural stay-safe campaign worked
Duo's efforts have led to returning migrant workers following govt's directives of quarantine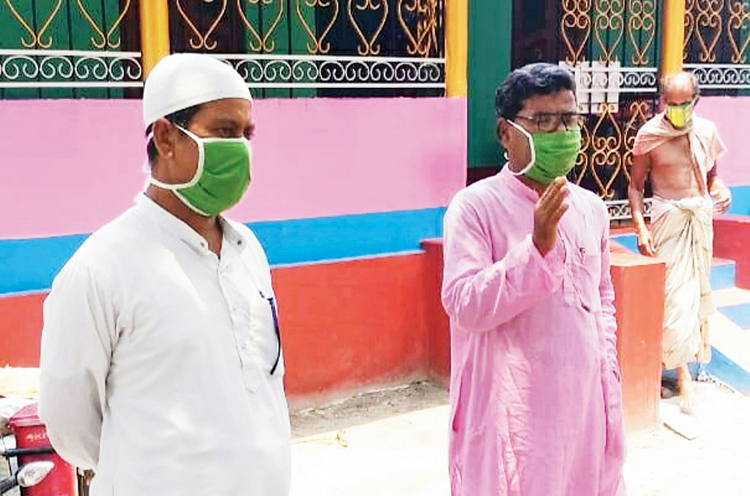 ---
Cooch Behar
|
Published 09.06.20, 10:18 PM
|
---
An imam of a mosque and a leader of the All India Forward Bloc (AIFB) in Dinhata subdivision of Cooch Behar are visiting homes in villages with more minority population to spread awareness on the novel coronavirus contagion.
Maulana Adam Shafiullah, the imam of a mosque in Sholmari of Nazirhat in Dinhata, along with Abdur Rauf, the state president of All India Yuva League (the youth's front of Forward Bloc) who is also from Nazirhat, are roaming the villages to give "correct information" about Covid-19 and distributing food relief and masks among the poor minority families.
Shafiullah told The Telegraph that he felt the task was vital, going by the gravity of the situation. "I felt it important to visit households and tell people how to save themselves from infection. I specifically pointed out that they should refrain from assembling in mosques for weekly prayers to maintain social distancing," he said.
The imam who keeps moving across villages with Rauf also passed a missive to all imams and muezzins in 36 other smaller mosques under him to step out and campaign among people in their respective areas on social distancing, use of masks and hand-washing. "These three things apart, I also told them to tell people at large to keep senior citizens and children below 10 years indoors," the imam added.
"We also ask residents to be in constant touch with migrant workers, many of whom are returning homes," he added.
Rauf added that they asked family members of a returning migrant worker to take the lead and ask the returnee to follow government directives.
Their efforts have led to results in and around Nazirhat, Dinhata-II block, with a population of over 50,000 with a 45 per cent minority population.
People did stay indoors, even during Id, and there were hardly any iftar parties, which otherwise is a common trend during Ramazan.
As of now, Dinhata has reported around 100 Covid-19 cases but many have recovered. The most important takeaway from the duo's efforts, Rauf felt, was that returning migrant workers followed the government's directives of quarantine. "People were aware, they acted responsibly, and that's why the spread of the infection was not as rapid as it might have been in the area."
Rauf added that they went to Muslim and Hindu households alike.
"In fact, we handed over relief materials to some families of Hindu priests who were in distress as the temples were closed till last week," he said.