Mamata asks people to not fear rising Covid numbers
The CM links spike in new cases to increased testing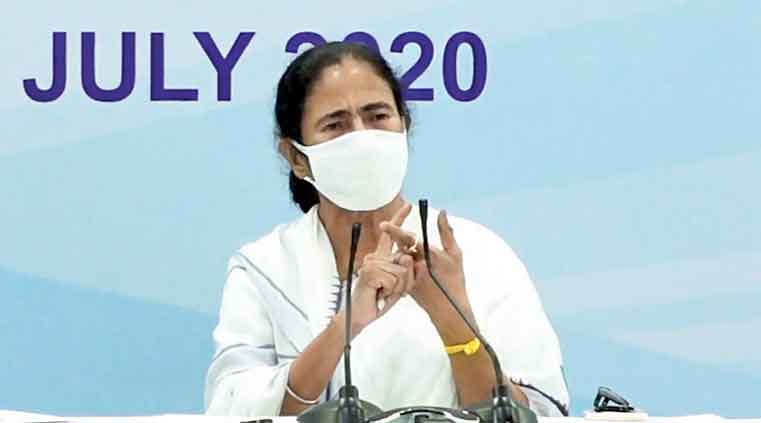 ---
|
Calcutta
|
Published 22.07.20, 01:49 AM
---
Chief minister Mamata Banerjee on Tuesday tried to allay fears over the Covid-19 outbreak in Bengal, asserting there was no need to be afraid of the numbers.
Bengal reported 2,261 new infections on Tuesday, taking the Covid-19 cases past 47,000 of which over 28,000 persons have recovered. The state has 17,813 active cases now.
Mamata, in an online address from her party's Martyrs' Day event, said the number of new cases has been on the rise in Bengal because the state had been testing more.
"Covid-19 has increased a little, but there is no cause for fear. We are testing more now," she said.
"Remember that in order to improve the Covid-19 situation, we have to keep improving our testing, tracing and tracking. If we can do so — eventually the medicine for this will be found — we think it will be okay, gradually. If I conduct a thousand tests, we will find 10 (infections), if I conduct a lakh tests, how many will we find? If I conduct a million tests, then the number will rise," Mamata added, referring to the total tests of 7,29,429 till Tuesday, 8,105 tests per million.
On Tuesday, the state conducted 13,064 tests. "We are testing around 13,000 daily now. That will be by August 15, 25,000 daily," said Mamata.
In the 26-day spell of spike since June 26, Bengal has had 31,382 new cases, 14,192 of them in a week.
"Over 87 per cent patients are asymptomatic to mild, 8 per cent are with moderate symptoms, only 5 per cent are serious. We are trying our very best to ensure recovery…. Our discharge (recovery) rate is around 60 per cent (59.61 on Tuesday). We will keep increasing it," she added, referring to 1,617 recoveries till 9am on Tuesday.
With 35 deaths reported till Tuesday 9am, the toll in the pandemic rose to 1,182. Of those, Calcutta accounts for 608, with 16 of them in the 24-hour window till Tuesday 9am, and North 24-Parganas 234 deaths with 13 in 24 hours till 9am. The state government reported 992 or 83.9 per cent as deaths with comorbidity "present".
"The death rate here…we will reduce. Most deaths are comorbid, with prior serious problems," said Mamata.
She said if a bed is occupied by one patient for a month, other patients don't get a chance to get treated. "So we will try to make sure that the ones occupying the beds, once they get better, recover fully at home," she added. "...We have 18,000 beds (including around 7,000 in safe homes) dedicated for Covid-19…. This will become 23,500 by August 31."
The state's Covid-19 helplines include 1800 313 444 222, (integrated helpline), 033 2357 6001 (direct telemedicine), and 033 4090 2929 (ambulance service for Covid-19 patients in the greater Calcutta area).
Of the 2,261 new cases, over 71 per cent were reported from Calcutta and four surrounding and populous districts Howrah, Hooghly and the North and South 24-Parganas. The five districts added over 10,000 new cases in just a week. Calcutta on Tuesday reported 651, while North 24-Parganas reported 456.
On Tuesday, the occupancy in the 11,239 hospital beds earmarked for Covid-19 was 37.82 per cent.
"The ICMR used to say compulsory hospitalisation of 14 days earlier, we now hear that is seven days," Mamata pointed out.