Covid spike shuts parts of South Bengal
Health department blames lack of awareness of safety protocols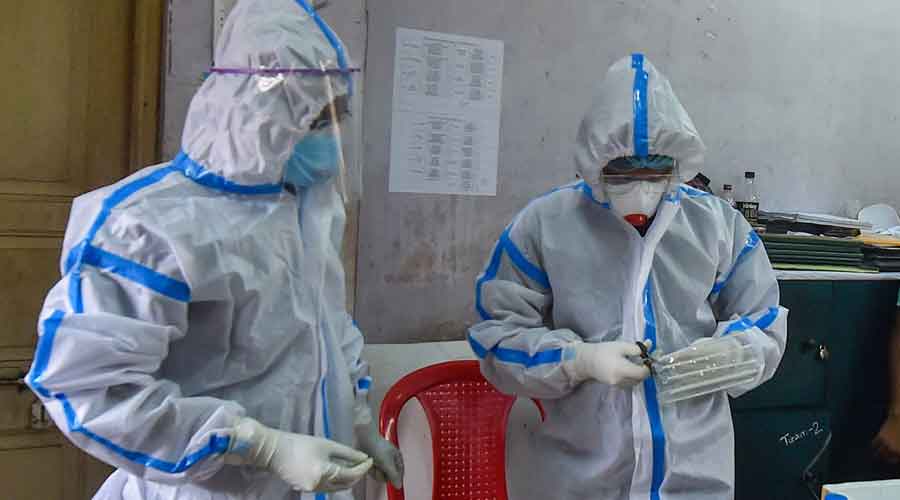 ---
---
The spike in Covid-19 cases in a few south Bengal districts has forced the respective administration to enforce micro-level lockdowns.
Sources said in the health department blamed the lack of awareness of Covid safety protocols among people for the recent spike in cases.
Municipalities like Kalna in East Burdwan, Arambagh and Dankuni in Hooghly and Tamluk of East Midnapore already declared complete lockdown in town areas. In Birbhum, officials said they would consider a lockdown in Rampurhat if the number of cases rose in the coming few days. In Burdwan town, wards 12, 13 and 14 were locked down.
"As the number of Covid patients increase in the districts, panic level is high but Covid awareness is low. So, there is no other way out apart from lockdown," said an official in Burdwan.
Kalna town in East Burdwan went in for lockdown for 14 days starting Saturday evening after three positive cases were found in the town and officials saw people continuing to violate bans on mass gathering in the markets.
"Apart from emergency and essential services, all establishments will be closed for 14 days," said Debaprasad Bag, the chairman of the board of administrators of Kalna municipality.
Tamluk municipality in East Midnapore has announced lockdown for 10 days from Saturday evening after 11 persons, including an infant, tested positive.
People will be allowed to buy essentials during a stipulated time four days of a week. Shops will remain open from 7am to 10am on Monday, Wednesday and Friday. On Sunday, people can shop from 7 am to noon, said Rabindranath Sen, the chairperson of board of administrators of the municipality.
In Diamond Harbour sub-division in South 24-Parganas, a new safe home started as the number of infected persons touched 450. Six big pockets in Diamond Harbour were locked down from Saturday.
Arambagh municipality has decided to close all establishments for seven days starting Monday and asked people to store essentials as no shop will remain open. The town reported 15 Covid cases till date.
The Dankuni civic body of Hooghly also started lockdown for seven days from Friday.
Additional reporting by Anshuman Phadikar