Sumi brings bank to the doorstep
SBI operator eases pangs of queueing up during Ramazan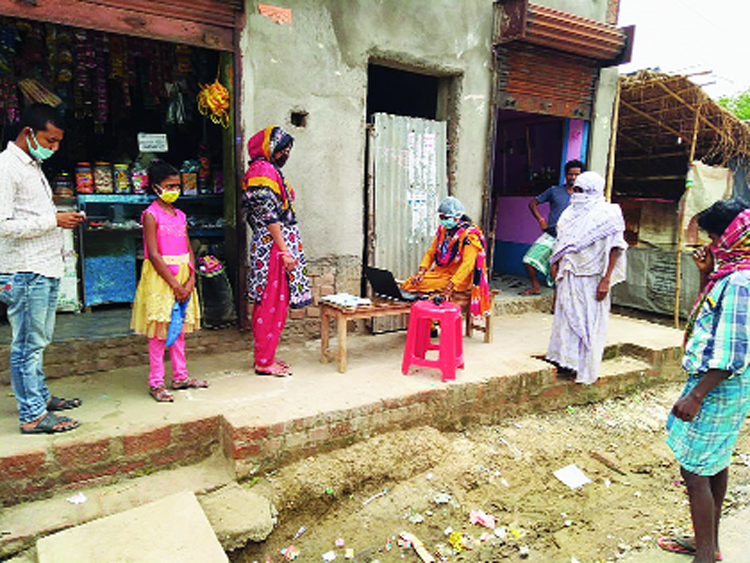 ---
|
Nalhati
|
Published 25.04.20, 10:59 PM
---
A day before the start of the Ramazan month, homemaker Nasira Biwi, 58, realised she would need Rs 500 for some rituals. Hesitant to make the 6km trip to the nearest bank branch in Birbhum's Lohapur because of the lockdown, Nasira felt she would have to make an exception.
"I was desperate to go to the bank even though I cannot walk too fast," the elderly resident of Bhabanipur said on Saturday, a few hours after a neighbour informed her that Sumi Khatun, 39, an outsourced State Bank of India customer service point (CSP) operator, had travelled to the village to make arrangements for withdrawals and deposits at the local primary school.
"I cannot tell you how grateful I am to her for bringing convenience almost at the doorstep," said Nasira, referring to Sumi's initiative.
Armed with a printer, fingerprint scanner, a laptop and Rs 30,000 in cash, Sumi on Saturday travelled in a toto (electric four-wheeler) to a cluster of villages in the Murshidabad-Birbhum border area.
Sumi had last month secured permission to help villagers make withdrawals and deposits, which she says are "not large amounts" but could help her service many more customers during the lockdown.
On Saturday, Nasira was among the 72 villagers who availed themselves of the service Sumi has organised for them. Last month, Sumi had secured permission to open a CSP at her home in Nalhati's Jestha village.
CSPs are outsourced banking outlets that carry out limited transactions for customers to withdraw and deposit money.
"After being appointed as a CSP operator on April 8, I found hundreds of people queuing up at my counter to withdraw money immediately. People otherwise have to wait for hours in the queue to get their money. I was providing a way out," she said.
Her timely action has proved to be an additional respite in view of the coronavirus restrictions.
"I am aware that most residents of villages bordering Murshidabad are Muslims and will benefit from such an initiative," Sumi said.
"I also fast and can relate to the pain of having to stand in a queue on an empty stomach. So I decided to go to villages with the CSP set-up instead," added the mother of two.
On Saturday, Sumi also a visited the homes of 14 elderly customers in Bhabanipur to assist them with withdrawals.
"People here are poor and do not deposit or withdraw large amounts. I can put these deposits to better use and service several others," she said. Sumi promised to continue her service in the border villages on rotation.
Nasira's gratitude for Sumi was beyond words.
"I will like to bless this girl, who is now like a daughter of mine. Thanks to her, I can buy flour and some fruits. She even assured us that she would come here twice a week," said an overwhelmed Nasira after completing her withdrawal at the school grounds.
Other elderly residents of the area were similarly touched by Sumi's gesture, which brought to them a convenience — taken for granted in the cities — that they did not even know existed.
Jamshed Sheikh, 60, withdrew just Rs 100 from Sumi's set-up on Saturday. The elderly wage labourer said he had been tense over whether he would be able to feed himself and his family this week under the strict lockdown conditions and lack of transport.
"But she has saved us," Jamshed said.
Sources said there were 378 CSPs in Birbhum and East Burdwan through which SBI provides its service in rural areas. These CSPs are monitored by an NGO, Mallarpur Naisuva, in its capacity of business correspondent.
"The lady operator (Sumi) sought permission from us and we welcomed her initiative," said Soma Pathak, NGO president.
A senior SBI official in Calcutta said Sumi's initiative would inspire other CSP operators to work for the people during this period of crisis.
"It is really a humane gesture at a time when people have little option but to walk to their bank branches. A CSP operator in Hili, near the Bangladesh border, is also initiating the same service," the official said.