Shramik Special to 'Corona Express'
Migrant workers packed like haystacks: Mamata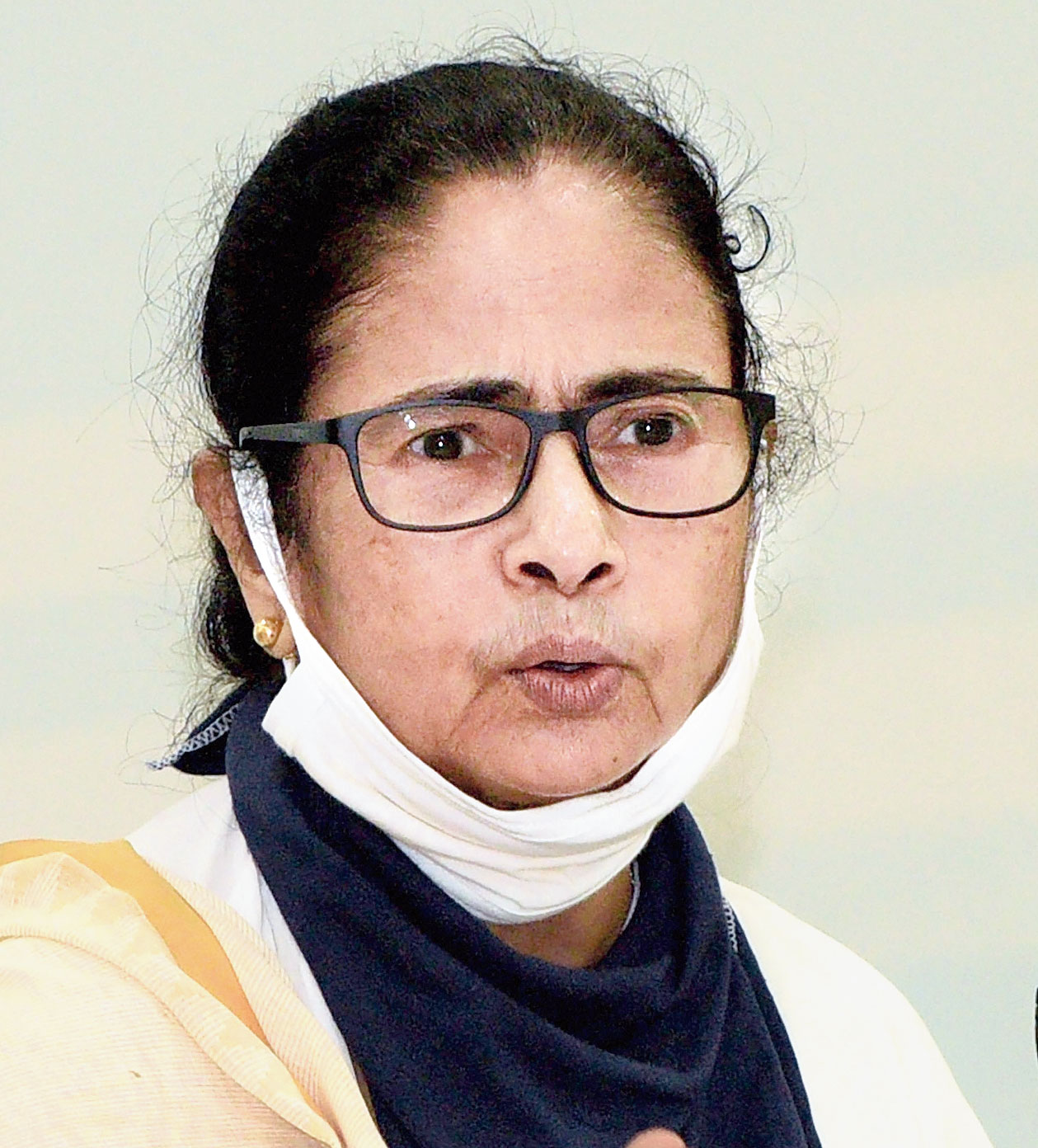 Mamata Banerjee.
(PTI file picture)
---
Calcutta
|
Published 29.05.20, 11:43 PM
|
---
Mamata Banerjee sharpened her attack on the railway ministry on Friday, accusing it of turning the Shramik Specials into "Corona Expresses" by packing them with migrant workers like "haystacks" instead of enforcing social-distancing norms.
The chief minister also highlighted the deaths on these trains and echoed the growing allegation that some of them were being run without food or water for the hapless passengers.
Mamata — a two-time railway minister and leader of a party that has produced two more holders of the prized portfolio — has been critical of the way the ministry has been functioning under Piyush Goyal.
"Why must they make four people sit in every seat, for 48 to 72 hours? That too (on trains) from hotspot states? Why can't the railway ministry provide more trains to ensure social distancing?" she asked on Friday.
"You won't do it. But you will, amid a lockdown, pack the trains full — in this heat — and send them out within a matter of days. Without food or water too. People are dying on the trains."
Mamata alluded to the images of a woman lying dead at Muzaffarpur station in Bihar while her oblivious baby tries to wake her.
"A mother lying dead at the station, her baby roaming about. Why such utter disregard? In the name of Shramik Express, you want to make Corona Expresses out of these trains?" she said.
Goyal has over the past fortnight been attacking Bengal and some other Opposition-ruled states, saying they were reluctant to receive their workers while his ministry was ready to send more of them back.
Mamata had hit back on Wednesday. Without naming Goyal, she had said that just when Bengal had got a grip on the Covid-19 crisis, the railways had without consulting the state begun sending back tens of thousands of labourers within days, threatening a rise in infections.
She had sought the intervention of Prime Minister Narendra Modi and Union home minister Amit Shah over what she suggested was an irresponsible train schedule.
Bengal had sought to bring back its labourers on 225 special trains, but wanted the schedule spaced out till June 15 with no more than 10 trains arriving a day.
However, according to the state government, the railways have been sending around 30 trains a day, each with about 1,800 people.
The past couple of days have witnessed a sharp rise in Covid-19 cases in Bengal, which Mamata has attributed to the railways' rush to send back migrant labourers.
"You have so many trains…. I was Union railway minister, I know. Use them, what's the problem? Rotate them, which is done during major rush periods like the Kumbh Mela," she said on Friday.
"There's not even any rush now. You cannot persuade me otherwise — I ran the show there in the past.... Increase the bogies per train. Let one person occupy one seat, no more.
"We are paying for them, entirely. But you will make thousands travel like that in each train? Are they people or haystacks to you? Those not infected are getting infected --- a gift from you."
Mamata implied the railways were packing the trains to cut costs.
"My humble submission to the railways…. Of course, there are commercial obligations too. But don't you think the railways have a social obligation too?" she asked.
"In my time, I never increased the fare by even a paisa. Now, how many times have fares been increased? Nobody raised this point, nobody chased you. But after that, when the Centre declared the lockdown, why are you breaking that lockdown?"
She added: "Do you know what the villagers are saying: 'See, Corona Express is coming! Run, run!' What is this? Law-and-order problems are being caused because of you."