Paralysed migrant back by car
Panchayat member brings workers from Delhi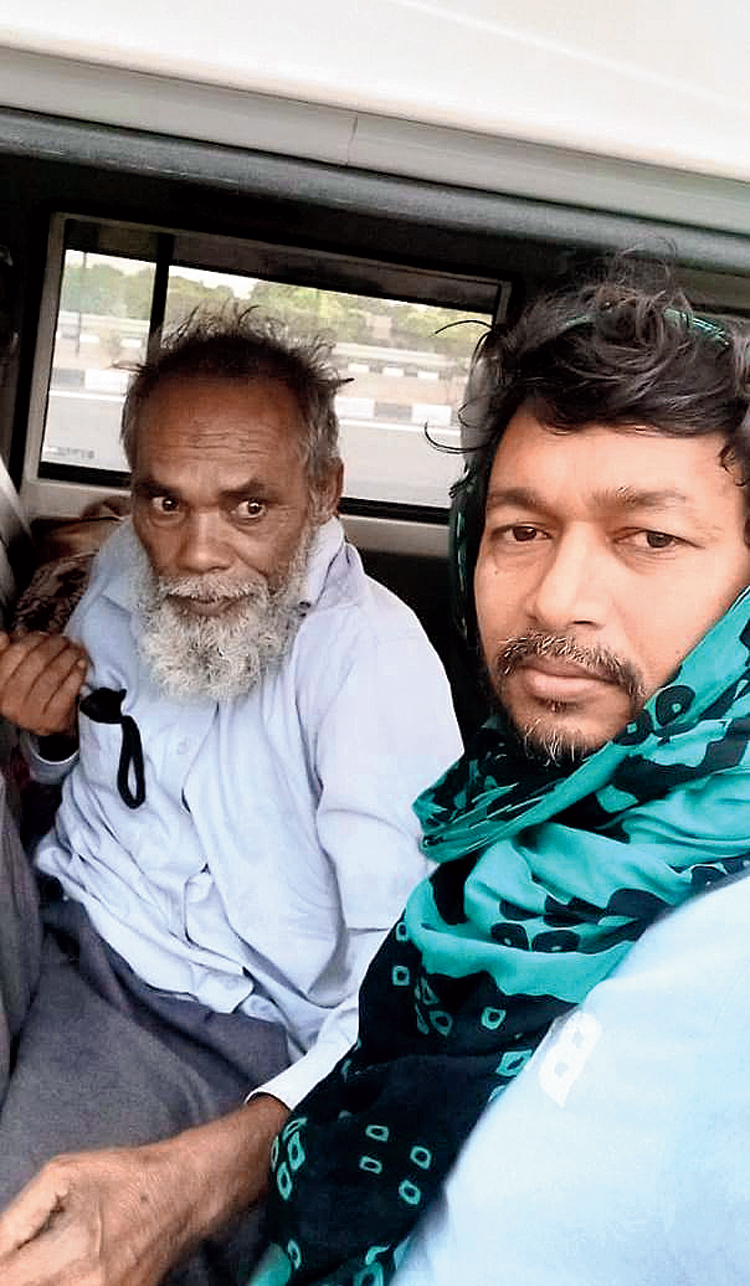 ---
|
Malda
|
Published 03.06.20, 11:03 PM
---
A migrant worker in his mid-50s who suffered a paralytic attack in Jammu during the lockdown is back home in Malda, thanks to a panchayat member of his locality.
Twenty-four hours after his return, Mosharaf Hossain still can't believe that he is finally back at Shukurditola village under Uttar Laxmipur panchayat in Kaliachak II block of Malda district.
His wife, children as well as his ailing parents do not know how to thank Fazle Karim Akhtar, a Trinamul panchayat member in his late 30s, who drove to Delhi to bring back Hossain and two other migrant workers.
Akhtar, also the teacher-in-charge of a BEd College, downplayed his role in reuniting Hossain with his family.
"It was bliss to see Hossain's aged parents embracing him affectionately. That is my reward," the young panchayat member said.
In February this year, Hossain went to Jammu to work at a construction site. When the nationwide lockdown was announced in March, Hossain suffered a nervous breakdown when he could not arrange his return home. "He eventually suffered a paralytic attack and was admitted to a hospital in Jammu," one of his family members said.
The extension of the lockdown in phases made him more anxious and ill.
Back in Malda, his parents and children, who were aware of his plight, were equally upset as they could not find a way to bring him back.
The family then approached Akhtar, who quickly made a decision.
"Within a couple of hours, Akhtar decided to take a car to Jammu to bring Hossain back. On May 26, he left the village in an SUV with Masiruddin Sheikh Montu, a local youth who knows driving," said a villager.
In Jammu, two other migrant workers from Malda who used to work with Hossain, took him to New Delhi by a train. There, they took shelter at the station and were virtually starving.
On the way to Jammu, Akhtar came to know that Hossain had reached Delhi with a couple of other workers. So Akhtar and Montu went to Delhi .
Akhtar said it was an ordeal to trace the trio. "Their cellphone batteries were off. After searching the station for four hours, we found them huddled in one corner, hungry. I shared the muri, chirey and biscuits that I had carried from home. They simply gobbled up the food in minutes. We got them fresh clothes and then headed for Malda," Akhtar said.
On Tuesday evening, they reached Malda where Hossain was first taken home and then to an institutional quarantine centre.
Mausam Noor, Rajya Sabha member and Malda district Trinamul chief, appreciated Akhtar's efforts. "He is indeed a true torchbearer of Trinamul. We need such young leaders in the party."