Villagers hatch poultry plan for migrants
Innovative thinking to combat Covid-19 & Amphan losses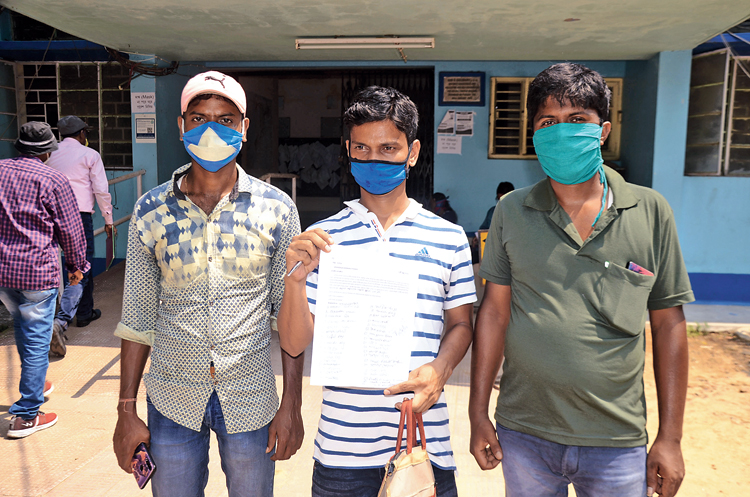 ---
---
Residents of three villages in Hooghly's Goghat have hatched a plan to help 16 jobless migrant workers who are back home from Gujarat and Maharashtra.
To help the 16 migrants put their lives back on track and give them an alternative livelihood at home, the villagers of Kanpur, Badla and Chhilampur of Goghat I block met on June 6 and 7 and decided to raise funds to set up a poultry farm.
For their plan, however, villagers need land that they don't have money to buy.
For this, villagers on Monday wrote to the subdivisional officer of Arambagh seeking a plot of land from the government. They also decided to start a mass signature campaign to drum up support for their plan.
The move of villagers here in a way echoes chief minister Mamata Banerjee's Matir Sristi project that seeks to employ migrants by setting up orchards, fisheries and poultry farms. District officials have started scouting for land and ponds for the chief minister's pet project.
Goghat resident and civic volunteer Shibu Ghosh, who accompanied the team of villagers to the SDO office in Arambagh on Monday, said they had worked out an estimate of Rs 1 lakh to build the shed for the poultry farm but didn't have land.
"We don't have money to buy land. We plan to start a small project and then make it bigger with earnings from the farm. Therefore, we decided to approach the government for land," Ghosh said.
The local administration responded positively.
"I have already directed the local block development officer to find land in the area and form a small self-help group with migrant workers," said Arambagh subdivisional officer Nripendra Singh.
"We have more ways to help the villagers than they expect. They can also plan to farm fish," Singh said.
A government official said they would not only provide land to the migrants but could help them with funds through Mahatma Gandhi National Rural Employment Guarantee Scheme (MGNREGA). Chicks can be supplied through the animal husbandry department free of cost, he said.
Mintu Maity, a migrant worker from Maharashtra who is now quarantined, said: "Who wants to go elsewhere if we can earn at home?" He added he worked in a factory and made Rs 15,000 a month.