Hotels, eateries count blessings and losses
Rent, salaries, EMIs are to be paid even if the restaurants are closed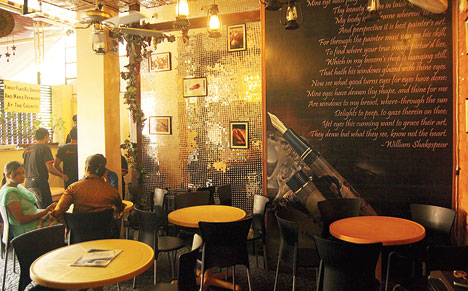 ---
---
Faced with mounting losses, the hospitality industry has latched onto the government's order to shut down restaurants amid the Covid-19 outbreak. Yet the closure will hurt as much as it has brought relief.
Rent, salaries, EMIs are to be paid even if the restaurants are closed. "All our properties are rented and the landlords live abroad. They won't waive rent," said Mohit Harlalka, who runs the theme-based Fly Kouzina, Kouzina Mining and Kouzina Marine all in Sector 1. Business, he says, had slid very low and they in fact had shut down voluntarily a day before the order arrived.
Rahul Arora, who runs Paranthe Wali Galli and two branches of Bon Appetit, says the order came as a shock. "Since the order allowed home delivery of food, we continued through food delivery apps till Tuesday and then ran out of supplies. The cheese, cream and other ingredients we need aren't available easily. Plus we don't have space for staff to stay back. Without that, we can't run a store," said Arora. Unable to let the leftovers go waste, he and his family ate the boiled pasta for the next few days.
Moloy Dutta, a partner at Opium in Sector V and Oval in New Town, says restaurants were hit by the domino effect. "So many industries are inter-linked. If aviation shuts down, guests don't check into hotels and guest houses. They don't hire cabs to travel and don't dine at restaurants either," he noted.
Sudhir Ahuja of Bakstage says it wasn't so bad to begin with. "While the novel coronavirus scare had gripped MNCs long back, Sector V has many Indian-owned BPOs that continued to work. Their employees kept coming over. And since we are a spacious restaurant we had kept big distances between tables."
Hotels
"We usually have 70 to 80 per cent occupancy but in recent times it had dwindled. On Sunday, we had only one or two guests, who left on Monday and then we downed shutters," said general manager of Golden Tulip Sumanta Maity. "The government order came at the right time. It wasn't feasible to keep the place open any more."
Bakstage, that has a microbrewery Motorworks And Brewing Company on the ground floor, was on the verge of launching a four star property on the top five floors of its building. "The plan will have to be deferred now," said Ahuja. "But our staff is living in the building and working through the lockdown to meet targets," said Ahuja.
Mukund Bajaj, executive director of The Stadel, said they had many bookings for weddings, conferences and family gatherings this season, all of which had to be called off. The hotel is now closed. "Yes, the economy was in recession but we could have overcome that. But Covid-19 is a threat like no other. It's an international crisis of a magnitude surpassing even World War II conditions."
Bajaj talks of a friend who has to pay Rs 2 lakh a month as rent for his restaurant. "And his clause says that if they are closed for a month the landlord will seize it back. What will he do?" he asks. "While I back the government's decisions, we will also need strong government support to bounce back."
Help needed
Arora talks of people posting on social media musings like which restaurant they would head to the day the lockdown is lifted. "They don't realize that their favourite restaurant may have closed permanently by then. Bon Appetit Salt Lake, my flagship joint, will turn 12 in May and we might not even be open for it," says Arora sadly.
While the government has asked restaurants to pay salaries in full in this trying time, Arora asks where the money is to come from. "Our bank accounts are running dry," he says. "Even after reopening, the industry will take up to the Pujas to recover. Our business caters to happiness. No one has made any money in the last month and a half. They will first think of survival. Luxuries like eating out will be the last thing on their minds."
Pranav Singh, president of Hotel & Restaurant Association of Eastern India, says they would speak to the government after the crisis to seek some sort of relief. "Together, the hospitality and tourism industry is the largest employment generator in India, one of the biggest tax payers and also a contributor of 14 or 15 per cent of gross domestic product (GDP). Without solid government support, many names in this industry would shut down," said Singh.
But in these desperate times, the industry has come forward to help those in need. "Our association has more than 1,200 hotels and restaurants across 13 states of eastern India and as per the government's request, we have kept 1,000 hotels on standby in case they need it for quarantine purposes. We shall give options of hotels and the Covid-19 patients would pay for their stay."
Mailbag: Residents of Salt Lake and New Town can share your lockdown experiences with us at saltlake@abpmail.com.