Cooch Behar: Muslim volunteers repair storm-hit hutments
The storm left around 3,000 houses and hutments completely damaged and another 4,000 homes partially in the district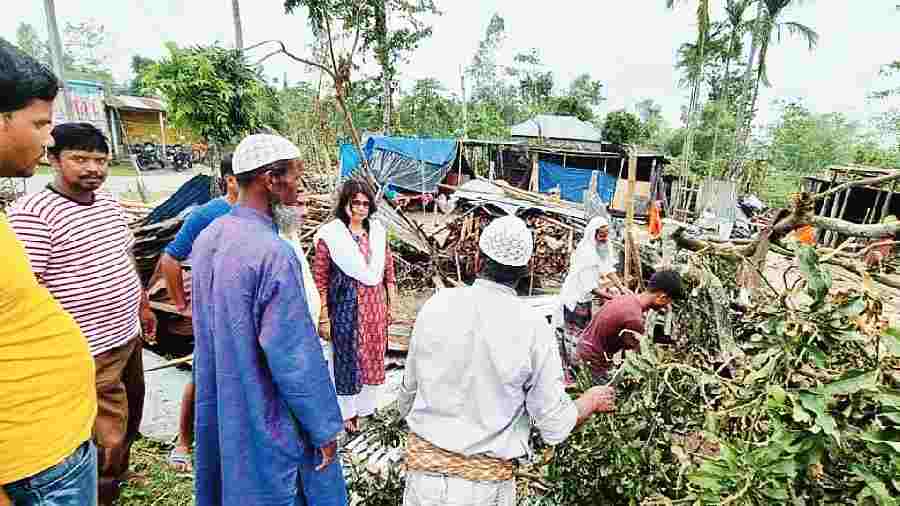 Muslim volunteers engaged in repairing and rebuilding hutments at Ghughumari in Cooch Behar-I block on Saturday.
Main Uddin Chisti
---
Cooch Behar
|
Published 25.04.22, 03:05 AM
|
---
Hundreds of Muslim villagers in Cooch Behar-I block are volunteering to repair or rebuild hutments of people, mostly Hindus, rendered homeless after Sunday's storm and hailstorm, at a time bulldozers are razing homes and widening rifts in some parts of the country.
The storm left around 3,000 houses and hutments completely damaged and another 4,000 homes partially in Cooch Behar district.
These Muslim volunteers — farmers, masons, daily wage-earners or even jobless youths — have been reaching out to the homeless with tools and bamboo sticks to ensure that at least each affected family gets a room to live in. Most are offering this free service while being on fast as they are observing roza during Ramazan.
Sources said the initiative was started by the markaz — the headquarters of all the 2,020 mosques in the district —  located in Suktabari of Cooch Behar.
"Every day, we have been sending 700 to 1,000 people for the service to the affected villages so that the families which have become homeless can at least have a place to stay. We have also distributed food grains and fruits to these families after the storm," said Majibar Rahaman, the head amir or chief of the markaz.
Bapi Barman, a resident of Jamtala in Ghughumari under Cooch Behar-I block, whose hutment was mangled by last Sunday's storm, said this gesture touched him deeply.
"My family and I were staying in a tent beside our broken home. They came with tools and volunteered to build a room for my family. I was completely surprised but nodded. In no time, they started salvaging tins from the rubble. Soon, others came with bamboo and bamboo-mesh pieces and by late afternoon, one room was ready," said Bapi.
Shyamal Barman, another resident of Jamtala whose home the volunteers repaired, sounded overwhelmed.
He said that when elected representatives like the local MLAs "could not be seen anywhere", these Muslim volunteers came and stood by them.
"We can't forget what they did for us. The state government, we believe, will provide compensation to us in due course. But in the aftermath of the storm, we did not have any option but to live in tents as we lacked the money to buy construction materials and hire workers. It is because of these volunteers that so many of us now have a room to live in," said Shyamal. 
The efforts of these Muslims have drawn appreciation from various quarters.
Suchismita Debsharma Dutta, a member of Cooch Behar Zilla Parishad, reached Ghughumari today to thank the volunteers.
"It is a great lesson for all those people who try to divide us on religious lines. Their perseverance has surprised us as after repairing or rebuilding a hutment, they are asking who else needs help," Dutta, also the district president of Trinamul Mahila Congress, said.