Congress legal cell protests ex-minister's role
bLack flags shown to former Union minister Chidambaram for holding brief for a company that bought shares of Metro Dairy allegedly at a throwaway price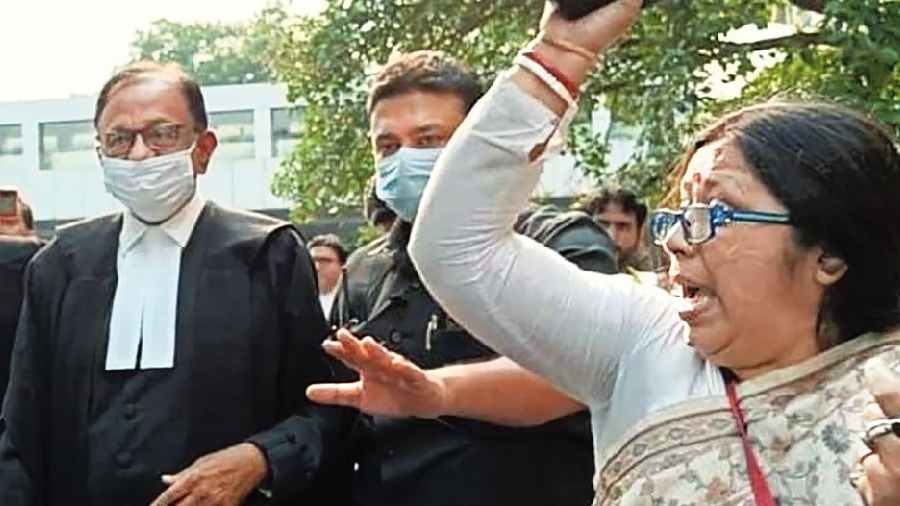 Lawyers wave black flags at former Union minister P Chidambaram
Sourced by The Telegraph
---
Calcutta
|
Published 05.05.22, 01:11 AM
|
---
Calcutta High Court lawyers of the Congress legal cell on Wednesday showed black flags to party leader and former Union minister P. Chidambaram for holding brief for a company that bought shares of Metro Dairy allegedly at a throwaway price.
Challenging the arbitrary decision of the state government to sell its shares in Metro Dairy to Keventer Agro by "causing loss to the exchequer", state Congress president Adhir Chowdhury in 2018 moved court seeking CBI probe into the deal. Chowdhury accused the government of undervaluing the company while selling the shares.
The Bengal cabinet had on August 23, 2017, approved a proposal to divest the government's 47 per cent equity in Metro Dairy. The government had set the base price for its equity at Rs 85.43 crore, while Keventer Agro offered Rs 85.5 crore. Keventer Agro's bid stood as nobody else came forward, perhaps knowing that it would be tough to outsmart the company as it was already holding other 53 per cent shares of Metro Dairy.
When the Mamata Banerjee cabinet gave its stamp of approval to Keventer Agro's bid some senior government officials had wondered if the state government should have waited for more bidders to avoid the row.
Chowdhury's complaints had also led to the Enforcement Directorate to start an inquiry in 2019 into the controversial sale of Metro Dairy shares to Keventer Agro.
As the case came up for hearing on Wednesday and Chidambaram appeared as counsel for Keventer Agro demanding dismissal of Chowdhury's petition, a group of lawyers owing allegiance to the Congress were upset with his role as "helping protect the corrupt ways of the Trinamul government".
As Chidambaram stepped out of the old Calcutta High Court building after hearing was over for the day at 4pm, a section of lawyers, led by Congress leader Kaustav Bagchi, shouted "Go back" slogans at Chidambaram and accused him of hurting the sentiments of party workers by appearing for the private company.
The agitators heckled Chidambaram, waved black clothes and tried to block the path of his car as they raised slogans against the Congress leader accusing him as an "agent of Trinamul Congress". Security personnel pushed aside protesters and led him to his car.
Bagchi, a leader of the Congress legal cell, said: "It is a matter of grave concern that one central leader of our party is defending the company that bought 47 per cent shares of Metro Dairy at an undervalued price."
 They should have got only 25 per cent of shares for the price they paid. But they walked away with 47 per cent shares. There is irregularity in the deal and Adhirda has moved court against it."
Venting anger against Chidambaram's decision to fight Keventer Agro's Bagchi said: "We have made it clear to Adhirda that in future if Chidambaram comes to Calcutta, we will boycott his programme."