Congress leader says sorry to Left for dishonouring alliance in 2019 Lok Sabha elections
Campaigned against each other and lost the Raiganj seat to the BJP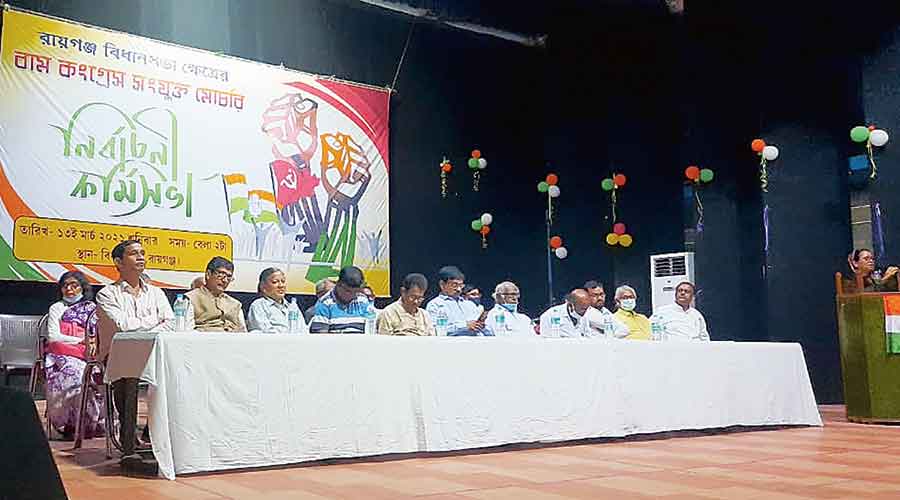 ---
Raiganj
|
Published 15.03.21, 04:28 AM
|
---
A Congress leader on Sunday offered a rare peace offering to the Left, the party's alliance partner for the state elections — a public apology.
Mohit Sengupta, the Congress candidate from Raiganj Assembly seat, apologised publicly to the Left Front for having dishonoured the alliance in the 2019 Lok Sabha elections, which many believe led to the defeat of CPM candidate Md Salim and a win for BJP.
"I tender my apology to all the workers of the CPM and Left Front for creating a misunderstanding during the last parliamentary election in 2019," said Sengupta, while addressing a joint meeting organised by Left-Congress alliance at Bidhan Bhavan in Raiganj on Sunday.
In the 2019 parliamentary election Md Salim of the CPM had been nominated from the Raiganj seat.
However, despite being alliance partners, the Congress had fielded Deepa Das Munshi from the same seat.
Sengupta on Sunday confessed that their party had not only fielded Das Munshi but had also carried out campaigns against Md Salim.
"We campaigned against each other during the election and we lost the seat to the BJP candidate (Debasree Chaudhuri)," Sengupta, who is also the district Congress president of North Dinajpur, said.
"It was a mistake on our part. We had not only field candidates in Raiganj against Left, but also carried out campaigns against him. As the Assembly election is approaching, it is my duty to tender my apology to all the Left workers," said Sengupta.
In the ensuing vote split in 2019, Raiganj was won by BJP candidate Debasree Chaudhuri, who is now the Union minister of state for child and women development.
The 2019 Lok Sabha election results were a setback for the Left-Congress alliance which had in the 2016 Assembly election had fielded Sengupta as their candidate and he had emerged victorious.
Sunday's unconditional apology from the Congress leader seemed to have smoothed the ruffled feathers of the Left leaders and workers. "It was wrong for the Congress to have fielded its candidate in the 2019 election. (However), with this apology let bygones be bygones," said Uttam Paul, the CPM district committee leader.