This playschool has Lego blocks, toys and splashes of colour everywhere. It also captures the lost sights and sounds of Calcutta.
San Francisco-based artist Aahel Iyer's first solo exhibition at the Birla Academy of Art and Culture is a trip down memory lane to Calcutta, the city of his childhood.
"I called my exhibition Playschool because it is about my childhood. The Lego pieces are my memory markers. Block by block, I am rebuilding my childhood in this Playschool," said Iyer, who lived in Picnic Gardens.
Bright colours and Lego pieces meet the eye as one enters the fourth-floor gallery where the 23-year-old artist is showcasing his artworks.
The installations are equally interesting. They use a broken typewriter and lots of small plastic toys that were once common items with street hawkers in the city.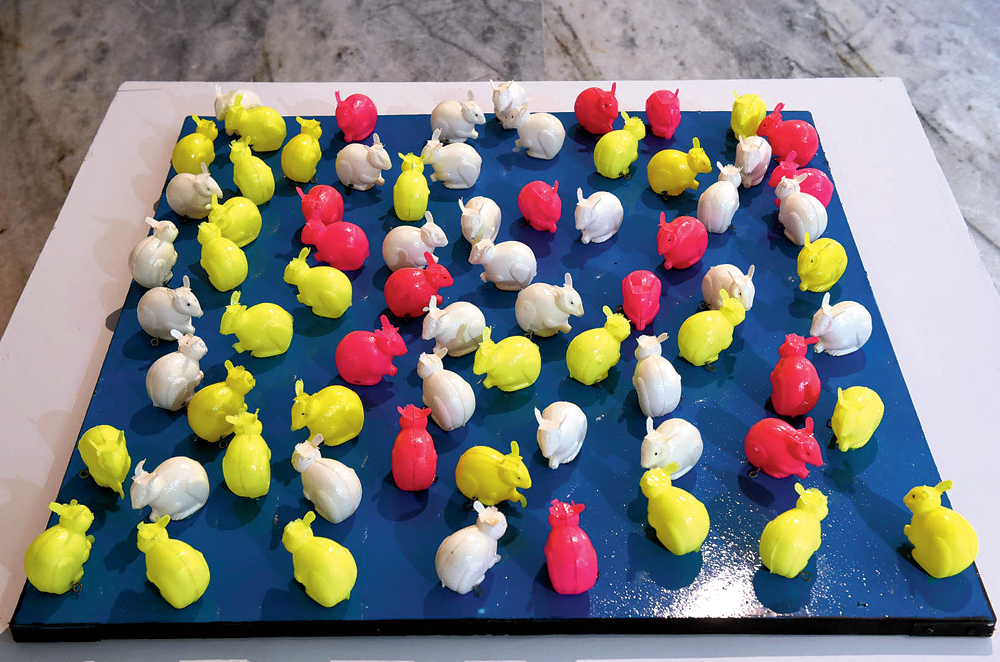 This artwork — Friend Request — is about the artist's early interest in social media Picture by B. Halder
Iyer, who studied New Media Design from the Rochester Institute of Technology in New York, recollects his homesickness during his student years in America. "I missed the sights and sounds that I had grown up with. This exhibition, my first ever, is a tribute to the city and my childhood," said the former student of La Martiniere for Boys and Calcutta International School.
Of the 35 exhibits, Sugar and Syrup is Iyer's favourite. "Remember the ice-lolly vendors outside school? They offered such mouth-watering stuff in different colours. I always wanted to have them but was not allowed. This painting is a tribute to that memory," said Iyer, adding how he has depicted strawberry, mango and orange flavours in his artwork. Lego pieces were stuck to the canvas like clumps of forgotten memory.
Another frame depicts the artist's favourite board game — snakes and ladders. Window grilles, a favourite bubblegum commercial, a neighbour's tale and cricket balls forever lost in gully matches have all found place in his exhibits.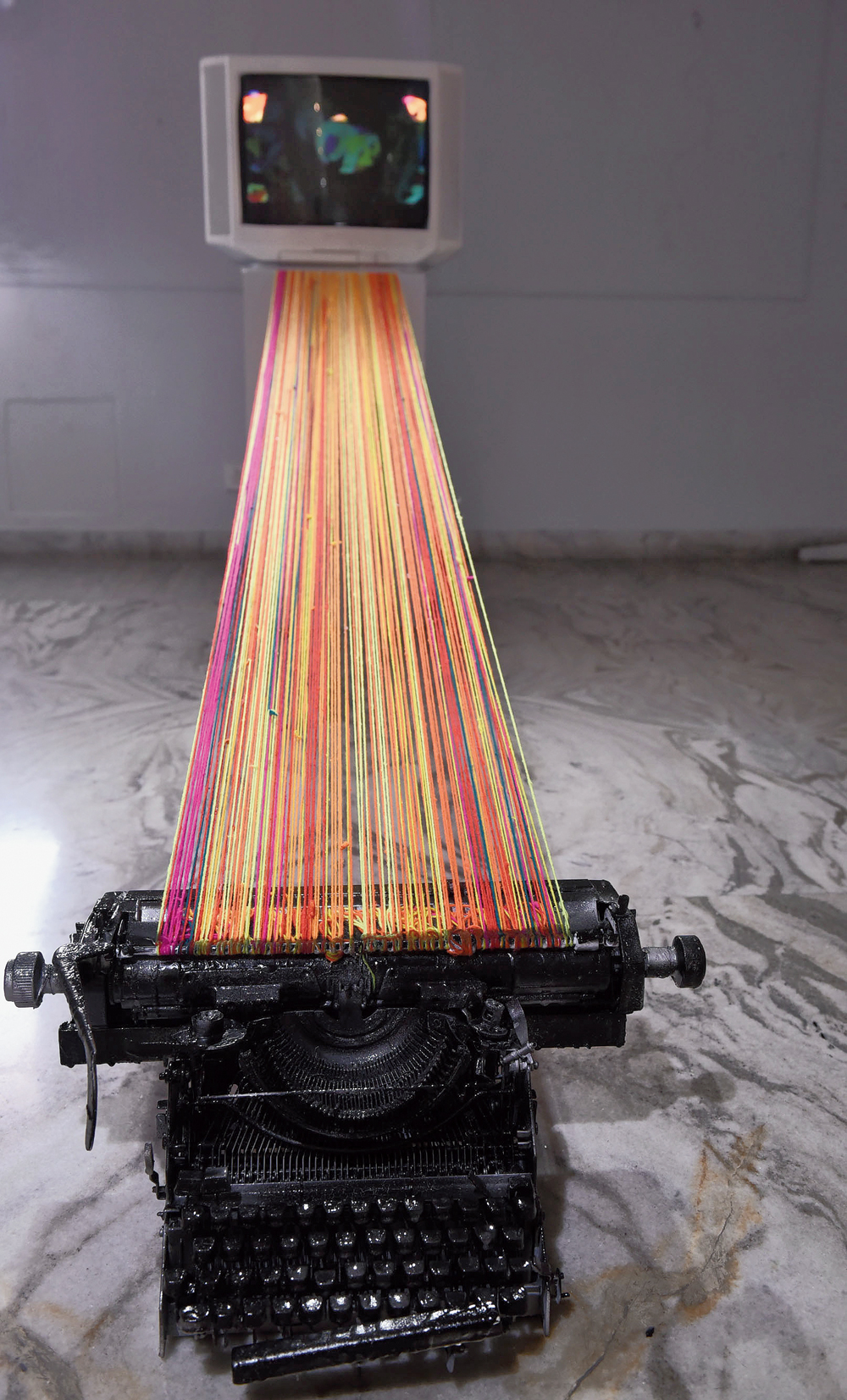 An installation capturing the artist's favourite fictional character, Mukul of Sonar Kella, and his world through motion graphic and colourful threads Picture by B. Halder
An image from his childhood stands right in the middle of the room — a bright blue bicycle with a load of plastic toys. "Every day after school I would see this toy dealer going on his cycle to deliver his wares to different stores. I would look out for him and today I have recreated that memory," the artist said.
His favourite film Sonar Kella and fictional friend Mukul have been depicted in an installation comprising a typewriter, colour threads and motion graphic. "Burst of colours is very important to me," said Iyer, pointing to several frames of colour splashes. "I have named this series the Colouring Book as these represent my childhood etchings."
The Colouring Book series uses the dripping paint effect to create beasts and monsters that often cloud a child's imagination.
Common household items such as shil nora (grinding stone and pestle) and miniature stools and chairs have also been used in some of the installations.
An artwork called Friend Request has rabbits of different hues representing the artist's adolescent years and his interest in the social media.
The artist, now settled in San Francisco, is already planning his next exhibition. "I plan to showcase my art here to retain my ties with the city," he signed off.
The exhibition is on till July 28.