Unsuccessful HS candidates gherao school heads, ransack campuses
The examinees were accompanied by a few others who claimed to have received lower marks compared to what they expected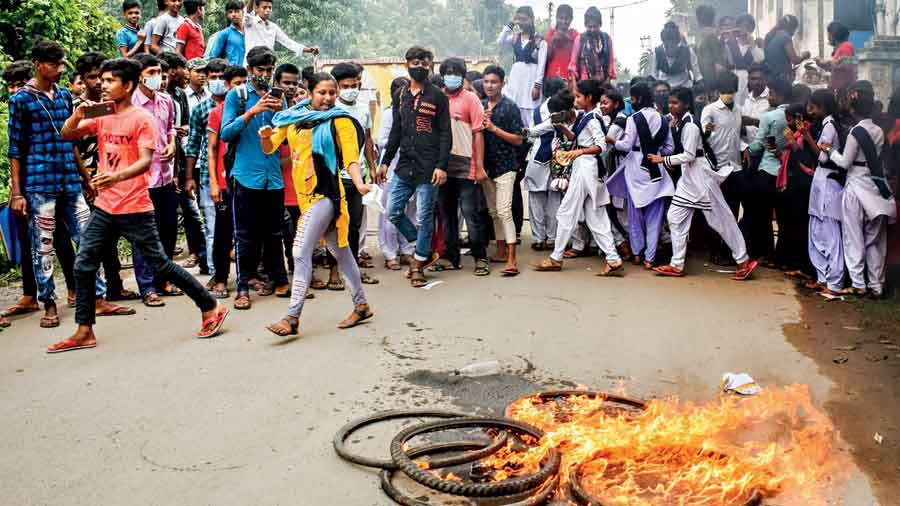 ---
Calcutta
|
Published 24.07.21, 02:04 AM
|
---
Thousands of unsuccessful Higher Secondary candidates, along with their guardians, assaulted and gheraoed school heads, ransacked campuses and blocked roads at several places in Bengal with a demand to announce them qualified in this year's examination.
The unsuccessful examinees were accompanied by a few others who claimed to have received lower marks compared to what they expected.
The West Bengal Council of Higher Secondary Education on Thursday announced that 97.69 per cent of around eight lakh candidates had passed Class XII this year. Sources said around 20,000 students among those who appeared for the exams had failed. The agitation took place on a day when schools were asked to distribute mark-sheets.
The Class XII exams couldn't be held this year because of the Covid-19 pandemic.
The council prepared the results by giving 40 per cent weightage to a student's performance in the Class X board exams and 60 per cent to the performance in the Class XI annual exams. The combined score was added to the marks obtained in the 30-mark practical or 20-mark project paper to arrive at the final score.
"It is very unfortunate that heads of hundreds of high schools across the state were not only gheraoed but manhandled by students when teachers had no role to play in the results. We have requested the higher secondary council to take examinations for those who have failed immediately. We fear about the security of our colleagues," said Chandan Maiti, an office-bearer of the Advanced Society for Headmasters and Headmistresses.
At Tiljala Girls' High School in Calcutta, students, along with their guardians, ransacked CCTV cameras and furniture. The headmistress, Avinanda Ghosh, was not spared either.
"Out of 152 candidates from my school, 56 have failed. Those students came and ransacked the schools and beat me up. I was forced to inform police about the vandalism," said Ghosh.
Headmasters of various high schools in South 24-Parganas, Howrah and Hooghly were physically assaulted or held back in school till late on Friday evening.
Nivedita Nag, the headmistress of Ushangini Girls' High School in Chandernagore, was gheroaed by unsuccessful examinees for several hours.
"I am really helpless as we have nothing to do with the result. I requested the students to give a written memorandum to me but they refused," said Nag. Nag added that 23 of 157 examinees at the school had failed this year.
Rampurhat Girls' High School students, who failed to clear the exam, also gheraoed the headmistress and accused teachers of providing average marks to them.
Similar agitation was reported from South 24-Parganas, Nadia, North Dinajpur and Jalpaiguri. In districts like Nadia and North Dinajpur, students blocked roads demanding that they be declared passed as no examination had been conducted.
In North Dinajpur, over 70 girls of Chopra Girls' High School walked up to NH 27 — the principal highway that connects vast areas of north Bengal and the entire northeast with the rest of the country — and staged a road blockade."We didn't appear in the exams and yet we failed. How can it happen? Also, all of us are Class XII students which means, we had passed in the final exams of Class XI. If the marks have been allotted as per the results of Class XI exams, how can we fail? We want the higher secondary council to reassess our results," said a student.
A headmaster said as there was 100 per cent pass in the Madhyamik this year, many higher secondary examinees were expecting a similar result. "When some students failed, they couldn't accept the results. Besides, many schools had turned into quarantine centres last year and students couldn't write Class XI exams. It seems those students failed in Class XII," said the headmaster.
A senior official of the Council of Higher Secondary Education said the students had been allotted marks on the basis of a system we had worked out. "If the government asks us to conduct tests for those students who failed, we are ready for it," said the official.
The 69 unsuccessful students of Santipur Bagh Anchra High School in Nadia, along with their guardians, blocked a local road for two hours with a similar demand.
Additional reporting by Subhasish Chaudhuri and Avijit Sinha