Civil society protests post-poll violence
Alarm at how communalism is making inroads in recent times into Bengal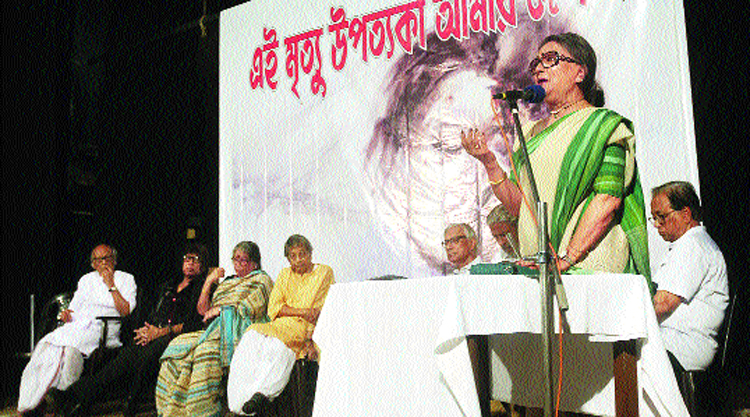 Aparna Sen speaks at the citizens' convention at Tapan Theatre. Among others present were Sankha Ghosh, Wasim Kapoor, Nabaneeta Dev Sen, Debesh Roy, Sukanta Chaudhuri, Rudraprasad Sengupta and Chandan Sen.
The Telegraph picture
---
Calcutta
|
Published 19.06.19, 11:12 AM
|
---
Ei mrityu upatyaka amar desh na. The line, rejecting a valley of death as one's country, by Nabarun Bhattacharya with a portrait of a bloodied face by Wasim Kapoor formed the backdrop of a citizen's convention at Tapan Theatre on Tuesday evening. The catalyst was unabating violence in the aftermath of the Lok Sabha elections in Bengal.
Though poet Sankha Ghosh did not speak, his presence registered his concern. Facing a packed auditorium, filmmaker Aparna Sen said how depressed she felt faced with the onslaught of violence. "This is not the Bengal I grew up in. We are used to a culture of diverse pluralism."
Reading out a section of Harsh Mander's open letter on the 2019 election results, she urged everyone present to spread a message of love through every platform of communication.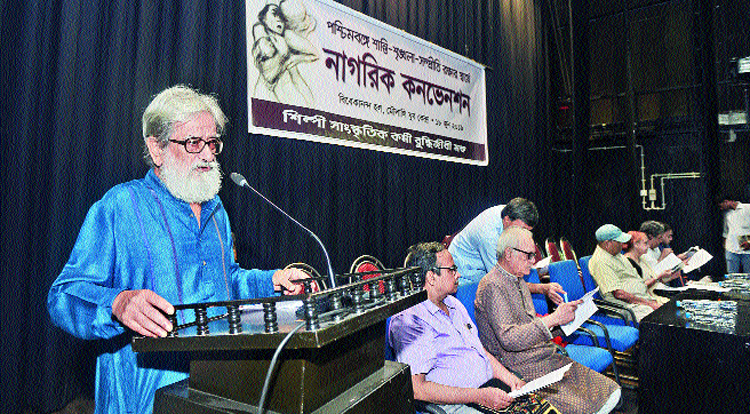 Educationist Sukanta Chaudhuri expressed alarm at how communalism was making inroads in recent times into Bengal, which till recently was free of the scourge.
"Lawlessness is rampant in all rungs of the social ladder. Everyone thinks he can break the law when he so pleases. Add to that an autocratic attempt to wrest control of everything — if I am in trade, I will have monopoly in the area; if I am running in the election, I must get all the votes," he said.
Chaudhuri said he had no solution to offer but the fact that people had started thinking was reassuring. "Our lives are too immersed in politics. If we are disappointed in Party A, we try to seek refuge in Party B. This dependence has to end in all spheres of our lives."
Author Nabaneeta Dev Sen said she had a lot of expectations from the young generation. "Do not give up. Do what you can do, convince the person next to you. I was initially thinking 'Ei dyakhar jonyo bneche roilam' (Am I alive only to see this?) But I believe 'E dekhai sesh dekha noy' (What I see is not the last sight)."
While theatre director-actor Rudraprasad Sengupta was upset that civil society was falling silent, actor-director Kaushik Sen pointed out that Calcuttans from the world of arts and letters had forfeited a chance to be united when two processions came out over Nandigram — one to protest against and one in solidarity with the government — on successive days in 2007. "With another force on the upswing, history gave us a second chance but some of us got into government committees and became MLAs and MPs."
Admitting that the BJP's advent was a threat but first they had to build people's trust in them anew. "We need to stand beside people without any political colour. We have to say no to temptations of power."
Also present on stage were Debesh Roy, Wasim Kapoor and Chandan Sen.
Another convention took place earlier in the day at Moulali Yuva Kendra. Organised by the Forum of Artists Cultural Activists and Intellectuals, it had president and theatre director Bibhas Chakraborty adopting a resolution that included demands to political parties like asking leaders to dissociate themselves from religious activities in public, not to use religion for the sake of vote bank, maintain communal harmony and stop turf war.