Civic work with no signage a bother
Dug-up stretches do not even have fencing or reflector tapes around them, making it almost impossible for motorists to spot ditches at night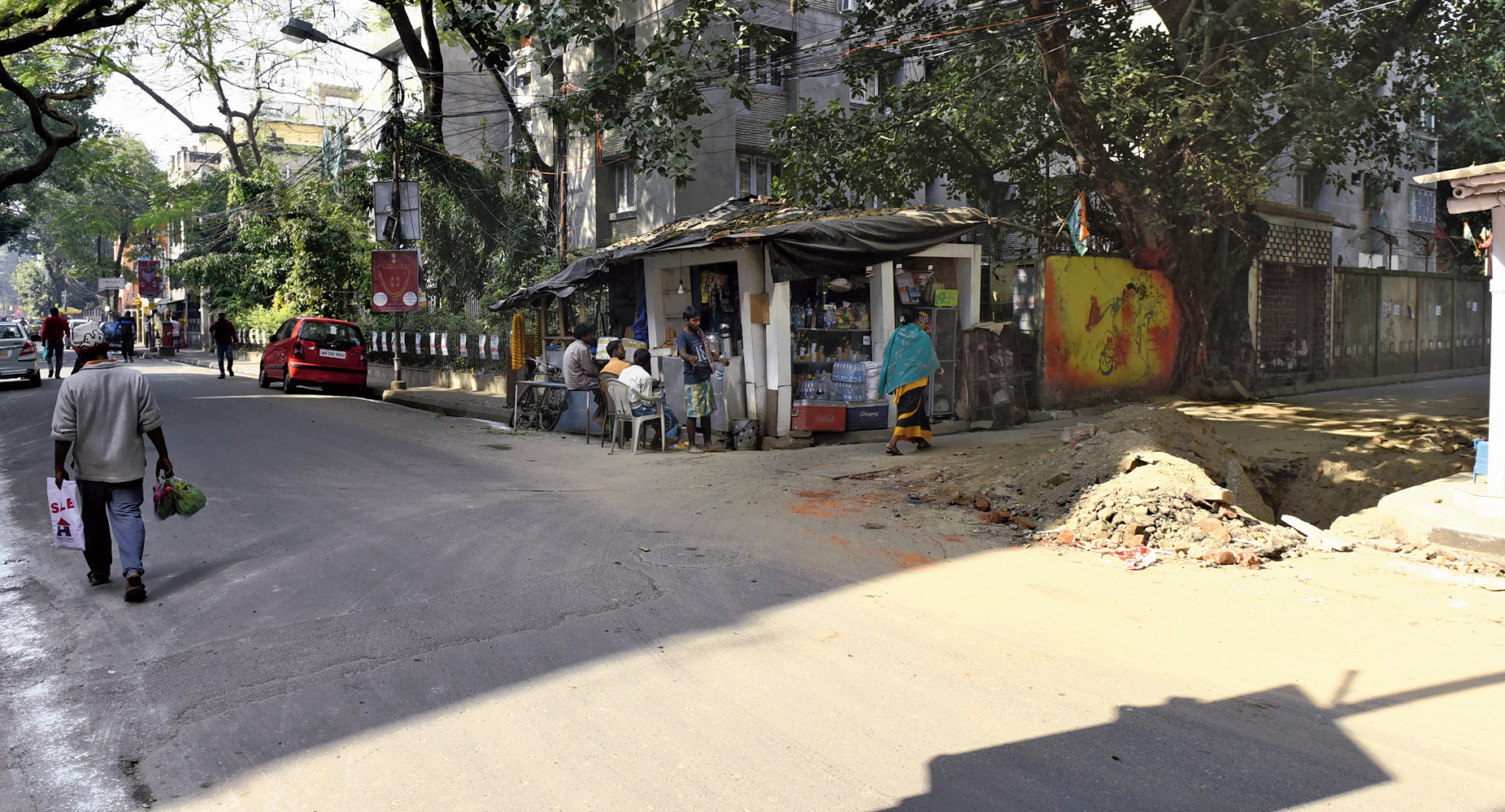 ---
|
Calcutta
|
Published 02.01.20, 10:44 PM
---
The Calcutta Municipal Corporation has been repairing roads and laying water pipelines across the city this winter but the infrastructure development has left residents irked instead. Reason: no signage in most places to warn commuters that the road is closed.
Most of the dug-up stretches do not even have fencing or reflector tapes around them, making it almost impossible for motorists to spot ditches at night.
The absence of signage has left even residents of the neighbourhood clueless about which road to take, leave alone visitors.
A resident of Dover Lane cited an example of water supply work near his home. A stretch of Dover Lane running perpendicular to Nandi Street has been dug up for laying water pipelines.
Several vehicles approach this stretch from Nandi Street, but the only signage is at the intersection of Nandi Street and Dover Lane.
"I went ahead with my car and then found the road closed. There was not enough space to turn the car around and I had to go back about 60 metres before it could take a U-turn," the resident said.
He said that if the signage had been put up about 100 metres ahead of the point where the road was closed, it would have saved him a lot of trouble. "A signage with an alert that the road ahead is closed would help. Motorists would not take the lane in that case," he said.

Jhumur Pal, a resident of Baguiati, who was travelling to central Calcutta on Sunday had a similar experience. She had taken Raja Dinendra Street from Vivekananda Road to go to Sukeas Street.
"Several cars before and after me also took the same route. My plan was to take Rammohan Roy Road, cut across APC Road and take Sukeas Street. I wanted to avoid the snarl at the Maniktala crossing," Pal said.
On reaching the mouth of Rammohan Roy Road, Pal found the road closed. "All the cars were turning around and there was mess. I took a U-turn, reached the Maniktala crossing and took Amherst Street a little ahead," she said.
Pal said a signage near the crossing of Vivekananda Road and Raja Dinendra Street would have helped and she would have gone straight to the Maniktala crossing.
The dug-up stretch in Dover Lane also poses a danger to commuters, especially at night, since there is no fencing or lights to warn commuters.
An official of the Calcutta Municipal Corporation (CMC) said there was no written instruction on where to put up a signage and how many.
"Generally, we fence the area with a reflector tape so that it can be seen at night also," the official said.
An engineer with a private infrastructure company said roads that have been dug up should also have rice bulbs or bulbs that switch off and on repeatedly.
"Such lights make the cordoned-off area more prominent and drivers are alerted from a distance," he said.
The Dover Lane resident said the corporation should also mention what work is being carried out and how many days it would take.
"These are infrastructure upgrade work that would benefit people. If the corporation communicates the information properly, it would create a good impression," he said.