The accused had fired 15 bullets, says an official
CISF man shoots dead colleague, injures another at Indian Museum
Mishra had snatched the rifle from head constable S.K. Morthi after the roll call and tried to shoot a CISF official, but Sarangi and Ghosh came between them and got hit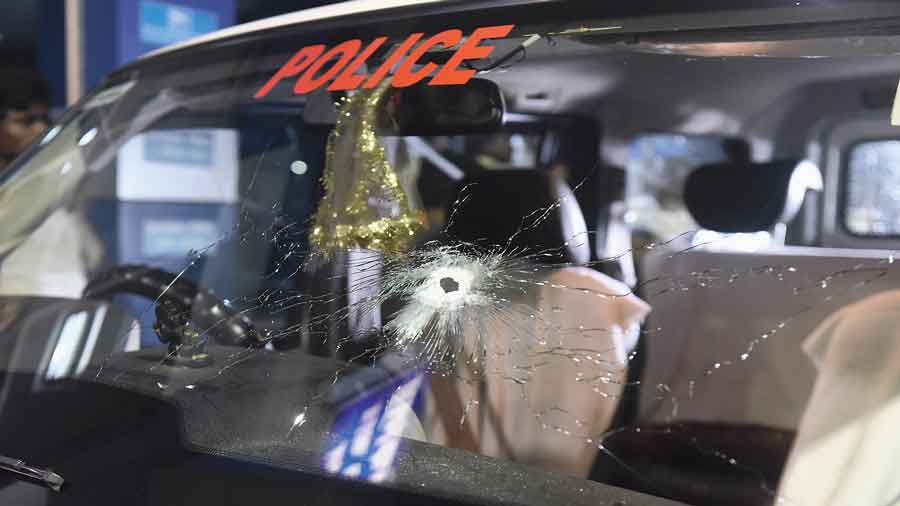 The police vehicle in which assistant sub-inspector Ranjit Kumar Sarangi was taken to SSKM Hospital, where he was declared dead.
Sanat Kr Sinha
---
Calcutta
|
Published 07.08.22, 02:19 AM
|
---
A CISF head constable opened fire from an AK-47, killing a colleague and injuring another, outside the paramilitary force's barracks on the Indian Museum premises in J.L. Nehru Road on Saturday evening.
Akshay Kumar Mishra, 43, later fired at police vehicles that had entered the museum compound to arrest him, before he was persuaded to surrender.
No police or civilian casualties were reported. The museum closes at 5.45pm and no visitors were, therefore, present when Mishra shot at his colleagues around 6.15pm, sources said. The CISF is also in charge of the security in airports in the country.
A CISF official said Mishra had fired 15 bullets, killing assistant sub-inspector Ranjit Kumar Sarangi, 58, a native of Dhenkanal in Odisha, and injuring assistant commandant Subir Ghosh, 59, of Alaipur in Chakdah, Nadia. Around 30 personnel were present at the spot. Sources said Mishra had snatched the rifle from head constable S.K. Morthi after the roll call and tried to shoot a CISF official, but Sarangi and Ghosh came between them and got hit.
Ghosh dived to the ground immediately and saved himself but Sarangi came directly in the line of fire, the sources added.
Sarangi had multiple bullet wounds on his head, neck and hands, said sources at SSKM Hospital where he was declared dead. Ghosh has been admitted to SSKM with at least one bullet injury in his right forearm, hospital officials said.
Police commissioner Vineet Goyal told reporters the motive for the firing was being investigated.
Eyewitnesses said that while being taken away by the police, Mishra had shouted: "I was being humiliated and tortured." After firing at the arriving police vehicles, Mishra had run into one of the rooms at the barracks and locked himself in.
A team of commandos led by deputy commissioner (central) Rupesh Kumar positioned themselves outside the room where Mishra was hiding. Sources said Kumar began a dialogue with Mishra from outside the room.
"Mishra asked Kumar to enter the room without any arms. Kumar, who was wearing a bulletproof jacket, walked in with his team without any weapons," the source added. After a few minutes, Mishra came out, unarmed.
Mishra was arrested and sent to the central police lockup in Lalbazar. The AK-47 has been seized. Museum director Arijit Dutta Choudhury said the firing happened on the southern side of the compound, near the Asutosh Centenary Hall and a gate opening into Kyd Street.
"That gate is mainly used by museum staff. Visitors enter and leave the museum through the main gates along J.L. Nehru Road (on the western side of the compound)," he said.
Sources said some museum staff may have been inside the museum building at the time of the shooting. Museum officials said the sanctioned number of CISF jawans on the premises was 53.
"At any particular time, 30 to 35 jawans are on duty," an official said. "Mishra used to attend security meetings with his seniors. We noticed nothing abnormal about him." About two months ago, a Calcutta police constable posted at a kiosk outside the Bangladesh deputy high commission in Beckbagan had, during a "tea break", fired indiscriminately from his service rifle, killing a passer-by and injuring two others. He had then turned the gun on himself.