CID probe into AIIMS jobs
There are allegations of irregularities in the recruitment of contractual workers by agencies which had been outsourced services at the institute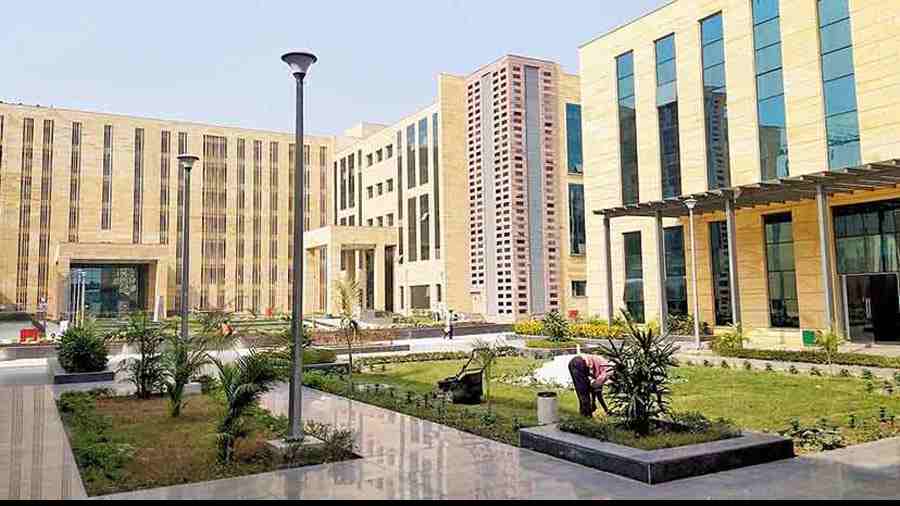 Kalyani AIIMS.
File Photo
---
Kalyani
|
Published 03.06.22, 01:40 AM
|
---
The CID on Thursday began a probe into alleged  irregularities in the recruitment of contractual workers by agencies which had been outsourced services at the All India Institute of Medical Science (AIIMS) in Kalyani.
In a complaint lodged at Kalyani police station on May 20, Sariful Islam, a resident of Sahajadpurn in Murshidabad, accused BJP MPs Jagannath Sarkar, Subhash Sarkar, MLAs Bankim Ghosh, Niladri Sekhar Dana, party state committee member Deepa Biswas and AIIMS-Kalyani executive director Ramji Singh and some others of providing "jobs to their near and dear ones denying opportunities to deserving candidates".
Sariful accused junior education minister in the Narendra Modi government, Subhash Sarkar, who is a member of AIIMS Kalyani's institute body, of providing jobs to his close aide and MLA Niladri Sekhar Dana's daughter as "data entry operator".
"Dana's daughter was given the job without having taken part in the recruitment test," Sariful alleged.
He also accused MLA Ghosh of securing a similar job for his daughter-in-law. Sariful demanded a probe against MP Jagannath Sarkar, referring to a news article in which a women's wing leader of the BJP had accused him of providing jobs at AIIMS Kalyani "in exchange of money".
Sariful also accused Deepa of working on behalf of Subhash and Ramji Singh to facilitate "illegal recruitments".
Ramji Singh was unavailable for comment.  Rejecting the allegations, MP Jagannath Sarkar said: "I have done nothing wrong. I recommended the names of some youths and will do the same again if I get a chance."
MLA Bankim Ghosh said: "My daughter-in-law has been engaged by an agency on an 11-month contract. She got the job like any other candidate."
Deepa said: "I am ready to face any probe." Calls to Subhas Sarkar and Niladri Sekhar went unanswered.