Choke on fumes, chafe at neglect Pollution posers answered
Read more below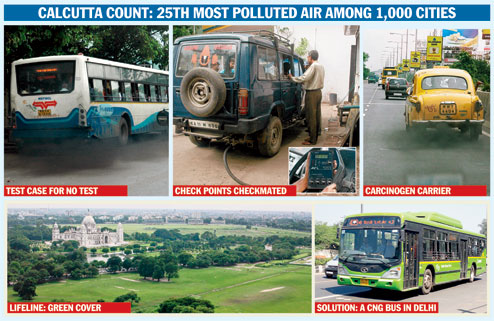 ---
---
The most polluted city among the metros being crowned the country's lung cancer capital is no coincidence, but Calcutta failed — or rather refused — to see it coming.
This "congenitally dust-prone" city has done little over the years to lower air pollution from multiple sources, mainly automobile exhaust. Metro answers your questions on how things came to such a pass and what can be done next.
How polluted is the city air?
Very. Highly. Polluted. In the World Health Organization's air-pollution rankings, Calcutta occupies the 25th position among 1,100 cities.
How high is air pollution over the national limit?
Fine particulates and nitrogen oxides dominate the list of major pollutants in the city air. The annual average of PM 10 — fine particulate matter that invades the lungs and triggers respiratory diseases and cancer — has been around 1.5 times the national limit or even more. The annual average of nitrogen oxides is also above the limit.
Particulate pollution in winter is generally twice or even higher than the national standard. Even more dangerous is the presence of finer particulates called PM 2.5, which constitutes around 75 per cent of the total respirable particulate matter in the air. In winter, the level of PM 2.5 has been found to be almost three times the national standard.
According to the central pollution control board, greater Calcutta is also the topper in nitrogen-oxide pollution. On certain days, the presence of these pollutants spikes four times or higher than the national limit, putting the air we breathe in the category of "extremely critical".
Since pollution is twice or higher than the safe limit, does it mean I am two times more likely to get cancer?
No limit is absolutely safe. But lower the pollution level, greater the chance of leading a healthy life. Cancer is triggered by a series of factors, including a person's lifestyle, occupation, immediate surroundings and even genes. But exposure to a high level of air pollution increases the possibility of cancer, as mentioned in a WHO report highlighted by The Telegraph on Friday.
Who are most vulnerable?
Everybody exposed to polluted air, though vulnerability varies according to the level of exposure, age and individual immunity. Anybody living or working close to a thoroughfare is more vulnerable than somebody living away from a polluted zone.
Children, the elderly, those with low immunity and people exposed to continuous pollution are the most vulnerable. Exposure to a high level of pollution can be fatal for those already suffering from respiratory and cardiac problems. Students of schools located along thoroughfares are susceptible, too.
A study by the pollution control board a few years ago showed that students of many schools across the city were being bombarded with high doses of very fine particulate matter.
Women who cook within the house using kerosene or wood are also at risk.
What diseases does air pollution cause?
All kinds of respiratory ailments — statistics show that one out of every four Calcuttans suffers from some kind of respiratory trouble, including asthma or chronic obstructive pulmonary disorder. Cardiac problems have long been known to be an offshoot of pollution. Recent research by the Chittaranjan National Cancer Institute shows that hypertension, kidney dysfunction, liver anomalies and even neurological disorders can occur because of exposure to a high level of air pollution over a long duration.
How can I protect myself?
Wearing a mask while on the move helps but it isn't effective when it comes to ultra-fine particulates or gases. In winter, when pollutants are concentrated in the lower strata of air, it is advisable not to take a walk around dawn or just after.
Is north Calcutta more polluted than south Calcutta?
According to data available with the state pollution control board, pollution levels in north Calcutta are generally higher than in south Calcutta. Fewer and narrower roads than in the south make the old city more congested and, as a consequence, more polluted. The number of industrial units within residential areas, little open space and a high concentration of polluting goods vehicles add to the risks.
But intra-city variation in pollution levels is almost insignificant in the context of the big picture. Therefore, shifting from one part of the city to the other won't make much of a difference.
Who is to blame for the high level of air pollution?
The administration — transport department, police, environment department and pollution control board — for not enforcing the norms. Political patronage for polluters is also responsible for the city being so vulnerable.
I take my car for a pollution test every six months but I have never seen a bus waiting for a pollution test. Why?
Statistics prove that less than 20 per cent of the vehicles plying in the city periodically take a pollution test. The figure is abysmally low for commercial vehicles, including government-owned ones. Forged pollution-under-control certificates are common.
If I see a truck or a taxi spewing black smoke, can I report it to the authorities?
You can lodge a complaint with Calcutta traffic police by dialling 22143644, 1073 (toll-free), 22131182 (anti-pollution wing) or approaching traffic officers on the road. Complaints can also be filed with the motor vehicles department at 24751621-23.
What can I do to reduce air pollution in the city?
If you own a vehicle, ensure that it does not spew toxic fumes by taking it for a periodic pollution check and maintaining it well. Also, raise your voice against pollution.
What else can be done to reduce air pollution in the city? Tell ttmetro@abpmail.com