Chidambaram picks Rafale to slam Modi
He said if the Opposition forces came to power, it would form a joint parliamentary committee to look into the Rafale issue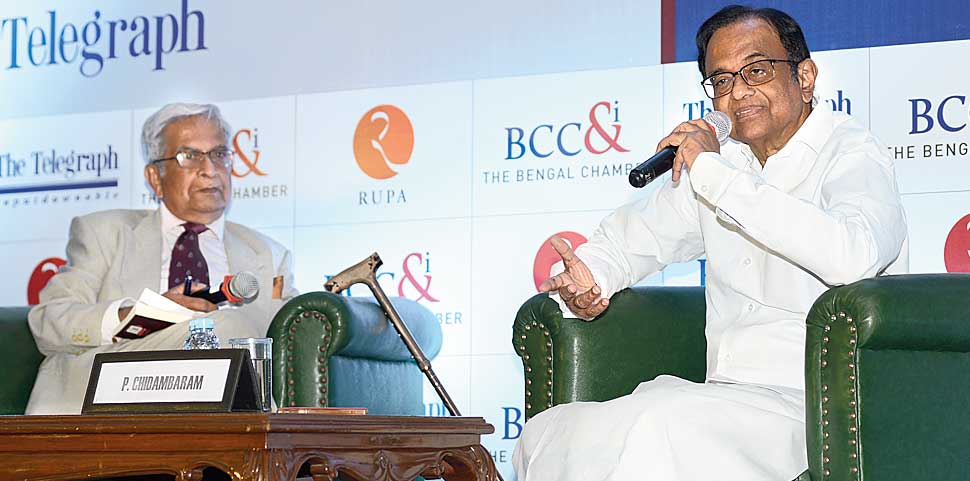 Chidambaram and Sunanda K Datta-Ray (right) during the discussion in Calcutta on Thursday.
Picture by Bishwarup Dutta
---
Calcutta
|
Published 14.03.19, 08:35 PM
|
---
Former finance minister P. Chidambaram lambasted the Narendra Modi government's response to questions over the Rafale deal before reiterating that the French fighter aircraft's purchase would be scanned in detail after a change of guard in Delhi.
"In any other country, a parliamentary committee would immediately be formed to look into such a matter. But in India, we have to beg the government: 'Please let us look into the issue'," Chidambaram said, referring to the twin aspects of "number of aircraft" and "pricing", which he called the "suspicious pointers" surrounding the deal.
The senior Congress leader broached the Rafale issue during a discussion on the launch of his latest book, Undaunted – Saving the Idea of India, at a programme organised by the Bengal Chamber of Commerce and Industry (BCCI) and The Telegraph.
But he spoke more on the state of politics in the country.
"The Supreme Court has rightly said under Article 32, their jurisdiction does not allow them to look into these issues. I have read the judgment, and there is nothing significant in it. It is like writing the Ramayana without writing about Rama or Sita," he added.
Chidambaram said if the Opposition forces came to power, it would form a joint parliamentary committee to look into the Rafale issue.
In a freewheeling discussion with veteran journalist Sunanda K. Datta-Ray, Chidambaram spoke on a host of topics.
"He has written very clearly on a wide range of issues and that's what makes the book so fascinating. We enjoyed the discussion as well," said Indrajit Sen, president of BCCI.
Excerpts from what Chidambaram said during the discussion are given below.
Suspect statistics
The government tells us we are the fastest-growing large economy in the world. I accept the number, even though it is derived from a new and suspect methodology. People think number is a fact. It is not. It is a calculated number – an inference. Does one go from fact to inference or from inference to fact? The GDP is not a fact. The facts include things like: credit growth, investment, exports, the current account deficit and the fiscal deficit. If we are really growing at 7 per cent, how can there be no jobs? This betrays either ignorance or incompetence, most likely the latter.
Rural distress
According to numbers, some six-eight million have stopped looking (for work). In rural India, and especially for women, there is simply nothing to look for. This is because mobility is an important factor here. A rural woman, at the most, can look for a job within a 30km radius of her home and even that is a lot.
For a country like India, labour participation of 400-million is a bad sign. Further, there is an acute agricultural crisis in Bengal and across the nation.
A farmer, who cannot do anything but work on the land, has no control over prices of inputs he uses. He has no control over output prices in the market either. None but five or six states have a proper procurement machinery. Therefore, this MSP (minimum Support Price) is a deception. It doesn't work like that. You hear of horror stories taking place at these 'mandis', of a farmer having to wait three days before his crop can be assessed.
As a result, we have completely inexplicable price crashes that affect him and sink him in debt. The only way out is debt waivers. These issues, including unemployment and agrarian distress, need to be addressed with intelligence and competence.
Modi mum
It is his idea of communication. His only way of communicating with the people is addressing an audience from a 25ft-high podium on a microphone at a distance of 100ft from the nearest person. Even Mann Ki Baat (a radio programme) is a one-way communication. It is highly revealing of his personality because if he ever holds an interaction or a press conference, people will naturally question him and challenge him. The idea is 'I speak, you listen. I harangue, you suffer.' He is about to complete his entire term without ever having spoken to the press. That shows his contempt for the fourth estate.
Written words
I write because I care about what we leave behind for our children. Fortunately, print media is the only remaining form that allows any room for criticism. Earlier, I used to write about what is happening in the country. Now, it's about what is happening to it. One must thank Mr Modi for an infinite supply of subjects.