Chemistry of nationalism
Read more below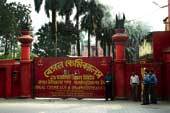 ---
---
The gate of the Bengal Chemicals on Maniktala Main Road and (below) the smokestack in the Panihati factory. Pictures by Bishwarup Dutta
Garudas with outstretched wings are perched on the two columns on either side of the entrance of the Bengal Chemicals & Pharmaceuticals Ltd factory on Maniktala Main Road, close to the Eastern Metropolitan Bypass. The factory building is painted red and is in reasonably good repair, considering its age. Originally the factory used to cover 33 acres, and now it has been reduced to 24 acres.
A mall has come up on the land that has been sold off and its tower looms over the compound on which new buildings are coming up as the factory, where several medicines are produced, is being upgraded to meet WHO norms of good manufacturing practices, Schedule M. An old smokestack raises its head from the middle of it all.
Apart from its popular hair oil named Cantharidine, disinfectants like Lysol, Pheneol and its famous naphthalene balls, Bengal Chemical also produces anti-inflammatory ointments, anti-bacterials and most importantly, anti-snake venom serum, a polyvalent that is effective against the cobra, Russell's viper, saw-scaled viper and the standard krait.
The serum is prepared from concentrate and purified plasma obtained by hyper-immunising horses against the venoms. There are plans to develop a diphtheria anti-toxin and anti-rabies serum. The factory has its own stable where 90 horses are reared, and these animals are allowed to graze on the grounds. The stables will also be modernised.
But Bengal Chemicals, a government of India enterprise, is a loss-making concern employing 740 people, of whom 380 work in the Maniktala Main Road factory. It has factories in Kanpur and Mumbai and also in Panihati, which is spread over a large tract of land, but none in the pink of health. At Panihati, naphthalene balls and alum used in water purifying plants at Palta, Garden Reach and Monghyr and Pheneol are still manufactured. But the sulphuric acid plant is in ruins, and all that is left of the surgical dressing unit is the smokestack made of brick, a beautiful construction.
Yet when Acharya Prafulla Chandra Ray opened Bengal Chemicals in an inconspicuous building at 91 Upper Circular Road (now named after this scientist who had founded the Indian School of Chemistry and written the phenomenal A History of Hindu Chemistry), along with a group of enterprising young scientists in 1892, he was practically throwing a challenge at the European drug manufacturers who monopolised the medicine market.
Fired by nationalistic zeal, it was Ray's endeavour to harness the knowledge of ancient India to the modern methods of manufacturing medicines devised in the West. But the raw material he intended to use would be gathered from indigenous resources instead of going in for imports.
They collected formulae and recipes of Ayurvedic preparations from kavirajas and with the aid of eminent medical practitioners and by ensuring that their products conformed to the British Pharmacopeia standards. Extracts of Kalmegh and Kurchi, Syrup of Vasaka and Aqua Ptychotis gained acceptance and the company became a household name. Of course, the enterprise faced many impediments, particularly from its shareholders who clamoured for more and more, without sparing a thought for the swadeshi fervour of its directors and remaining immune to nationalist sentiments.
The famous medicine company of Butto Kritso Paul & Company, which enjoyed the goodwill of even British and American drug manufacturers, began to stock the products of the company. But business started expanding and the Upper Circular Road premises did not have enough room for all its various activities.
In 1905, Bengal Chemicals acquired the plot in Maniktala and built a state-of-the-art factory in 1901. This was in keeping with the mushrooming of swadeshi manufacturing units all over Bengal. Apart from the brilliant young men who assisted him, help also came from the lawyer and national leader, Rashbehari Ghose, who provided Ray with the funds to set up modern factories.
Bengal Chemicals' list of products began to increase and included chemicals like nitric acid and Fire King, the fire extinguisher, which were in great demand. Land for the second plant was bought at Panihati in 1920. As it developed Bengal Chemicals faced more problems from shareholders who went to court whenever their demands for more were not readily met. One of the directors of Bengal Chemicals pointed out that it "could not be run like a shop at Burrabazar."
Nonetheless Bengal Chemicals developed into a truly national entity and was the largest chemical manufacturing concern in the East. It had opened a factory at Lahore. There was a demand for its products outside India, too.
The litterateur, Raj Shekhar Basu, had joined Bengal Chemicals in 1903 as a chemist, and apart from lending his managerial skills, he launched advertising campaigns in the vernacular, a pioneering effort. He came up with ingenious and poetic names for the products and even used Tagore's verse in his copy.
The company had entered into an agreement with Lister Antiseptic and Dressing Co Ltd to manufacture surgical dressings. A sulphuric acid plant was opened at Panihati but from time to time, the company faced labour trouble.
Not that alone. Acharya Prafulla Chandra Ray's aims may have been noble, but besides his disciples and national leaders like Netaji, Jawaharlal Nehru and Dr BC Roy, few others seemed to be impressed. Owing to differences with his director Prafulla Chandra resigned.
Post-Independence, Bengal Chemicals faced more hardships. There was a turnaround for 10 years till 2004, but now its fortunes are again on the decline.