Celebration of dissent through street art
Angst against the new citizenship regime and the struggle of immigrants find a place in work of art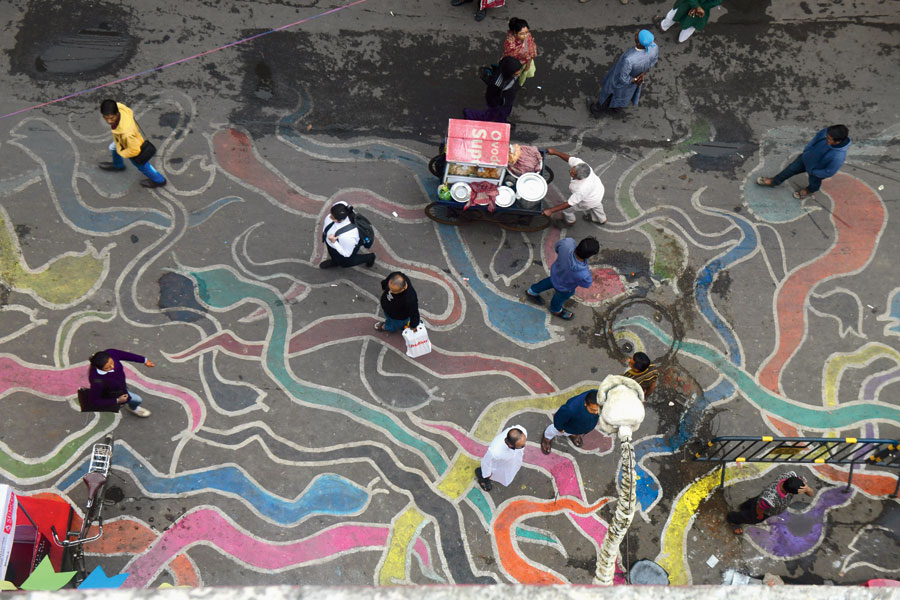 Snakes drawn on the road that led to the festival
Pictures by Bishwarup Dutta
---
Calcutta
|
Published 09.02.20, 07:40 PM
|
---
A Behala neighbourhood turned into a canvas of ideas and colours for a few days.
Behula, an art fest organised by Nutan Sangha on Rai Bahadur Road, in association with The Telegraph, from Friday to Sunday had a series of paintings — on the road as well as houses and walls — and installations. The angst against the new citizenship regime and the struggle of immigrants found a place in more than one work of art. The festival is a collaboration of over 40 budding and established artists. "We want to take art beyond galleries and museums and create an interactive space. We are encouraging visitors to talk with the artists. A canvas is ready if any passer-by wants to contribute anything to this festival," said artist Sanatan Dinda, the convener of the festival, which included a workshop for young art students. "I cannot thank the club members enough." The Telegraph takes a closer look.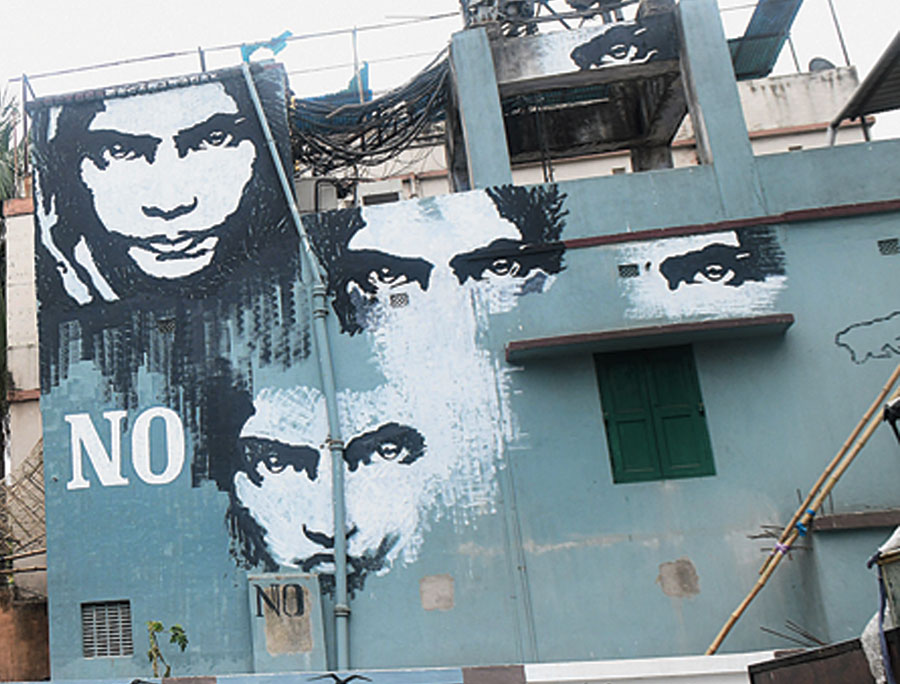 A bold 'NO' surrounded by faces with a piercing gaze found space on the façade of a library. The accompanying boundary wall had a series of barbed wires, some of them turning into birds (right). "This is a celebration of dissent. It is also a message of solidarity with immigrants, people who are being pushed to a no-man's land by the ruling dispensation. Valid today, invalid tomorrow. Resistance and refusal to toe the line of the authorities are extremely important," said Sanatan Dinda, the man behind the painting.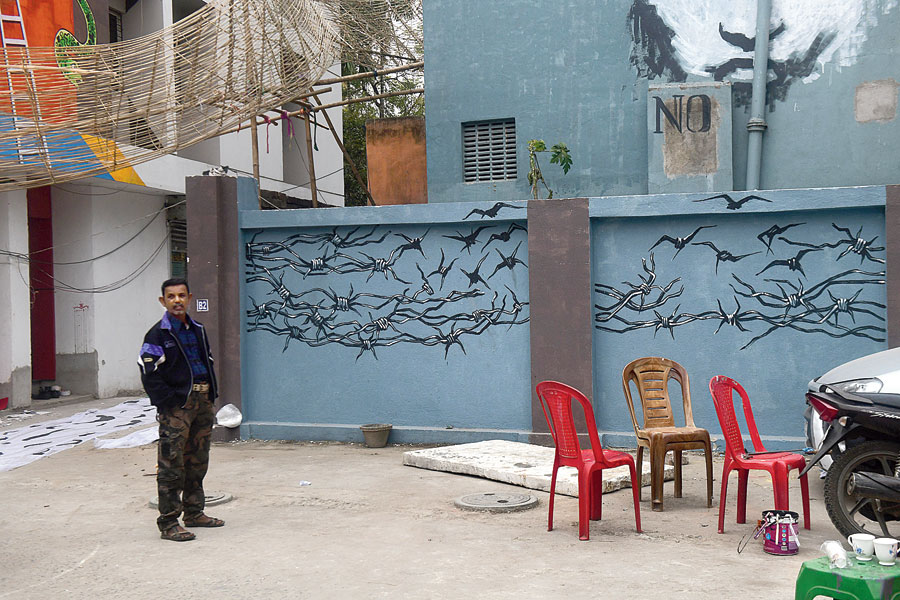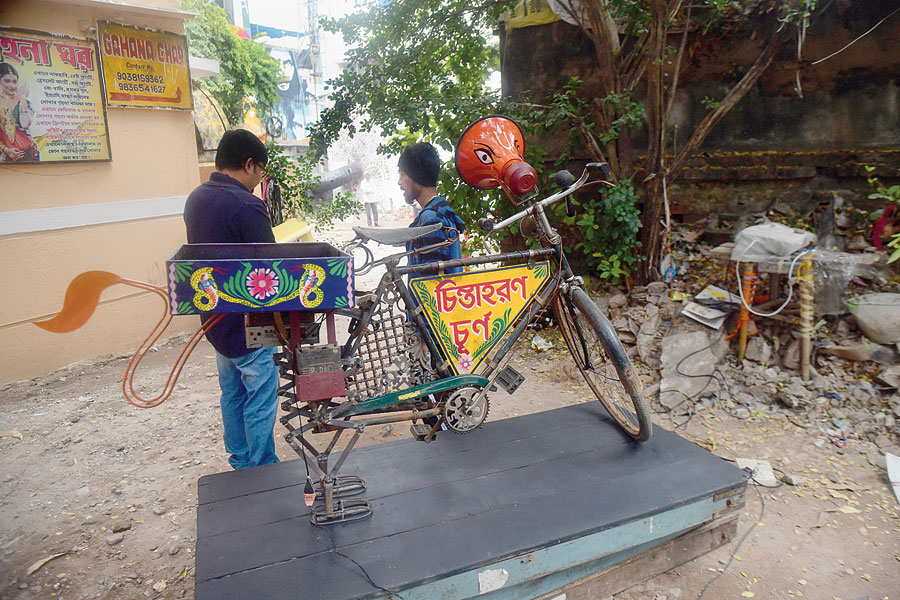 An old bicycle was modified to create this installation, modelled on carts selling concoctions that cure joint pain and other ailments. The one in the installation was for selling "a medicine that removes worries and makes a good citizen," said Pradip Das, a young artist who created the installation. If a hailer painted like the face of a cow and a saffron tail made you curious about the subject, an audio recording revealed more: Rate ghum nei chokhe? Sara raat mone mone kagoj khuje jachhen? Kagoj kothae, kagoj…. Ese geche chintahoron churno (Losing a good night's sleep over papers? Where are the papers…. Here comes a mixture that will remove worries)."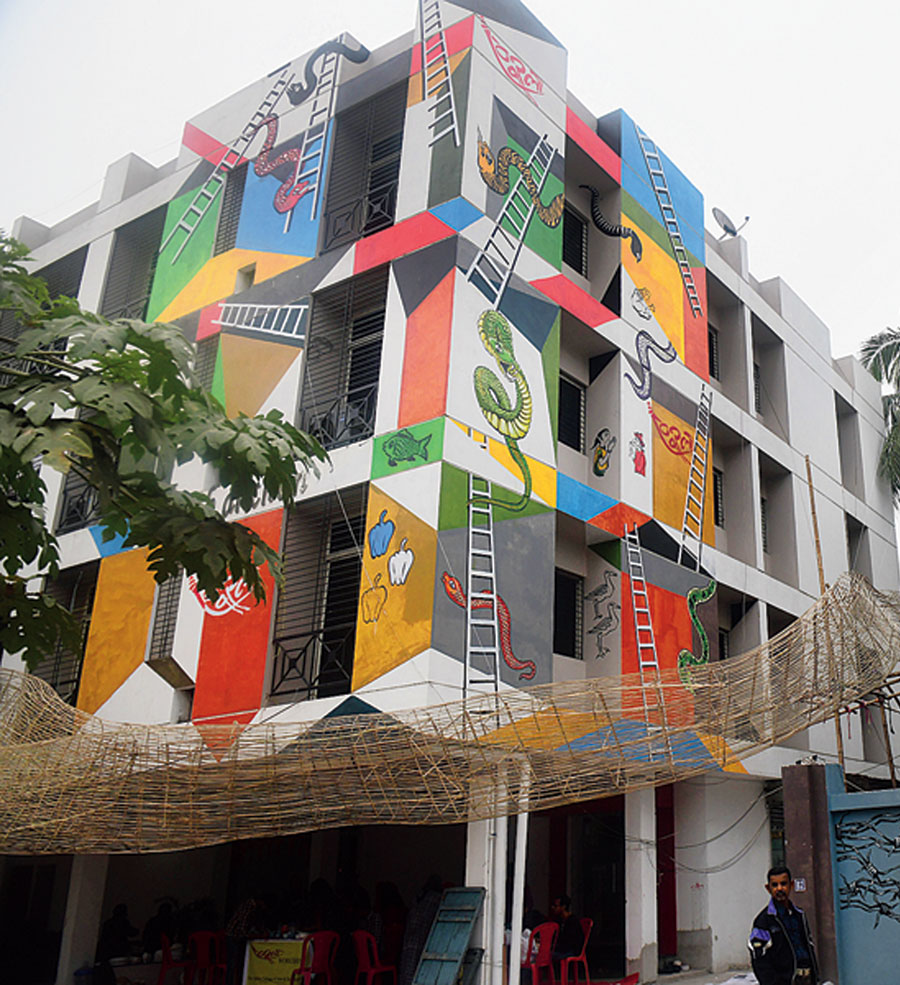 The façade of a house painted in acrylic showed a game of ludo, with snakes and ladders. "It symbolises the ups and downs of life," said one of the artists who prepared the art work. Snakes and water bodies were a recurrent subject in keeping with the theme of the festival.
The festival was titled Behula, the mythical character known for her quest to bring her husband, who died from snakebite, back from the dead. "Acharya Dinesh Chandra Sen (litterateur and folklorist) mentions that the route of Behula's raft, on which she carried the body of her husband, was along the locality of present-day Behala…," read a note by artist Samindranath Majumdar, a curator of the festival.